Beginners |

reviews, news & interviews
Beginners
Beginners
Mike Mills's romantic comedy with a difference delights and moves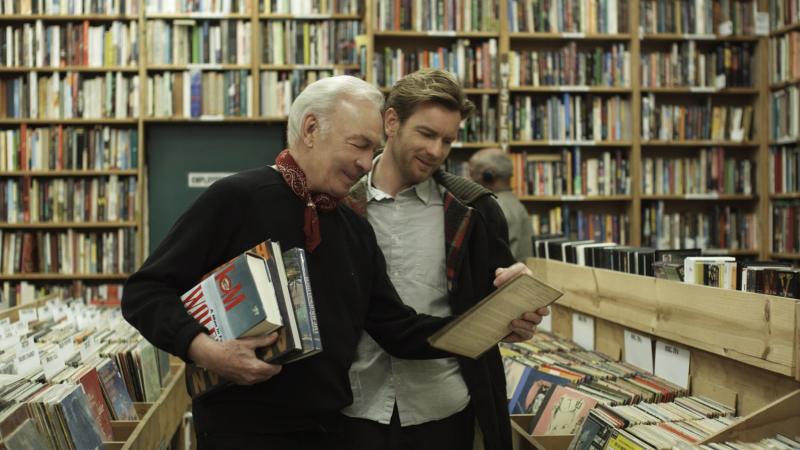 In 'Beginners', widowed Christopher Plummer comes out to his son Ewan McGregor
The early gurglings of love, full of vulnerability and risk, thrill and discovery, are the very stuff of the movies. Romance is cinema's basic currency. Whenever the familiar heroic faces of the big screen are not firing pump action weapons from the hip at CGI baddies, they are falling head over heels. So it is in Beginners, but with one or two eye-catching variants. Hal, just widowed after 44 years of marriage, now wishes to play the field. He's 75.
And as he informs his son Oliver, he is keen to give free rein to his long-repressed homosexuality.
Beginners is the semi-autobiographical second feature of writer-director Mike Mills, whose previous film, Thumbsucker, told of a teenager's efforts to give up the eponymous habit. This time round the story is not about renunciation. Mills has lifted a story from his own experience of a widowed septuagenarian father for whom rejuvenation comes just as soon as he places an ad in a lonely hearts column. Hal (Christopher Plummer) is soon dandifying his wardrobe, hiring an exercise trainer, developing an interest in house music and playing sugar daddy to a galumphing overgrown toyboy called Andy (Goran Visnjic). He has such autumnal fun that, in due course, he entirely denies the cancer diagnosis which leaves him with only a few months to live.
Mills, a former graphic designer, cuts and pastes with delightful eccentricity
But while Hal is free to play the field in one half of the film, intercut with his story is that of his son, Oliver (Ewan McGregor), an illustrator to Hal's museum director. In the months after Hal's death, Oliver is seized by loneliness and confronted by his failure to make relationships stick. His only faithful companion and interlocutor is his dad's Jack Russell, Arthur. Then, at a fancy-dress party, which he attends in the guise of Freud, he finds himself being psychoanalysed by Anna (Mélanie Laurent), a beautiful French actress who has lost her voice. It turns out that she, too, is dragging round a hefty cargo of baggage – a father at the end of the phone who manipulatively threatens to commit suicide, a mother who told her Jewish girls can never be beautiful. When she has recovered her voice they embark on a touching, tentative journey towards each other.
Mills's neatly woven story of the search for romantic fulfilment is thus also an inquiry into the things which impede it. Flashbacks to Oliver's childhood give glimpses of a marriage in which Hal was perfectly happy to squash his homosexuality into the tightest closet, but at some cost to his wife Georgia (Mary Page Keller), a maverick figure whose unexpressed longings send her towards the bottle. Oliver, clearly, has advanced into his thirties with no idea what a fulfilling relationship looks like, hence his chronic inability to form one of his own.
This makes Beginners sound sombre. It's far from it. Mills, a former graphic designer who cut his teeth shooting ads and shorts, is a ludic film-maker who cuts and pastes with delightful eccentricity. Flashcard images, informatively captioned by Oliver ("this is the sun", "this is the President"), appear on screen to illustrate the convulsive times his parents lived through: the Depression, the war, the bomb, the electric-shock treatment for gays. In an additional quirk, Arthur gets his own canine subtitles. And there is real playfulness in the freeform scenes between McGregor and Laurent, who improvise much of their dialogue as they flounder and flirt their way towards mutual knowledge.
The performances are seductive. You can almost see Plummer, as he kisses Andy on the lips and hangs with his over-fifties oh-so-gay gang, sticking two fingers up to the memory of Captain von Trapp. McGregor is more introverted and watchful than he's ever been, finding subtle shades normally shrouded by energetic colours. Laurent is all moue and flutter, eagerness and caprice (some, of course, may find her intensely irritating). And as for Andy, Visnjic beautifully hints at the damaged interior of a ghastly middle-aged fortune hunter.
However carefully segmented to allow the story of love's hopes and dreams to unfurl through glimpses and nudges, Mills still needs his narrative to shoot the rapids negotiated by all romantic comedies. When the boy loses the girl, it feels like Beginners has been reading the scriptwriting handbook's to-do list. It's the only inorganic and involuntary interlude in a delightful, moving and inquisitive portrait of the bits that come before and after a marriage.
Watch the trailer for Beginners
You can almost see Plummer, as he kisses Andy on the lips and hangs with his over-fifties oh-so-gay gang, sticking two fingers up to the memory of Captain von Trapp
Share this article