The Killer Inside Me |

reviews, news & interviews
The Killer Inside Me
The Killer Inside Me
A cruel narrative all the more infernal for its gentle Southern lilt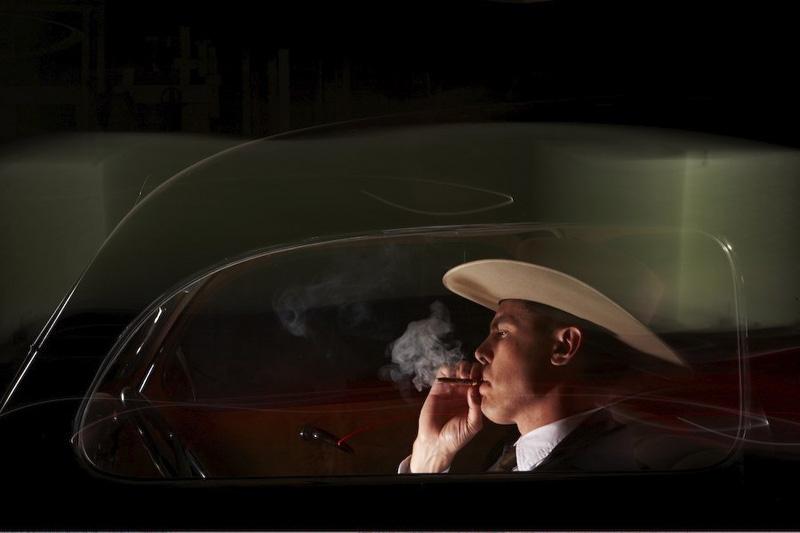 Cool observer: Casey Affleck goes to the bad as Lou Ford in 'The Killer Inside Me'
We'll never feel the real impact - an all too apposite word - of the violence in Michael Winterbottom's The Killer Inside Me, given that it has dominated pre-release publicity for the film. The suspense of waiting for it will surely distract viewers from any suspense that the director was trying to create naturally through the formal build-up of unease within the plot and environment he's taken on from Jim Thompson's noir novel.
If that leaves Winterbottom somewhat hoisted by his own petard, the director more than makes up for it with his immaculate control of a movie dominated by the (seemingly) immaculate control of his central character, small-town sheriff's deputy Lou Ford (Casey Affleck). But Lou's finally a hollow man, and though The Killer Inside Me lodges uneasily under the skin for a while, its lasting depths are as limited as its subject. If that's a fault, it's in the form, rather than Winterbottom's execution.
First of all, the violence. When it actually happens, around 20 minutes in, it's rather less visceral than has been widely reported, but more alarming for the fact that it comes as the culmination of some S&M shenanigans between Lou and Joyce (Jessica Alba), an out-of-town prostitute he's been sent over to move on. She's the first one to strike, which brings back buried childhood memories in Lou - pay attention very carefully if you're trying to piece them together as they unfold gradually through the film - and sees her becoming the first to fall victim to his coldly prodding fists.
More disturbing is the fact that she takes it all without resistance, and he speaks to her lovingly as he turns her face into what Thompson matter-of-factly described as a hamburger. And then we, as the viewer, feel increasingly with Affleck's character as he embarks on his journey into darkness. "It's not too late, if you stop now," are the words running through his head; we're seduced even further by the fact that it's Lou telling the story, by the manner in which he believes himself. When he flies for the first time in an aeroplane to the big city, it's his excitement that we identify with.
Thompson's novel has a noirish feel for small-town West Texan normality, where currents of corruption bubble underneath, connected partly to the arrival in the area of big oil – and with it bigger money, union issues and the like. But Lou's nastiness is of a different order altogether, even as he affects to be the natural good guy in town, the fixer who keeps things on the straight and (relatively) narrow, his smile fetchingly innocent even as we come to see what lurks behind it. Before his life starts to unwind, it looks as if he'll settle happily with Amy (Kate Hudson), a good ol' local girl. That she's partial to a bit of rough treatment seems no more worrying than his delays in popping the question. But there are many seeming certainties in the film's world that come with their own subsequent qualifications.
Full credit to Winterbottom, his long-term cinematographer Marcel Zyskind and design collaborators for creating an attractive one-street, middle-ground town atmosphere, with neither an exaggerated sense of the innocent colours of the wholesome Fifties, nor anything like out-and-out urban sleaze. The musical score seems to bob along – that's just the word - very proficiently in tune to the sounds of the time, while moments of emotional unease are marked by the intrusion of classical music. To lovers in particular of Richard Strauss's Four Last Songs, the songs won't quite remain the same.
The film's closing episodes begin to stretch some boundaries of the form further than they sometimes comfortably go: the gathering darkness brings moments bordering on cynical comedy. But sheer drive is sufficient to sustain The Killer Inside Me. Affleck plays with considerable aplomb, keeping his machinations going to the final scene. Even when confronted by the unexpected, his talent for staging his story still plays out with panache, until it literally goes up in smoke. We could say exactly the same of Winterbottom too.
Watch The Killer Inside Me trailer
rating
Explore topics
Share this article