An Episode in the Life of an Iron Picker |

reviews, news & interviews
An Episode in the Life of an Iron Picker
An Episode in the Life of an Iron Picker
Taut Bosnian drama of survival, from documentary roots
Hearth and home: Nazif Mujić, left, and Senada Alimanović
We see the harshness of everyday life in Danis Tanović's An Episode in the Life of an Iron Picker first in its snowy, subsistence landscapes, as hero Nazif goes out to the forest to bring in whatever wood he can find to keep the family home warm. But by the end of the film, which took the Jury Grand Prix at last year's Berlinale, we have seen, much more chillingly, the harshness of human behaviour.
Nazif and his wife Senada are from Bosnia's Roma community, living with their two young daughters in a remote village. Home life is happy, even if sparse in comforts, and Senada is pregnant. Nazif makes just enough to keep the household going, and certainly no more, by salvaging metal from old cars to sell to a scrap-dealer (he's the "iron picker" of the film's title).
Scarcity of production resources chimes completely with a spareness of style
When Senada has a miscarriage and requires surgery, the stable rhythm of their everyday life comes to an abrupt halt. She does not have the state insurance card that entitles her to free treatment, and though the sum being asked may seem modest, at around 500 Euros, it's far beyond Nazif's means – a whole mountain of scrap wouldn't reach that figure, and every day that Senada continues without being operated on risks septicaemia (Senada in hospital, below right). Despite the fact that Nazif is a war veteran, he receives no pension, and their Roma origins clearly mean they are treated differently in their various approaches.
Which is the point to mention that these two characters are not fictional, but are played by the real-life protagonists of the story, Nazif Mujić and Senada Alimanović. Tanović heard about what had happened to them at the end of 2011, and found the couple, who agreed in the end to play themselves (as do almost all the surrounding characters): the boundaries between fiction and documentary are as blurred as they come.
With no script but working instead from Nazif's memories of events, it led to a nine-day shoot, on a very minimal budget indeed (apparently somewhere around £20,000), that has brought Tanović back to his documentary roots, when he started his filming career during the Bosnian war. (Those times also provided the inspiration for his feature debut, the Oscar best foreign film-winning No Man's Land from 2001.)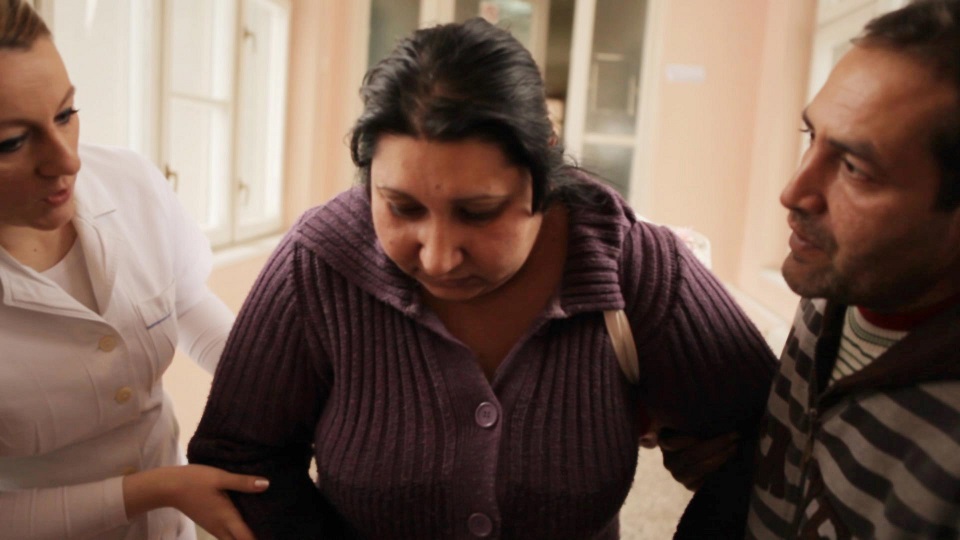 The director, and no less his cinematographer Erol Zubcević, have achieved something remarkable in creating this taut drama about man's inhumanity to man (given the medical context of the story, there's a loose echo of another film from the region, 2005's The Death of Mr Lazarescu from Romania's Cristi Puiu). Words are few and music minimal, allowing the silences, as well as the landscapes (the bleak rural setting is counterpointed with journeys through the seeming hell of the nearby industrial towns), to speak for themselves. Zubcevic's framing is impressively tight and concentrated, with scarcity of production resources chiming completely with a spareness of style.
Humanity may finally win through, but the "normal life" to which the couple return at the end is as hard as ever. Given Episode...'s overlapping of fact and fiction, there's an optimistic postscript at least: when the couple came to Berlinale last year, where Mujic won the best actor award, they came with their newly-born third child. He was back at this year's Berlin film festival, too – in the process of seeking asylum for himself and his family.
Overleaf, watch the trailer for An Episode in the Life of an Iron Picker
Words are few and music minimal, allowing the silences, as well as the landscapes to speak for themselves
rating
Share this article