DVD: Tuesday, After Christmas |

reviews, news & interviews
DVD: Tuesday, After Christmas
DVD: Tuesday, After Christmas
Disquieting Romanian anatomisation of the effects of infidelity
Tuesday, After Christmas: Paul (Mimi Brănescu) figures out what to do about his relationship with Raluca (Maria Popistasu)
Just as you think you've got Tuesday, After Christmas pegged as an Eric Rohmer-style relationship drama, it gradually becomes clear it's something else. The impact left by this ambiguous, non-judgmental examination of the emotional crisis affecting a married man and those around him is a result of its measured approach and deft sensitivity. Less about the dialogue, it's more about interaction and nuance.
Paul Hanganu (Mimi Brănescu) is married to Adriana (Mirela Oprişor). They have a bright little daughter. He works in some unspecified role for a bank, Adriana works in law. Adriana doesn't know that Paul has been having an affair with Raluca (Maria Popistasu), their daughter's dentist. They both turn up at the appointment to fit their daughter with braces, where the discomfited Paul decides he has to choose his future path. Christmas looms, and he resolves to make a decision before the end of the year.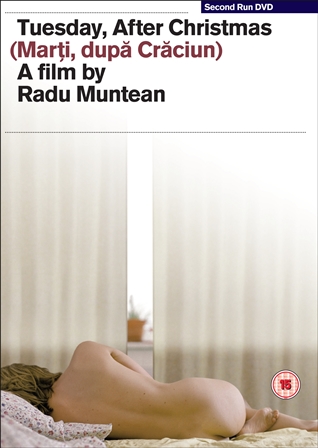 The plot is simple, covered in a linear fashion with no fuss. There are the minimum of set ups and scenes. Tuesday, After Christmas is defined by the subtlety writer-director Radu Muntean (the DVD's extra is an across-the-kitchen-table interview with Muntean) brings to what might be a by-rote depiction of a middle-class marriage that could be about to break down. The opening scene of Paul and Raluca's intimate interaction is utterly natural and consequently uncomfortable to watch. It's like peeking in on a private conversation you should never have heard or seen. Paul and Adriana's dentist's visit is squirm-inducing. What follows after Paul's confession is even more so.
There are echoes of (and a reconfiguring of) Muntean's earlier film Boogie, where the protagonist tries to reconnect with his past but decides to stick with the present. That the big picture comes from the detail is a trait shared with recent-ish Romanian highlights like Police, Adjective and The Death of Mr. Lăzărescu, but Tuesday, After Christmas inhabits it's own space. Unreservedly recommended.
Watch the trailer for Tuesday, After Christmas