Danny Collins |

reviews, news & interviews
Danny Collins
Danny Collins
Al Pacino returns in irresistibly barnstorming form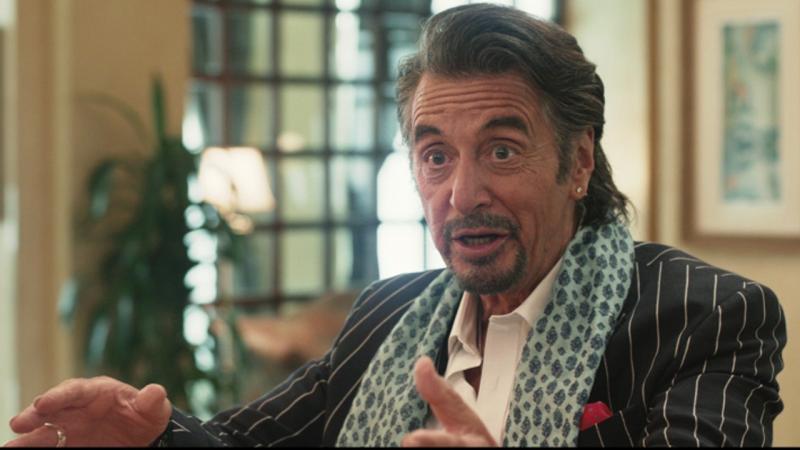 Famous, me? Al Pacino plays a rock god who reassesses his life in `Danny Collins'
Al Pacino gives it his barnstorming all as Danny Collins, an ageing, coke-rattled rocker who calls it quits in order to reconnect with his family and recharge his life. Sentimental (but not brazenly so) and buttressed by an ace supporting cast, the film finds Pacino hurtling through his 70s in irresistibly energiser bunny mode. Whereas such contemporaries as Gene Hackman and Jack Nicholson have pretty well faded from view, there's plenty of life in this celluloid mainstay yet.
Indeed, there's something delicious in watching Pacino gobble whole the part of a rock god living off his iconic past even as this man who remains a film god to those of us of a certain generation (is Dog Day Afternoon not one of the best New York movies ever?) charges ever-onward: in the autumn, he returns to Broadway in the world premiere of a new David Mamet play. In the meantime, Pacino is lending his large-eyed bravura to the inspirational tale of the thrice-divorced Collins, who forsakes his adoring, largely middle-aged public in order to achieve the redemption of which many a song lyric is made. And in New Jersey, of all places.
We're informed at the start that writer-director Dan Fogelman's film is "kind of based on a true story a litte bit", a disclaimer that allows all concerned to take whatever liberties they wish so as to ramp up Collins's wished-for reckoning with himself. In fact the genesis of Fogelman's script concerns an actual letter that British folk singer Steve Tilston received in 2005 from John Lennon, though the missive had been penned some 34 years before. Its eternally viable message - "stay true to yourself" - prompts the onscreen Collins to pare away all the nonsense from his life, starting with an adulterous fiancée (Katarina Cas) and the gated California manse in which she is kept in splendiferous comfort.
And so Collins heads east to find the son Tom (Bobby Cannavale, Pacino's co-star in his recent Broadway revival of Glengarry Glen Ross: the two are pictured above) whom the rocker had more or less abandoned and who is living in suburban Jersey with his pregnant wife Samantha (a fretful Jennifer Garner) and their daughter Hope (Giselle Eisenberg), who has a bad case of ADHD. The last thing Tom wants is to bring a father at once famous and feckless into his own life working in construction, and the fact that he he has taken his mother's maiden name as his surname indicates from the off that relations look to be past the point of repair. That said, one might think from Danny's perspective that an afternoon in the company of the overeager Hope would be enough to send one packing: the character, meant to be adorable but more often bratty in the time-honoured way of screen tykes, is the film's lone major misstep.
But abetted by the patient and unwavering eye of the (female, 'natch) manager of the Hilton Hotel - cue plenty of opportunities for product placement! - that Collins has made his home, a man whose own manager (Christopher Plummer, in vintage form) refers to his client as Sylvia Plath strikes out on a new path, complete with enough forays into the realm of possibly severe illness to raise the stakes when it comes time for father and son to bond. And though Fogelman isn't attempting the sort of genuine glimpse inside the world of rock provided by, say, Almost Famous, the film on its own terms delivers, not least with such an adroit cast weaving its way through any familiar bumps in the road.
Pride of place among the supporting players goes to Annette Bening (pictured above left), who doesn't hit a false note from the first "hah!" with which she responds to the deskside greeting where Danny refers to this hotelier as "young lady". As wary as she is wise, Bening's Mary Sinclair acts as a necessary leveller to Collins, and the actress invests the part with the same neat understatement exhibited by Plummer, who at this point in his storied career can lay bare an entire character with just one wry smile. Pacino, for his part, is clearly having a ball effecting a variation on his own now-fabled status, and one would imagine audiences at his various Evening with .... q-and-a's are scarcely less clamorous than those that greet Danny at the film's start. Pacino along the way has had his own misfires so must know something of that sense of bottoming-out that besets Danny to the core. At the same time, Pacino has always been more than merely "a court jester with a microphone," to cite the phrase applied to Danny here. If Danny Collins forms part of a late-career renaissance for Pacino, how appropriate that he is playing someone whose reason for being can be summed up in the word rebirth.
Overleaf: watch the trailer for Danny Collins