Scarecrow |

reviews, news & interviews
Scarecrow
Scarecrow
Al Pacino and Gene Hackman star in the Palme D'or winning road movie of 1973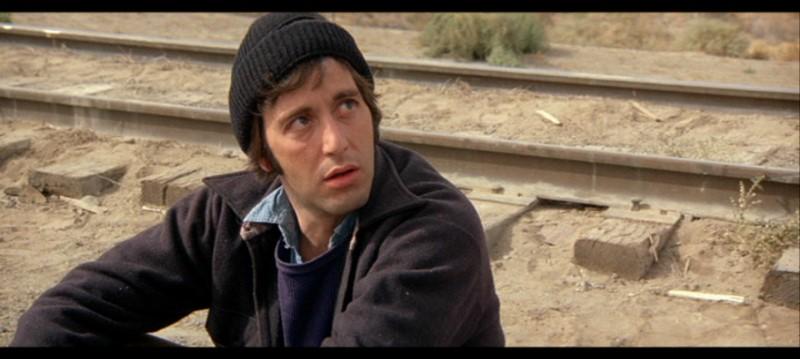 Al Pacino looks up to Gene Hackman in 1973's Palme D'or winner 'Scarecrow'
Scarecrow tied for the coveted Palme D'or of 1973. Directed by Jerry Schatzberg, the man who did Panic In Needle Park and importantly Street Smart, which captured the electrifying moment when Morgan Freeman became a star, this sombre comedy stars Gene Hackman and Al Pacino. In fact, every element of Scarecrow aims for classic status.
Thanks to nifty distributor Park Circus, we can now see first-hand on the big screen why this pedigreed film has been so little heard of or seen since its 1973 French triumph.
As the film after Hackman's Oscar for The French Connection (1971) and The Poseidon Adventure (1972) and directly after Pacino's brilliance in The Godfather (1972), Scarecrow is a stunning about-face, plunging two very hot actors into the land of nowhere. Scriptwriter Garry Michael White may have aimed for a Midnight Cowboy-like tale of outlandish yet riveting characters swimming like flies in a realistic soup of mayhem, adventure and sorrow. What we get is a languid, turgid, where-the-hell-is-this-going road trip about two losers – Max (Hackman), a temperamental ex-con, and Lionel (Pacino), who's literally been out to sea. One wears a lot of clothes because he's cold all the time. The other is travelling back to Detroit to visit a woman with whom he's fathered a child - and walked out on, unseen. Along the way there are bad girls, fried chicken, a rape scene where, contrary to internet gossip, you don't actually see Pacino's member (it's his thumb), and sensational images from master cinematographer Vilmos Zsigmond.
As for tone, think Of Mice and Men or Easy Rider without the pace. The individual performances on their own are sensational, as expected. But with Hackman doing his thing and Pacino doing his, both of them seem to be posing, not working ensemble. The camera loves Pacino so very much, it doesn't matter what he's saying or doing because we'll watch it. Hackman's gravity works around this but it doesn't make for a dynamic duo.
Pacino said Scarecrow was the best script he'd ever read. Hackman too has called it his favourite. As amusing and meaningful as Scarecrow may have been to write, produce and perform, time has not been kind. The Palme D'or win is a nod to its quality, but that prize has never been a stamp of watchability. (Think 2010's Uncle Boonme). Scarecrow is a film that speaks to a time when the world of quirky ex-cons and fathers who bring lamps to unknown offspring was weird and fascinating. Now, we know too well these moments of cruelty, misunderstanding and terror. What remain, beautiful and timeless, are three things: Pacino's alluring face, lovingly composed shots of fields (you'll now see similar on Instagram), and really gritty sexual tension between Max and greasy sexpot Frenchy (Ann Wedgeworth in a blazing performance).
Scarecrow has everything a memorable film needs: terrific writer, good director, great photographer, wonderful actors, locations, makeup, props, costume and good music from Fred Myrow (Soylent Green). But, thanks to the vagaries of the cinematic gods, it remains an interesting curio of what can happen when everything looks good on paper. And paper isn't film.
Scarecrow is showing at BFI Southbank until 4 May
Watch the trailer for Scarecrow