Crazy, Stupid, Love |

reviews, news & interviews
Crazy, Stupid, Love
Crazy, Stupid, Love
Ryan Gosling teaches Steve Carell how to score in a film that doesn't
Thursday, 22 September 2011
Romancing the Stone: Ryan Gosling gets physical (and more) with Emma Stone
"I'm going to help you rediscover your manhood," a self-described sexual "tomcat" called Jacob (Ryan Gosling) tells his new friend, and project, Cal (Steve Carell). And with that, the awkwardly titled Crazy, Stupid, Love sets off on its none too surefooted way. Might some equivalent to Jacob's confidence and expertise have been of use behind the camera, as well?
Without a doubt, and one worries only that there may be those who actually do take this film as some sort of sexual and social primer for our troubled age.
On the other hand, no movie with Gosling's singular charisma and insouciance can be all bad, even when the narrative has to perform figurative somersaults to get to the happy ending that is the Hollywood norm. (The various pairings at the finish are virtually Shakespearean in their range and breadth, though any further similarities to the Bard end right there.) Cast as a playboy who makes a habit of bedding and then abandoning the ladies without leaving any apparent rancorous residue behind, Gosling makes Jacob such a coolly intriguing man of mystery that one comes to resent the script's need to domesticate him in more or less every sense.
It's at his usual pick-up haunt one night - a bar as sleekly and nattily appointed as the character's wardrobe - that Jacob first espies Cal, a family man who has known better days and wants to drink away all recognition of that fact. Cal's wife Emily (Julianne Moore), it seems, is not only having a fling with a co-worker (Kevin Bacon, who for a brief while looked as if he might be the Ryan Gosling of his generation) but has decided she wants a divorce after 25 years of marriage.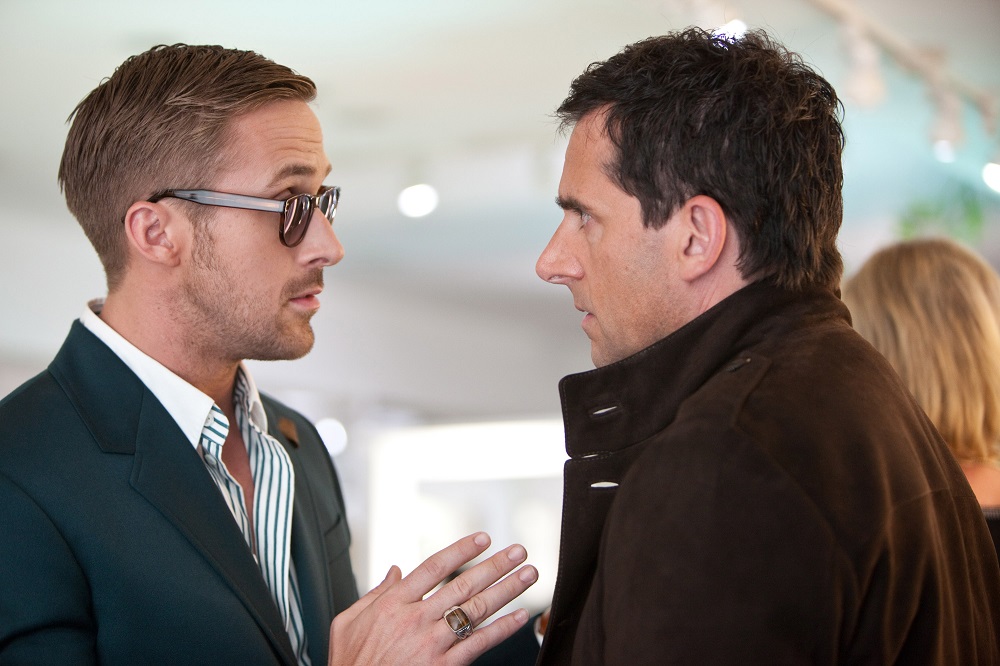 Complicating the amorous high-jinks - well, you have to do something to justify that title - is the unslakable lust felt by their 13-year-old son, Robbie (Jonah Bobo, tiresome in an overwritten role), for his Olive Oyl-like babysitter, Jessica (Analeigh Tiptin). Jessica, in turn, has eyes only for Cal himself, an erotic reckoning that doesn't go down well with the 17-year-old girl's parents, who are there to provide reaction shots of varying degrees of overkill lest you've dozed off. Emma Stone completes the rondelay of amorous disappointment, playing a smitten lawyer who is let down in public by her careerist boyfriend. (That part is played, unexpectedly if passably, by the singer Josh Groban in his film acting debut.)
Will Cal warm to the idea of sex without love according to the rule book painstakingly set out by Jacob? (So close have the two become that Cal seems not to mind being landed one night with a drinks bill in excess of 800 bucks, not to mention the outlay for the sartorial and follicular make-over upon which Jacob insists.) Dan Fogelman's script is equally careful to ask what or whom it will take to get Jacob not just to bed down with a woman but to open up his heart.
That the answer ties both men together (pictured above), very possibly for life, is one of various contrivances to which it's simply not possible to turn a blind eye, any more than one can easily dismiss the cruelty with which the wonderful Marisa Tomei is treated throughout, playing the teetotalling teacher who has the misfortune to come under the path of the newly sexually adventuresome Cal. An actress this accomplished deserves better than being made merely to condemn Cal's assholery - her choice of language, not mine - for the majority of her time on screen, though the news that she studied at Oxford does prompt from Cal the immortal (or not) reply, "England - yuck!"
One of those films where it's best not to dwell on internal logic, Crazy, Stupid, Love never tells us how it is that Jacob actually gets these numerous conquests back to his killer bachelor pad; this is not a diet Coke kinda guy, and I rather doubt he takes a bus. And as is the Hollywood norm for subjects the industry both fears and wants to take on board, the script flirts with a possible gayness underlying Jacob's metrosexual elan, only to lead some while later to a bizarre scene in which Cal passes out on Jacob's bare crotch to general embarrassment and disdain from both men, in turn. Jacob's sensitive studliness has its limits.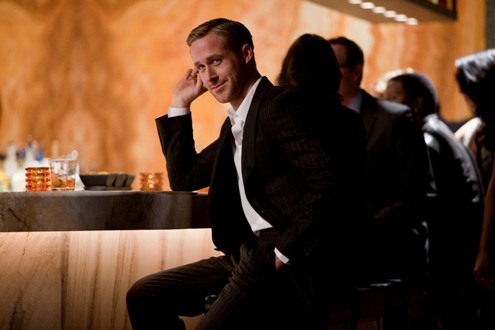 You have to wonder, too, at the ease with which co-directors Glenn Ficarra and John Requa allow the Twilight films to get dissed in passing, even as their own film's erotic clincher depends on - wait for it - a replay of Dirty Dancing; surely Jacob's points of cultural reference would be somewhat hipper than that? Speaking of replays, Moore's dramatically sidelined Emily remarks early on, "I'm so much older than I thought I'd be," a sentiment expressed almost identically in Roxie Hart's showstopping solo from the musical Chicago.
Hey, you wanted originality? Crazy, Stupid, Love is not the place to look. But those charting the onward ascent of an actor of whom the cinema currently can't get enough won't want to miss Gosling's double-act this week, with Drive opening the same day. And should his managers be looking for a stage vehicle where he can strut his stuff, that torso is absolutely made for Brick in Cat On a Hot Tin Roof. Possible Maggies, anyone?
RYAN GOSLING'S FILMOGRAPHY
Blue Valentine (2010). A controversial break-up melodrama sees things from the male point of view
Drive (2011). Ryan Gosling's brilliant, bruising ride into LA darkness (pictured)
Crazy, Stupid, Love (2011). Ryan Gosling teaches Steve Carell how to score in a film that doesn't
The Ides of March (2011). George Clooney's star-packed morality tale superbly anatomises political chicanery
The Place Beyond the Pines (2013). Derek Cianfrance and Ryan Gosling follow Blue Valentine with an epic tale of cops and robbers
Gangster Squad (2013). Ruben Fleischer swaps zombies for gangsters with mixed results
Only God Forgives (2013). Nicolas Winding Refn and Ryan Gosling follow Drive with a simmering tale of vengeance
The Big Short (2015). Director Adam McKay successfully makes a drama out of a crisis
The Nice Guys (2016). Russell Crowe and Ryan Gosling buddy up to crack jokes, bones and crime in 70s LA
La La Land (2017). Ryan Gosling and Emma Stone (pictured above) will have you floating out of the cinema on a cloud

Gosling makes Jacob such a coolly intriguing man of mystery that one comes to resent the script's need to domesticate him
rating
Explore topics
Share this article