theartsdesk MOT: Chicago, Cambridge Theatre |

Theatre reviews, news & interviews
theartsdesk MOT: Chicago, Cambridge Theatre
EastEnders' Emma Barton leads a sharp female team in a deathlessly brassy show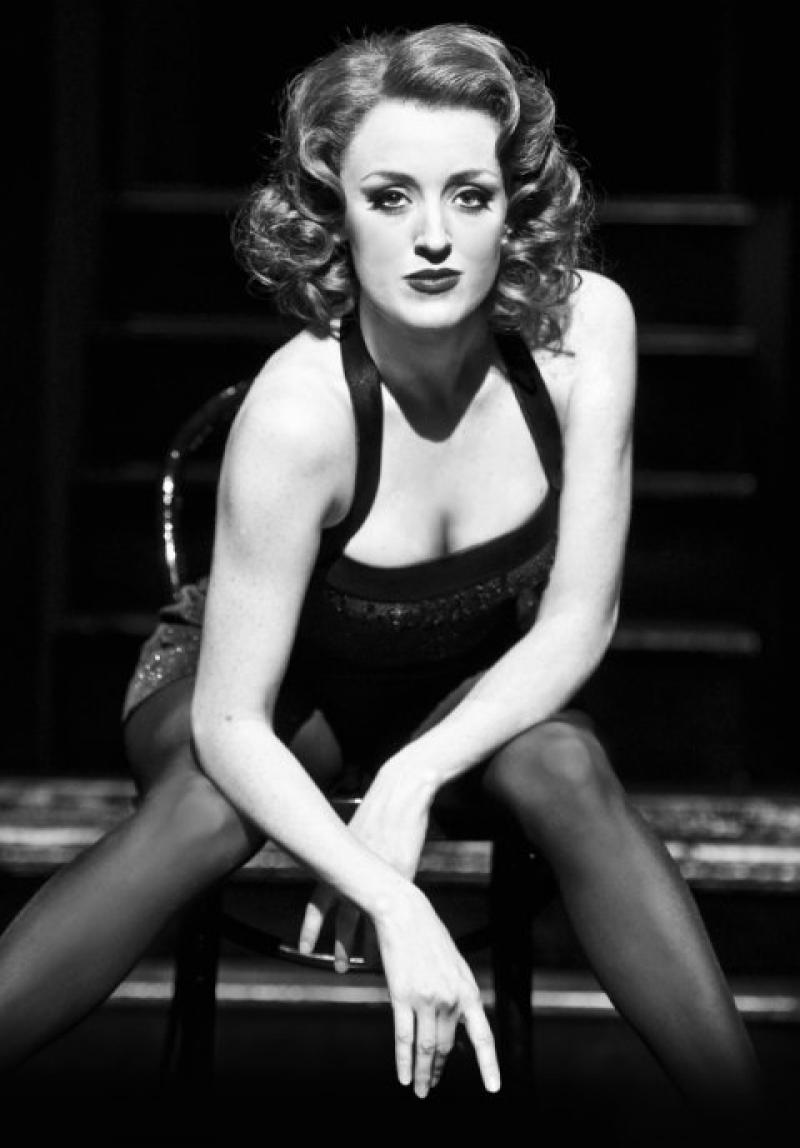 Vivien Carter as the latest Velma: 'a take-no-prisoners belter offering a sardonic, commandingly slithery take'
Chicago, in some ways, remains the great musical theatre surprise success of modern times. Bob Fosse's dissection of sex and violence in the Windy City had a respectable Broadway run back in the 1970s (898 performances in all), featuring a heavyweight cast, two of whose three stars (Gwen Verdon and Jerry Orbach) are, alas, no longer with us.Chicago, in some ways, remains the great musical theatre surprise success of modern times.
Bob Fosse's dissection of sex and violence in the Windy City had a respectable Broadway run back in the 1970s (898 performances in all), featuring a heavyweight cast, two of whose three stars (Gwen Verdon and Jerry Orbach) are, alas, no longer with us. But it took a stripped-back, pared-down New York concert performance some two decades later to reveal the lean, mean, ever-sizzling machine that the show has become in this revival, Rob Marshall's Oscar-winning film sealing the deal that "razzle dazzle", done well, can draw the crowds.
I've seen Walter Bobbie's production I don't know how many times now, both on Broadway and (more often) in London, where ever-rotating casts combine visiting celebrities (Melanie Griffith, Usher) with musical theatre regulars (Josefina Gabrielle, Anna-Jane Casey) as well the occasional, anomalous bit of star billing whose show-biz hucksterism is entirely in keeping with the themes of the piece: I'm still kicking myself that I missed Jerry Springer's London turn as the lawyer Billy Flynn, and in the same playhouse that hosted the commercial transfer of Jerry Springer - The Opera, no less. At this rate, I wouldn't be surprised to find Bill Clinton or Sarah Palin coming aboard at some point; you heard it here first.
The fact is, what Chicago both reviles and celebrates is a society in which we all want top billing, preferably in klieg lights, and if it takes murder to make our name, so be it. "It's all a circus, kid," snarls Billy in Act Two, and ain't that the truth? In which case, all the more reason to mark out the merry-go-round that is life with abundant feathers, the flick of a wrist, the comely swivel of a hip, and copious amounts of flesh.
If Chicago weren't so smartly packaged, it would merely be sleazy; instead, the show lays continued claim to being a fastly paced, cunningly Brechtian piece capable of playing to coachloads who wouldn't be caught dead paying obeisance to the dramatic canon. (At the well-attended weeknight performance caught, the clearly international crowd included English women laden with bags who chattered throughout and several rows of clueless Italians who arrived late but didn't take long to get caught up in the blinding glare of Ken Billington's lighting and the allure of the staging that it serves.)
And what of the current ensemble, which is arguably less starry than some that have followed Ruthie Henshall and Ute Lemper into a production first seen at the Adelphi in 1997, before moving in 2006 to the Cambridge?
EastEnders alumna Emma Barton isn't the best-danced of Roxies: she looks vaguely terrified perched atop a ladder on "Funny Honey" near the start of the show. But Barton comes likeably and naturally by Gwen Verdon's saucer-eyed gaze, and she throws herself with startling abandon into the rag doll ventriloquist demands of "We Both Reached for the Gun", just one of nearly two dozen numbers that make Chicago among the most ceaselessly electric of John Kander/ Fred Ebb scores.
Anointed by the press as the "killer chorine", Barton gives us a Roxie whose capacious grin hides a devouring hunger for fame, and the actress communicates Roxie's gathering awareness of her own absurdity, which helps give the ending an added sting. (And as a friend remarked, she looks uncannily like a young Una Stubbs.)
Vivien Carter previously understudied Velma and has now acceded to the role, offering a crisply enunciated, sardonic, commandingly slithery take on the part for which Catherine Zeta-Jones won her Oscar: a take-no-prisoners belter of a woman who leads the first act's "Cell Block Tango", a defining hymn to uxorious revenge. A welcome Australian presence on the West End, Carter has a knack for seeming to sneer while she sings, all the while winning us over with her feral, feline command. On this evidence, she deserves to open a show so that the critical community can take proper note of her talents. That's one thing about many long-running shows; they tend to move people in and out, unnoticed by critics: hence this very series of re-reviews.
The men aren't quite the ladies' match, though Terence Maynard has his moments as the robustly voiced ringmaster that is the criminal lawyer, Billy, who fuels the two pistol-packing murderesses' bid for notoriety, whatever the cost. In the role of the cuckolded husband, Amos, for which John C Reilly was nominated for an Oscar (and which Joel Grey originated in this revival on both sides of the Atlantic), Adam Stafford doesn't actually make much that is interesting out of being boring. When he apologises during his big solo number, "Mister Cellophane", for taking up too much of our time, one is inclined to nod in agreement. As for R Whitehead's Mary Sunshine, well, nails on a chalkboard come to mind.
Still, all cavils fall away not only when the women assume centre-stage, Jasna Ivir's buxom and bold Matron "Mama" Morton included, but when the spotlight shifts to an ensemble drilled within an inch of its muscle-bound life. Arrayed in see-through tops, body-hugging tights, or on occasion not much at all, the company drives the show, whether one is referring to the six leggy women who do the splits while crooning their desire for Billy or the three shadowy men who midway through the first act contribute a slow, sinuous tap dance, smoking all the while. And at the end, as the audience is departing, the conductor and his on-stage band let rip with unfettered bravado, allowing the musicians into the party spirit, too.
"Nobody's got no class," or so goes the lyric to one of the songs cut from Marshall's film ("Class"). But in its anatomy of a sensation-prone, ever-craven society in thrall to its own vulgarity and yet pulsating with vigour and life, Chicago is what it has always been - the brassiest, classiest show in town.
Watch the trailer for the 2002 film version of Chicago


theartsdesk is changing
Thank you for continuing to read our work on theartsdesk.com. In September we reached our fourth birthday and feel that the time is now right, in line with other media outlets, to start asking our regular readers for a contribution to help us develop the site further. Theartsdesk has therefore moved to a partial subscription model. For unlimited access to every article in its entirety, including our archive of more than 7,000 pieces, we're asking for £2.95 per month or £25 per year. We feel it's a very good deal, and hope you do too.
Take an annual subscription now simply click here.