Blood Father |

reviews, news & interviews
Blood Father
Blood Father
Mad Mel delivers in a pacy slice of desert noir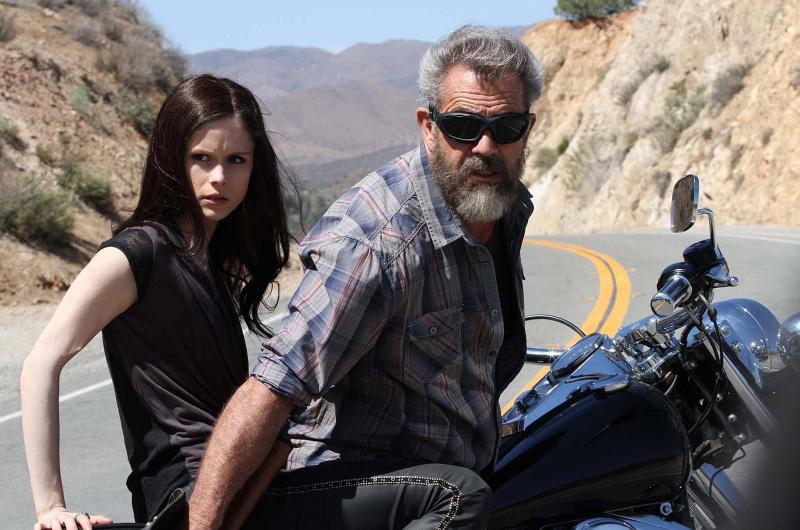 Mel Gibson as John Link, with Erin Moriarty as his wayward daughter Lydia
Having been to Hollywood hell and back, Mel Gibson is perfectly placed to play the battered big daddy par excellence. Here he is, in the person of John Link, ex-jailbird on parole, recovering alcoholic and former outlaw biker, now eking out a living as a tattooist on a trailer park in the California desert. Weatherbeaten and bearded like an escapee from a jungle PoW camp, Link looks like a man a coin-toss away from extinction.
In his downbeat isolation, Link enjoys a little light relief by bantering bad-temperedly with his trailer-neighbour and AA sponsor Kirby (William H Macy, pictured below, right on the money) in between etching designs of surprising elegance on the limbs of his unwashed and unshaven clientele. His copy of Picasso's Don Quixote sketch might even fetch a few bucks. But Link's new, sober life will never bring him the contraband thrills of his old one.
Thus it's a kind of relief when he's suddenly contacted by his estranged 16-year-old daughter Lydia (Erin Moriarty). He hasn't seen her for years, but nothing good has happened in between, and now she's on the run from the ferocious enforcers from a Mexican drug cartel. Lydia, it seems, killed her boyfriend Jonah (Diego Luna) when he and his gang dragged her along to a brutal home invasion. Jonah (pictured below with Gibson) was the upstart son of the cartel boss known as El Padrino, and now Lydia must die.
Link is delighted to see Lydia again, though he manages to hide his rekindled paternal feelings behind a facade of macho self-sufficiency, but he's a little taken aback to find her loaded up with supplies – bottles of bourbon and gin, an assortment of drugs and a gun. The apple didn't fall far from the tree, but Link is determined to use all his hard-earned smarts to save Lydia from following his own road to perdition – if there's still time.
His race to beat the bad guys is part road movie, part outlaw caper and a little bit Mad Max (a scene where Mel swings his motorbike into the centre of the highway to wield a righteous shotgun at his pursuers peels away the years with panache), and the narrative is handled with sinewy directness by director Jean-François Richet. The sequence where a squad of Mexicano killers besieges Mel's trailer with torrents of gunfire may well be a knowing flashback to the director's Assault on Precinct 13. Richet is perfectly in tune with screenwriter Peter Craig (adapting his own novel), who has a knack for speedy boiled-down dialogue, like Mel's capsule description of his daughter: "This kid's a carnival, man. She's every loser's lucky day."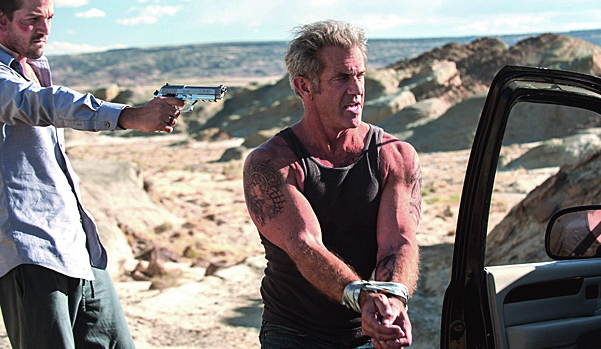 En route, there's space for some zesty character-sketches. Miguel Sandoval is sly and knowing as Link's jailbird-insider confidante Arturo, while Michael Parks (a Tarantino regular) plays Preacher, one of Link's old running mates and a Vietnam veteran who trades in military memorabilia (his sign says "In uncertain times, Nazi collectibles are a foolproof investment"). Sadly, uncertain times also prove to have soured their former bonds of friendship, though Link and Preacher are able to lament together the way that all the rebels have been corporatised, sanitised, compromised and lobotomised by the system.
The fiery denouement takes place amid soaring desert landscapes under a blazing sun. Refreshingly, Link is not a man in search of redemption, more like an inveterate renegade who never got the point of going straight in the first place. This punchy, pacy slice of desert-noir is a real treat.
Subscribe to theartsdesk.com
Thank you for continuing to read our work on theartsdesk.com. For unlimited access to every article in its entirety, including our archive of more than 10,000 pieces, we're asking for £3.95 per month or £30 per year. We feel it's a very good deal, and hope you do too.
To take an annual subscription now simply click here.
And if you're looking for that extra gift for a friend or family member, why not treat them to a theartsdesk.com gift subscription?