Hacksaw Ridge |

reviews, news & interviews
Hacksaw Ridge
Hacksaw Ridge
How Desmond Doss went through hell in the Pacific without a gun
Thursday, 26 January 2017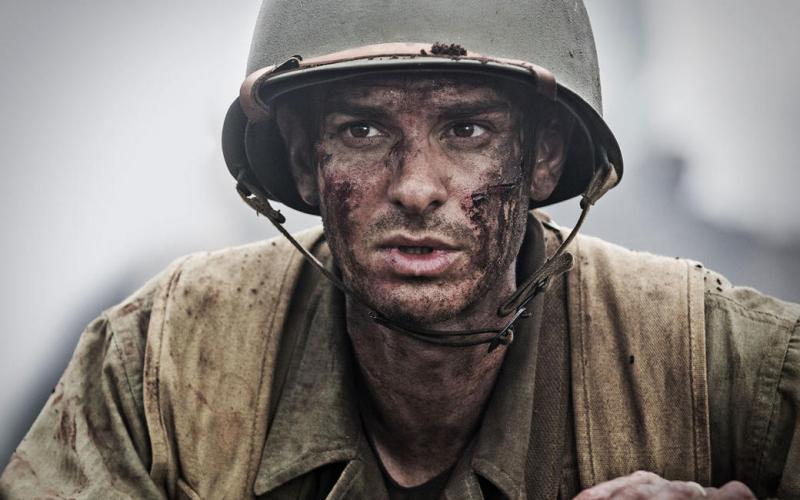 'God, what do you want of me?': Andrew Garfield surveys the battlefield
After doing his time in the Hollywood wilderness, Mel Gibson is back with a bang – a cacophony of bangs, frankly – with Hacksaw Ridge. With six Oscar nominations including Best Director, Best Actor and Best Picture, it's enough to tempt a man to risk a celebratory tequila.
Not that Gibson, as director, is doing anything very different to what he's always done. Hacksaw Ridge is a story of religious faith under pressure, and of imperturbable heroism in the face of extreme violence. Gibson's telling of the real-life story of Desmond Doss, who refused to handle firearms but served heroically as a combat medic in the US army in the Pacific in World War Two, harks back to themes in a number of Gibson's previous films, not least The Passion of the Christ and We Were Soldiers (which he starred in but didn't direct).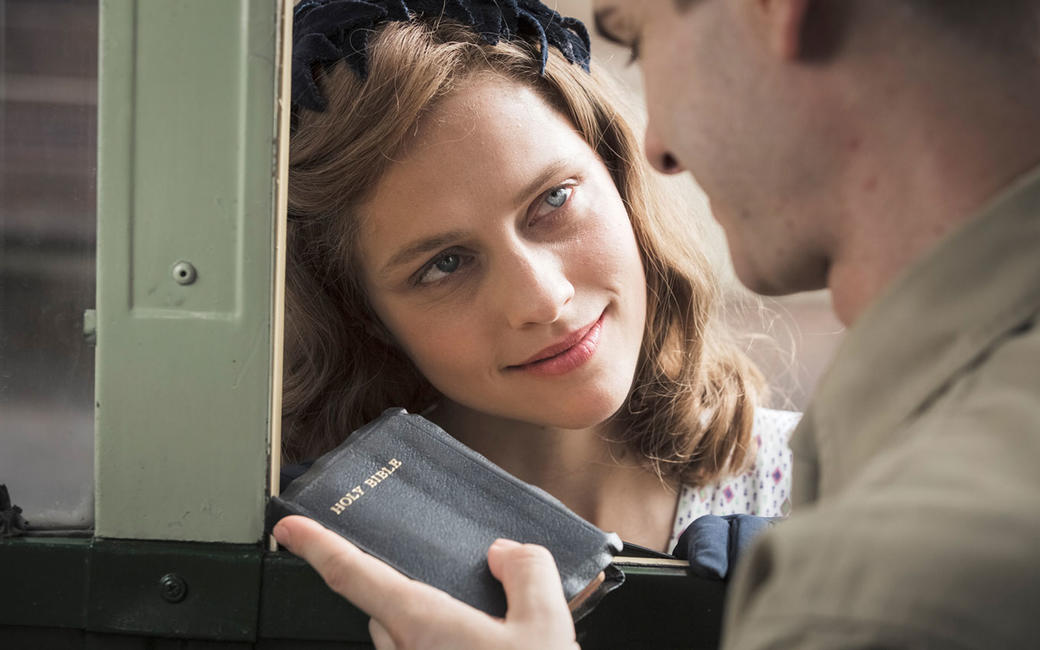 The combat scenes of the battle for Okinawa in 1945 are rendered in horrific, hyper-real intensity, and you get a good idea of what you're in for from the opening sequence, which is a slowed-down montage of soldiers being shot, burned and blown up. However, you get an hour's respite from the really gruesome stuff, as Gibson prepares the ground by introducing us to Doss's almost Waltons-style home life back in Lynchburg, Virginia.
Andrew Garfield is impeccably cast as Doss, bringing a glow of simple sincerity to the role of a devout Seventh-Day Adventist whose upbringing has seared the message Thou Shalt Not Kill into his soul like a branding iron smacking into a sirloin steak. In earlier days, the part might have been a shoo-in for James Stewart or Gary Cooper, and Gibson's harking back to a simpler time of robust moral certainties is surely not accidental.
Doss's father, Tom (a haggard-looking Hugo Weaving), has been left twisted and broken by his experiences on the Western Front in the Great War. He mopes miserably over the graves of the friends who were killed alongside him, and lapses into drunken rages. His son is haunted by flashbacks to the occasion when he had to threaten his dad with his own gun after he'd been pointing it at his mother (Rachel Griffiths). Nor was the message of the occasion when he nearly killed his younger brother by playfully hitting him with a brick lost on him.
Even though it means leaving his best girl Dorothy back home (she's played with radiant, albeit one-dimensional, pulchritude by Teresa Palmer, pictured above), Desmond feels patriotically compelled to join up. But the Army can't get its head round the idea of a mustard-keen soldier who refuses to pick up a rifle (they call him a conscientious objector, but he calls himself a conscientious cooperator). Desmond is scorned, ridiculed and beaten up by his comrades, so much so that even his CO Captain Glover and gruff Sergeant Howell (Vince Vaughn, above left) start to take pity on him.
It's through the horrors of real-world warfare that the troops come to appreciate Doss's remarkable strengths. The battle scenes are set on the titular ridge, a slab of rock rising vertically which the soldiers have to scale with cargo nets, as blood from the previous waves of massacred Americans drips down on them. In a wasteland of rocks and smouldering shell-holes, the Japanese are pitiless opponents, bayoneting wounded Americans and pulling such stunts as pretending to surrender and then throwing hidden grenades at their captors. The Americans have to blow up their bunkers and tunnels with explosives and burn the defenders out with flame-throwers (below, Sam Worthington as Captain Glover).
Amidst all this, Doss stoically goes about his work of treating casualties and helping them off the ridge. The real-life Doss was credited with saving 75 wounded men, and apparently he really did walk through the middle of artillery barrages and storms of machine-gun bullets to do it. There's a moment when Doss himself is finally rescued and lowered down on a sling, and hangs in space as though en route to a celestial Paradise.
Gibson's film is clean, sober and shot through with a respectful piety, but somehow this scarcely believable story manages to feel a little flat and somewhat predictable. Maybe it's because Doss, despite his heroics, arrives as a fully-formed character who doesn't change or develop over the 140-minute running time. He doesn't experience an instant of doubt ("God, what do you want of me?" he asks in the midst of the mayhem, and is promptly answered by a wounded man yelling for help), which makes him quite difficult to identify with for us more feeble and timorous mortals.
Overleaf: watch the trailer for Hacksaw Ridge