The Two Pigeons, Royal Ballet |

reviews, news & interviews
The Two Pigeons, Royal Ballet
The Two Pigeons, Royal Ballet
Well-executed revival of feathery romance with minimalist 'Monotones' for contrast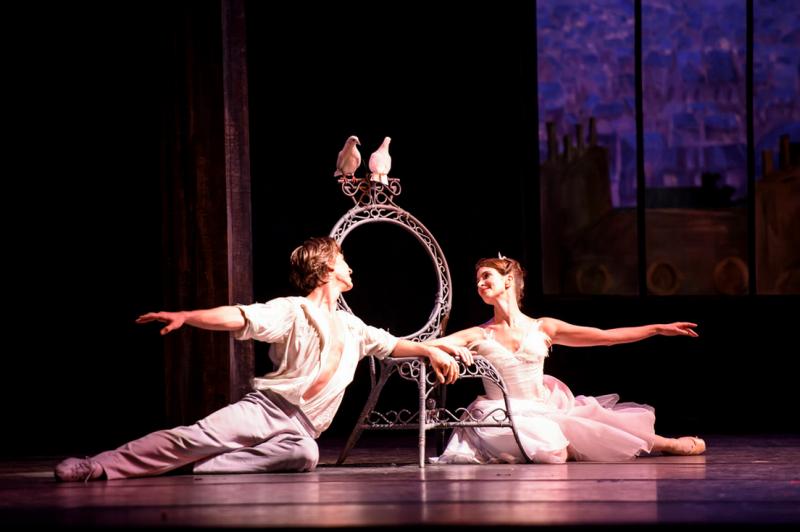 Love birds: Vadim Muntagirov and Lauren Cuthbertson in Frederick Ashton's 'The Two Pigeons'
With real live birds fluttering across the stage, and a sweetly happy ending – hurrah for young love! – Frederick Ashton's 1961 The Two Pigeons can look like mere frothy fantasy, precisely the kind of trivial, uncomplicated ballet plot that the young Kenneth MacMillan was reacting against in his own work in the early 60s.
Is its return to the repertoire after an absence of 30 years just the Royal Ballet pandering to the escapist fantasies of its audiences – who, director Kevin O'Hare reveals, have been clamouring for this revival?
O'Hare's announcement before curtain-up that the performance was being dedicated to the victims of the Paris terror attacks showed that escapism just won't work (if it ever does) in a week which has seen hundreds of people killed and injured in terrorist attacks worldwide. It's a saving grace of The Two Pigeons then, that, while most of it is rather insubstantial, it ends on that note of earnestness which it is Ashton's special talent to include in even the lightest of his ballets. The comedy tiff between Lauren Cuthbertson's pouty, flouncy Young Girl and Vadim Muntagirov's earnest Young Man is rather laboured, and his desertion of her for the exoticism of Laura Morera's Gypsy rather affected, but his chastened and apologetic return after getting his illusions beaten out of him by the gypsy's Lover (Ryoichi Hirano) feels realistic and sobering.
Making up quarrels and appreciating the people right in front of you are good ideas in an uncertain world, and the Young Man's reality check makes for a final pas de deux of remarkable poignancy, its intrinsic choreographic loveliness deepened by the beauty of forgiveness and reconciliation. It was the high point of the ballet for me, which is why I was actually somewhat irritated by the (impressively well-trained) white pigeons with whom Cuthbertson and Muntagirov, dancing their hearts out, had – distractingly – to share the stage.
Much of the earlier choreography, though it shows Ashton at his usual high level of technical competence, is window-dressing rather than emotionally relevant – though, especially in the case of the fast-beating, whirling gypsy dances, it's perfectly nice window-dressing. Laura Morera and Marcelino Sambé are the particular stars of this mood: Sambé, despite his rather messy landings, is a bundle of ferocious energy, and Morera (pictured right with Muntagirov), who oozes the class and competence of a senior Principal, owns those fiendish batteries with style. The leggy Hirano, though a good actor, has the same problem as the equally long-limbed Muntagirov in executing the fast sections fast enough; something in which we might expect better things from Steven McRae in the second cast.
Muntagirov's boyish sweetness is well suited to the artistic Young Man's temperament, however, and he and Cuthbertson spat delightfully in the opening scene, with Cuthbertson as sprightly and distracted as Alice (if there had been a white rabbit and not a white pigeon, I wouldn't have been at all surprised). The artist's studio in which their tiff takes place is beautifully realised in Jacques's DuPont's set, complete with skylights, balcony, and shimmering view over a city of rooftops, though it must be the largest artistic garret in existence to accommodate Cuthbertson's eight girlfriends, a similar number of gypsy chaps, and Elizabeth McGorian, whose dramatic talent is sadly underused playing a neighbour whose function is just to push the clueless Cuthbertson back towards Muntagirov at regular intervals. The same role is given to the Messager score, which – apart from that final pas de deux – does the job without being at all memorable.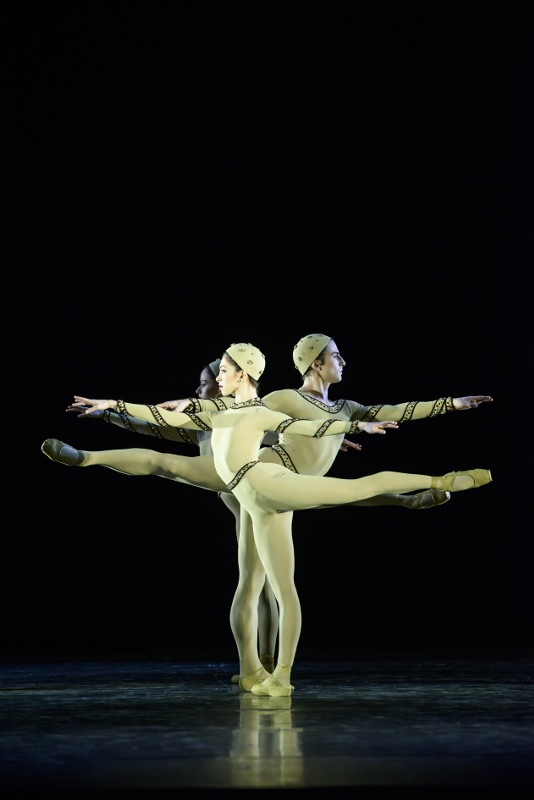 Monotones I and II, which opened the evening, are neat, little studies in form, rather fugal in their recombination of simple motifs, though of course nothing could be less fugal than the airy accompaniment of Satie's Gymnopédies and Gnossiennes. Their very simplicity leaves the dancers exposed, and almost everyone wobbled at some point, though Yasmine Naghdi deserves credit for her confident pliancy in Monotones I (pictured left), and Marianela Nuñez in Monotones II was poised and cool despite the rather undignified business of being turned round and about like a corkscrew while doing the splits. Ashton was a genius, but in my view this motif in Monotones II is unlovely and unedifying – the piece improves vastly towards the end, when the three dancers cover more ground and recall in their elegant push and pull the "heavenly tennis match" of the marvellous 1946 Symphonic Variations.
It is always good to see Ashton on stage, but this particular programme is more of an appetiser than a full meal. It's a jolly evening at the ballet, for sure – but if you're not in the mood for jollity, perhaps this isn't the programme for you.
The live pigeons distract from Cuthbertson and Muntagirov dancing their hearts out
rating
Explore topics
Share this article