Rhapsody/The Two Pigeons, Royal Ballet |

reviews, news & interviews
Rhapsody/The Two Pigeons, Royal Ballet
Rhapsody/The Two Pigeons, Royal Ballet
Too much sugar in Ashton double bill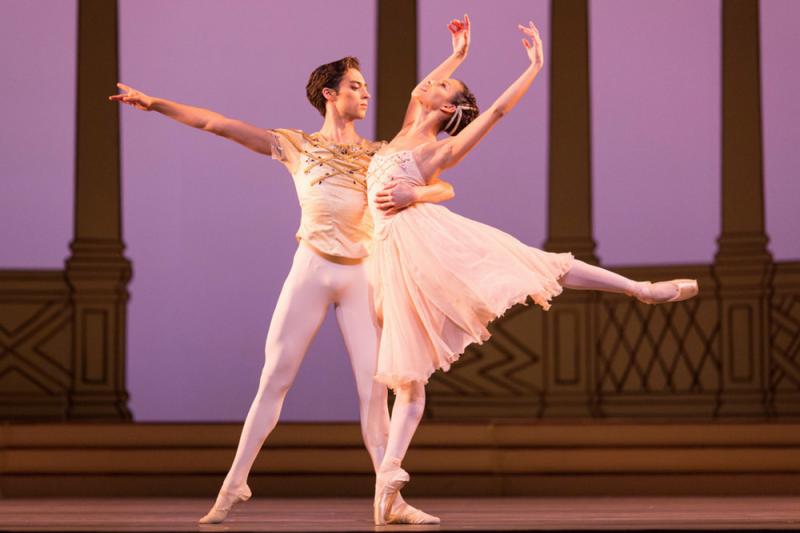 Pretty as debutantes: James Hay and Francesca Hayward in Frederick Ashton's 'Rhapsody'.
Perhaps the director of the Royal Ballet is a pigeon fancier?
With this January run of
The Two Pigeons
following hard on the heels of one in November, the Royal Ballet's dancers have spent most of the autumn and winter practising the fluttering, preening and cooing of Ashton's featherweight and featherbrained romance, while anyone wanting to see both
Monotones
and
Rhapsody
- paired with
Pigeons
in November and January respectively - has had to shell out for two tickets and sit through two doses of
Pigeons
' exhausting whimsy. It's a price even dedicated Ashton lovers might baulk at.
I count myself among those Ashton fans, and Rhapsody, which opens the new double bill, has all the material needed to explain why. This pure dance piece, a birthday present for the Queen Mother in 1980, displays a choreographer totally assured in his art, and having enormous fun. The male solo part around which the piece is built (originally danced by Mikhail Baryshnikov) is explosive and impressive, but also playful, with saucy little Travolta-esque lunges, and look-at-me! grand jeté exits. Both the female soloist and the corps get to play archly with the music, she flicking her wrists like an overwrought Sugar Plum Fairy, they jumping in carefully syncopated sequences.
She has the true star's knack of of holding an audience spellbound without seeming to try
The sets and costumes have been redesigned for this revival, or rather, restored to something like the 1980 originals. Gone is the watercolour sky and the grapefruit-coloured unitard last seen, memorably, two years ago on Steven McRae, and in their place are pink chiffon dresses and naïf architectural flats. The latter are effective in Francesca Hayward's entrance; framing her fluttering silhouette in the windows as if she's a debutante just running in from the conservatory. But it's hard not to regret the redesign when it accompanies such a saccharine interpretation of the piece. Rhapsody shouln't be pale and creamy, like fondant fancy; it should be spicy like a nutmeg - dense, hard, and full of flavour.

James Hay seems overawed by the part (Baryshnikov is some act to live up to), his attention turned inwards on its technical challenges rather than outwards on dominating the stage. It's only occasionally, and usually in exiting, that he shows us the kind of dangerous, pantherine grace that would go with the piece's Paganini-meets-Rachmaninov score. There's not much danger in Francesca Hayward's performance either, but I'll forgive her anything while she's on stage: she has the true star's knack of holding an audience spellbound without seeming to try, and her vividly expressive upper body is a wonderful vehicle for Ashton's wittiness with hands and head.
Pictured above, from left: Alexander Campbell, Itziar Mendizabal and Yuhui Choe in The Two Pigeons
In The Two Pigeons, it's Yuhui Choe as the Young Girl who finds the, wry, tender sweet spot between camp and bland. It's not hard to see why her artist swain, Alexander Campbell, has fallen for this sunny-natured, innocent little dove, whose pigeon-like struts and flutters are so perfectly controlled and comically expressive (a huge improvement on Lauren Cuthbertson's affected flouncing in the same role). With Choe on stage the opening scene, with the girl wriggling in her chair and the boyish brush-smith losing his temper, shows itself for the nearly unimprovable little comic vignette it is.
If The Two Pigeons consisted only of this first scene à deux, and its pendant, the final scene of crestfallen return and joyful reconciliation, I would like it rather more. As it is, my patience is too sorely tried by the intervening hoo-ha with the inexplicable crowd of girlfriends, and the gypsies who seem to have migrated from the daftest of nineteenth-century ballets. Itziar Mendizabal, implausibly aristocratic for a Gypsy Girl but an undeniably competent dancer, outshines both Tomas Mock as her lover and Marcelino Sambé as a gypsy boy, neither of whom seem to have much heart for their parts. I don't blame them, but if even the dancers find a piece turgid, what hope does the audience have? This kind of pastoral pastiche does the company, and the reputation of English ballet, no favours: they'd be much better off giving multiple runs of Rhapsody and working that up to a pitch of polished perfection.
The Royal Ballet perform Rhapsody and The Two Pigeons at the Royal Opera House until 30 January.
Rhapsody should be like a nutmeg - dense, hard, and full of flavour
rating
Explore topics
Share this article