Daphnis & Chloë/ The Two Pigeons, Birmingham Royal Ballet, Birmingham Hippodrome |

reviews, news & interviews
Daphnis & Chloë/ The Two Pigeons, Birmingham Royal Ballet, Birmingham Hippodrome
Daphnis & Chloë/ The Two Pigeons, Birmingham Royal Ballet, Birmingham Hippodrome
Everybody wins in an evening of genius Ashton ballet where a masterpiece meets a romance with live pigeons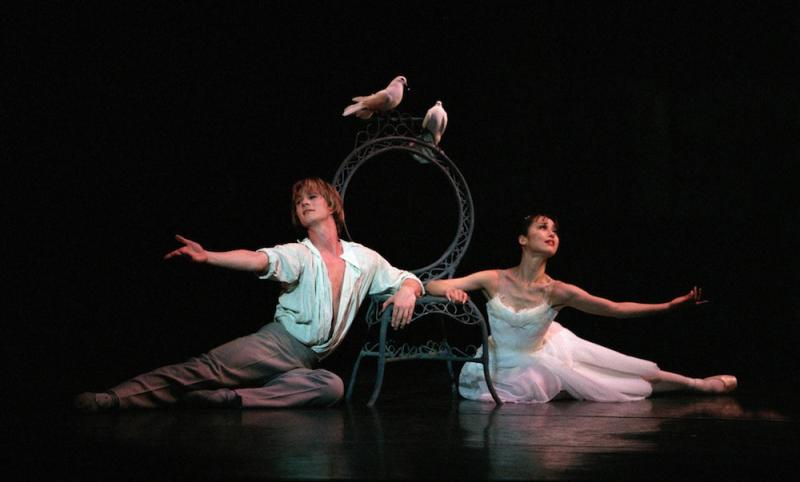 Pigeon power: Robert Parker and Nao Sakuma as Ashton's indescribably touching young lovers
There must be a protest movement going on in Birmingham's ballet against London's - if down south they insist on Kenneth MacMillan's box-office blasters, so in the Midlands it's Frederick Ashton's more fragile work that reigns. BRB director David Bintley's northern chip on the shoulder has its uses, and especially this spring.
After his hugely entertaining
Hobson's Choice
last week, here is a double bill of
Antiques Roadshow
Ashton that it's unlikely today's Royal Ballet (trying so consciously to be hip) would think of rediscovering.
Its problem, soberly, is that both pieces are difficult to programme, but that while one is a stonking masterpiece, the other is more sellable as it has live pigeons in it. So let's say that everybody wins in BRB's evening, where the idiosyncratic modern ballet of Daphnis and Chloë meets the sugary 19th-century romance of The Two Pigeons.
As far as I'm concerned, seeing Daphnis again is worth hours of travelling. Created in 1951 for Fonteyn, it is rarely done, mostly because it's nearly an hour long and has a score that demands a fine orchestra - which BRB has, in the Royal Ballet Sinfonia. As a result this experience has to be one of the highlights of this ballet year, and quite possibly next year, as the signs are that ballet is remorselessly being proclaimed an artform necessary only for children, old codgers and those who want encouragement to slim.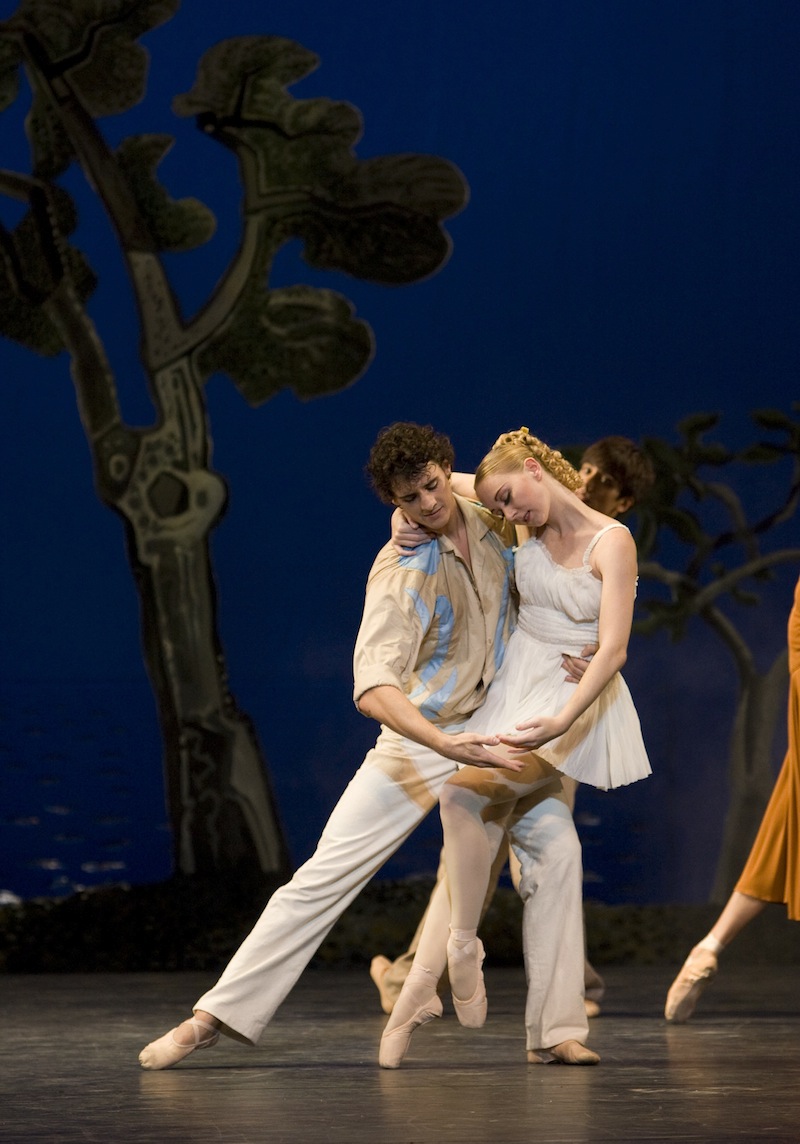 Ancient Greek myths are unfamiliar territory today, but Mamma Mia! has made Greece very hip, and the Fifties, apparently so dated a decade or two ago, are now the acme of retro hip. There was at Covent Garden 20 years ago an ill-fated idea to replace John Craxton's 1951 designs for a modest Mediterranean hillside, and BRB are smart to reclaim them. These designs for pre-Grease youths and girls, ponytails and skirts flying, chinos and belts, and a story of a girl and boy separated by a vicious, raping man, were radical in their time for ballet, but aren't hard to swallow today, even in ignorance.
Craxton's design gifts as an artist of one of Britain's more vigorous periods are more clearly stated in the sets behind these post-war kids, the woodcut forms of the rocks and olive trees of mythical Greece, the weird sheen to the nymphs (led magnetically by Céline Gittens), now somehow fitting easily into a visual world of CGI avatars, hobbits and extra-terrestrials.
Ravel's music is one of the glorious, seductive ballet scores - on a par with Stravinsky's greatest, and something you could simply listen to over and over again. But then Ashton choreographed with such finesse and artful instinct to it that your eye is held from the start by the folksy line-dancing of the girls and boys, out of whom emerge the pastoral lovers Chloë and Daphnis so naturally that you have to remind yourself that Chloë is semi-divine, an anointed nymph of Pan. And when Pan arrives, cloven-hoofed and with goat horns, the music (you find) has already planted you back in another world where such things happen.
Elisha Willis, the current BRB in-girl, featured in both ballets, more tellingly as Chloë, the hapless nymph (pictured above with Iain Mackay's Daphnis), than as the bad-girl gypsy in Pigeons after the interval. She is a better actress than dancer, with a lovely, artless face and simplicity of movement, and her bewilderment at being besieged by both shepherd swain Daphnis and the treacherous Dorkion (impressive Matthew Lawrence) was believable. She also made true emotional impact in the perversely erotic solo of misery in the pirates' lair, where, kidnapped and with hands bound, she can dance her protest only with her legs, feet and body. This - considering Ashton was a master above all of arms and hands - is one of several very remarkable new directions that the choreographer took in this extraordinary ballet.
Another is the thrillingly orgasmic pas de deux Daphnis is lured into by the sensual, amoral Lykanion (Ambra Vallo, the Ava Gardner of the Birmingham company, pictured left with Mackay's Daphnis). But then there's also the gentle simplicity and soft-footed clarity of the ensemble, sometimes just being friends of the main pair, sometimes an oblique Greek chorus commenting in ritualistic lines on their plight.
Musically the ballet challenges any orchestra, and the Royal Ballet Sinfonia's brass dealt less well with it than the woodwind (a blessed clarinet) and the strings, but Koen Kessels' conducting sang of the story, handed out the dance rhythms generously; the sun rose in glory in the playing of that miraculous dawning in the overture.
After Daphnis, it's hard to accept the often-expressed view that The Two Pigeons is one of Ashton's neglected masterpieces. This is a simple 19th-century story-ballet with pleasant, Opéra Comique music by Messager, in which you drum your fingers through the two old-fashioned acts until the glory, oh, the transfiguration of the final pas de deux, which would justify even three acts of waiting.
Two pigeons flutter onto the stage to join the lovers on their chair. It is sentimental beauty beyond words
The painter who ran away from his sweet model to find sexy va-va-voom with the gypsies returns to the weeping girl (after an interminable gypsy rave and a spot of mugging), and as they negotiate the terms of their reconciliation two actual pigeons flutter to join the lovers on their chair. It is sentimental beauty beyond words. Messager burst from his enjoyable second-rate tunesmithery to a melody of succulent, heartrending plangency, the lovers, in every exquisitely suspenseful and expressive step, wholeheartedly forgive each other, understand all that life and love will demand of them, and wrap their arms around each other. Ashton heaven.
There really are few joys in dance-theatre to match this pas de deux, and one of the great pleasures of the performance was to see how vastly Nao Sakuma has grown as an expressive actress, to match her undoubted technical finesse. Older now, her face is more refined, and perhaps time has made her less afraid of opening up, but her acceptance of Robert Parker's plea for forgiveness was irresistibly touching (the pair pictured top). Thank you, Birmingham, for a life-enhancing, and tear-inducing, evening.
Birmingham Royal Ballet's Ashton double bill is performed at the Birmingham Hippodrome tonight, then again at the London Coliseum 13-14 March. Also Coppelia, Sunderland Empire 7-10 March, London Coliseum 15-18 March.
BRB's summer tours: South-west, to Poole Lighthouse 8 & 9 May, Truro's Hall for Cornwall 11 & 12 May; and North-east, to Durham's Gala Theatre 8 & 9 May, York Theatre Royal 11 & 12 May, Buxton Opera House 15 & 16 May
This experience has to be one of the highlights of this ballet year, and quite possibly next year
Share this article