Reissue CDs Weekly: Al Stewart - Year Of The Cat
Reissue CDs Weekly: Al Stewart - Year Of The Cat
Box-set version of the US best-seller raises unanswered questions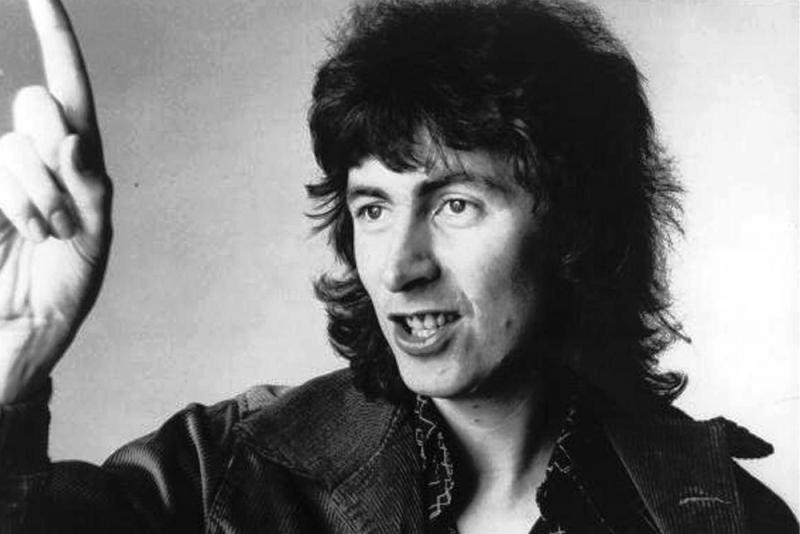 Al Stewart expounds on his American transition
At the end of 1976 Al Stewart talked to Melody Maker, contrasting how he was seen in America and the UK. He was in Los Angeles. "I haven't played in England for nearly two years," he told Harvey Kubernik. "The best way of looking at it was that I had Love Chronicles [his second album, issued in 1969], and I was getting a lot of good press.
Then
Zero She Flies
and
Orange
were not as good, and consequently I received some bad press. After
Past, Present, and Future
I came here and never toured England with a good band. In England they have an image of me which is completely out of date."
He went further: "More things are happening [in America] now than they ever did in England. That has a lot to do with the image I had in England. I was thought of as a folk singer."
The interview came just after Stewart's seventh album was issued. Year Of The Cat went platinum in the US in March 1977. In the UK, it became his first chart album since 1970's Zero She Flies but peaked in the album charts at 38. Like Fleetwood Mac and Peter Frampton, Al Stewart had become a British export which meant more to the States than his homeland.
Forty-five years on from its release (July 1976 in the UK, October 1976 in the US), Year Of The Cat reappears as a neat four-disc set in a slipcase with a book, four postcards and a poster. It's branded as the "45th Anniversary Deluxe Edition Boxset" and is newly remastered from the original tapes by Alan Parsons, the album's producer. Priced at just over £50, it won't be a casual purchase.
Disc One of the set is the album with the bonus track "Belsize Blues" (first heard on a 2001 reissue – that package's entertaining and interesting explanatory dialogue track "Story of the Songs" is not reprised here). Discs Two and Three are a full version of a classy though rather flat-sounding live show recorded for radio in Seattle on 29 October 1976. Tracks from it were heard on the c 1977 bootleg album The Tour Of The Cat. The fourth disc is a DVD with a new surround-sound mix by Parsons and a hi-res version of original album mix.
Judging by what he says in this reissue's book, Stewart remains as aware as he was in the 1976 interview. "Year Of The Cat's success [in the US] was a gradual thing," he says. "I was supposed to go home to England after six weeks, but the record company said 'no, you've got to stay,' and this went on for seven months. Eventually we compromised and they got me a little rented apartment on Sunset Strip in Los Angeles. Every time the album went up 10 places in the charts, they got me another piece of furniture, so I started with a bed and a table and a chair, and I ended up with a stereo, the whole set of furniture and they even threw some in albums! By then I had fallen in love with Los Angeles, so I sold my house in England and that was that." His American transition was complete.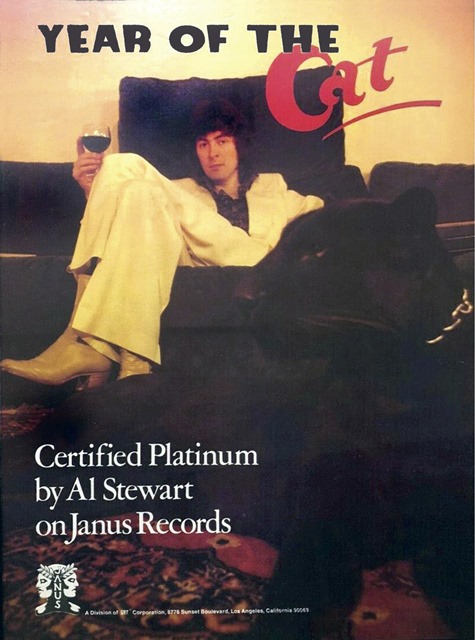 However, listening now to Year Of The Cat, it doesn't immediately come across as an easy sell to mainstream America. There are dives into esoteric territory. "'Lord Grenville' is about a naval battle fought off the Azores in I think 1591," he says. The success came after Alan Parsons began focussing on the music as much as the lyrics: they first worked together on 1975's Modern Times. Stewart says an American DJ had told him "'Look, it's all about the lead guitars.' [Modern Times' predecessor] Past Present and Future is all very well, but it's all about lyrics. You've got to find a great guitar tone and put solos on all the songs." Suitably advised and with Parsons, he approached recording in a new way. And with constant touring and radio support there, Al Stewart was soon on his way in America.
An unusual aspect of how Stewart recorded was retained. He favoured completing untitled backing tracks, then writing sets of lyrics and working out which fitted what was recorded. It would have been interesting to hear the raw backing tracks but none are included. Furthermore, the book says "the backing track of 'Broadway Hotel' was recorded at a faster pace than the version which would appear on the album." It would also have been good to hear this. Stewart says he recorded a version of what became the title track with different lyrics about Tony Hancock. Does this survive?
While the new box-set version of Year Of The Cat is a grandly packaged celebration of an elegant, finely crafted album, it raises unanswered questions. They boil down to – is there more which could be heard?
Next week: Count For Something – five-disc clamshell set dedicated to Adrian Borland's punk-era band The Outsiders
Like Fleetwood Mac and Peter Frampton, Al Stewart became a British export which meant more to the States than his homeland
Explore topics
Share this article