Reissue CDs Weekly: Jackson C Frank |

reviews, news & interviews
Reissue CDs Weekly: Jackson C. Frank
Reissue CDs Weekly: Jackson C. Frank
One of modern music's greatest and most affecting albums hits the racks again
The towering Jackson C. Frank in 1965
Jackson C. Frank: Jackson C. Frank
"I am afraid of the ocean as much as the possibility it is my mother," declared Jackson C. Frank in the liner notes to his sole, eponymous album, issued in September 1965. "Songs that I write aren't mine to admit to," he went on. "They dwell a little too heavily on the grey area behind my eyes to become my friends." Presciently, he admitted "you'll never know me as I do until it's impossible twilight too late to do anything about it." This was a singer unafraid to reveal the content of his psyche. He was not pop's usual contender.
The album barely sold despite being on Columbia - the home of The Animals, The Dave Clark Five, Freddie & the Dreamers and Shirley Bassey - and, along with its accompanying single, became Frank's entire discography. Although on a mainstream label, he wasn't cut out for promotion. Those who worked with him and knew him have acknowledged his mental health issues. He was later diagnosed with paranoid schizophrenia. Screens were erected in the studio while recording the album, so he could not be seen. He died in 1999. Knowing this quicksilver figure was always going to be close to impossible and it is now too late to do so.
Jackson C. Frank is an album which should always be available and never subjected to deletion. It's so significant that it should always be able to be heard and its reappearance on the British market is cause for celebration. A collection of dream-like, intimate and spectral reflections, it is one of the greatest albums ever and stands as such regardless of any knowledge about the man responsible for it.
Once in England, Frank was instantly integral to the London folk scene. Sandy Denny was a girlfriendFrank was American and had arrived in England after receiving an insurance pay out at age 21. When he was 11, an explosion at his New York State school killed 11 other pupils. He suffered massive burns, which was why he was seen right-side on in most photos.
Once in England, he was instantly integral to the London folk scene. Sandy Denny was a girlfriend and he encouraged her to take up music full time. Another transplanted American, Paul Simon, produced the album which also featured the previously unrecorded Al Stewart. Frank fell ill after the album's release and returned to America in 1966, but came back to the UK in 1968. It was a brief stay. Back in America, he got married. By the mid-Seventies was short of money and institutionalised. He tried contacting Simon in the Eighties, was homeless and later blinded in one eye by kids indiscriminately firing a pellet gun on the streets on New York City.
The album's significance stems from two attributes, both of which are in danger of being overshadowed by the tragic story of Frank's life.
Each of the album's songs is delivered with a rare combination of sensitivity and muscularity
Firstly, each of the 10 songs is an intense, melodic and affecting composition which once heard is never forgotten. Each is delivered with a rare combination of sensitivity and muscularity. Whether or not it was known at the time, these were classics in waiting. He has been covered by Nick Drake, Marianne Faithfull, Bert Jansch, Mark Lanegan and Laura Marling. But Frank's muse transcends the boundaries of what is thought of as folk: Daft Punk and Vincent Gallo have featured his songs in their films.
Secondly, before the style was codified to become a trope and then a haven for solipsistic and quotidian writers with little of interest to say, it defines and points to a future in music when singer-songwriters took giant steps towards naked expression of the self. Jackson C. Frank is integral to the devlopment of pop music. Bob Dylan aside, few albums from solo performers in 1965 entirely comprised their own compositions (Bert Jansch's second album, released April 1965, included one Davy Graham composition). Fred McNeil's Bleeker & MacDougal was one such and had been issued in May 1965. It obviously influenced Frank, but his approach to intimacy echoed back to Neil then Tim Buckley and, of course, Simon and Garfunkel.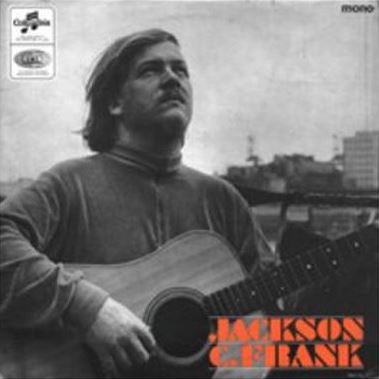 But without the music, the distressing story would not be one which is told. The album has been bootlegged, and reissued many times on CD and vinyl – most recently, a vinyl edition came out in America last autumn. Original pressings are rare, but any one of the subsequent versions is never hard to find. On CD, it has been appended with home recordings from before and after it was made.
This new issue is a vinyl release aimed at the market in which it was originally released. Sadly, it's perfunctory. It does not use the original album sleeve (pictured above left) or include the liner notes quoted from above. There is no insert with new annotation. There are no credits for how it was mastered. It has a warm sound, with slightly less reverb than an original pressing but is otherwise faithful. It sounds akin to the digital master issued on a 2001 CD release. Questions to the label behind this new edition about why the original cover was not used and on the nature of the mastering were unanswered. Just as it was, matters surrounding Frank remain enigmatic.
Overleaf: listen to "Milk and Honey" from Jackson C. Frank
Listen to "Milk and Honey" from Jackson C. Frank
'Jackson C. Frank' points to when singer-songwriters took giant steps towards naked expression of the self
Share this article