Building the Revolution: Soviet Art and Architecture, 1915-1935, Royal Academy |

reviews, news & interviews
Building the Revolution: Soviet Art and Architecture, 1915-1935, Royal Academy
Building the Revolution: Soviet Art and Architecture, 1915-1935, Royal Academy
Aesthetically mind-blowing. But morally compromised?
Wednesday, 26 October 2011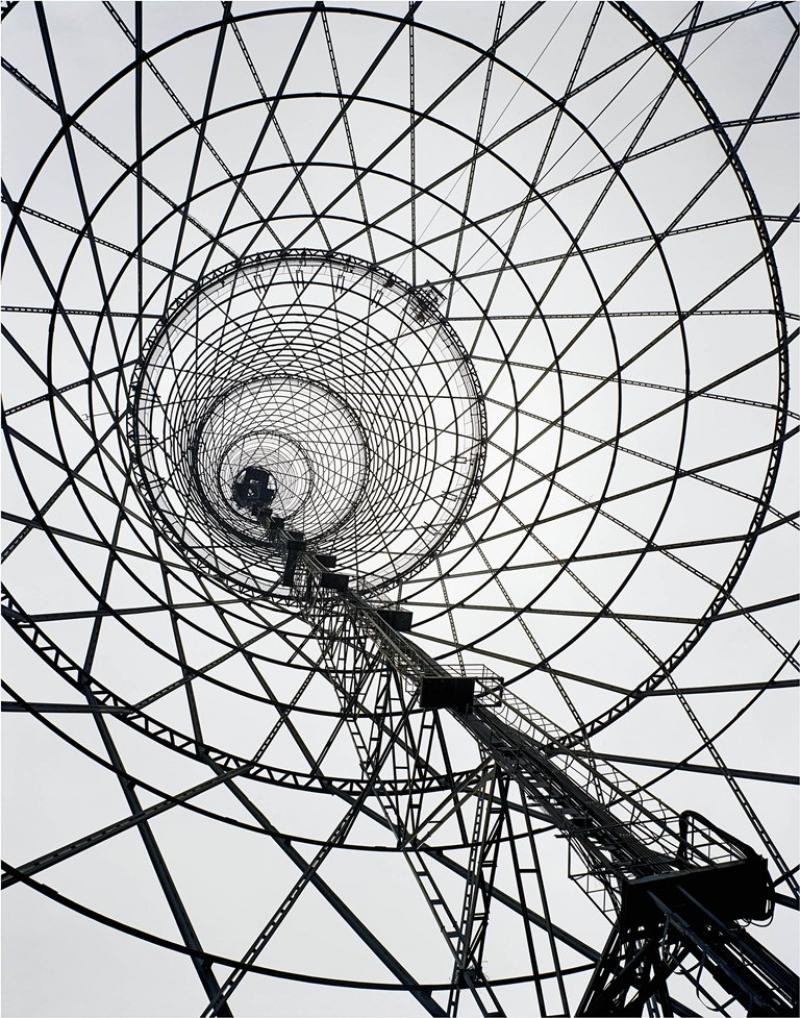 Shabolovka Radio Tower, photographed by Richard Pare, 1998
I'm not sure I've ever felt so ambivalent about a show, and so strongly both pro and con. The pros first, then. This is an astonishing, revelatory exhibition of avant-garde art and architecture in the Soviet Union in the brief but hectic period from the Revolution to the Stalinist crackdown in the 1930s. The show draws on Soviet archival photographs, never before exhibited, architectural photographer Richard Pare's gorgeous contemporary images of the buildings, and art from the extraordinary collection formed by George Costakis in the Soviet Union, when Constructivism and Suprematism were out of fashion.
In the first decades of the 20th century, following the lead of pioneers like Malevich, Suprematist artists set out to free pictorial space from the requirements of the real, using, firstly, a square floating in space, followed by other geometrical shapes. This revolutionary concept was taken up after the actual Revolution, and the Constructivists then began to approach the notion of space itself: what did it mean? How could it be defined? Vladimir Tatlin aimed to create "purely artistic forms with utilitarian intentions", and his planned, but never built, Monument to the Third International (1919), a ziggurat-like steel tower was intended to house the Comintern - each floor was going to revolve separately. (Under the architect Jeremy Dixon, the Royal Academy has erected a replica in their forecourt.)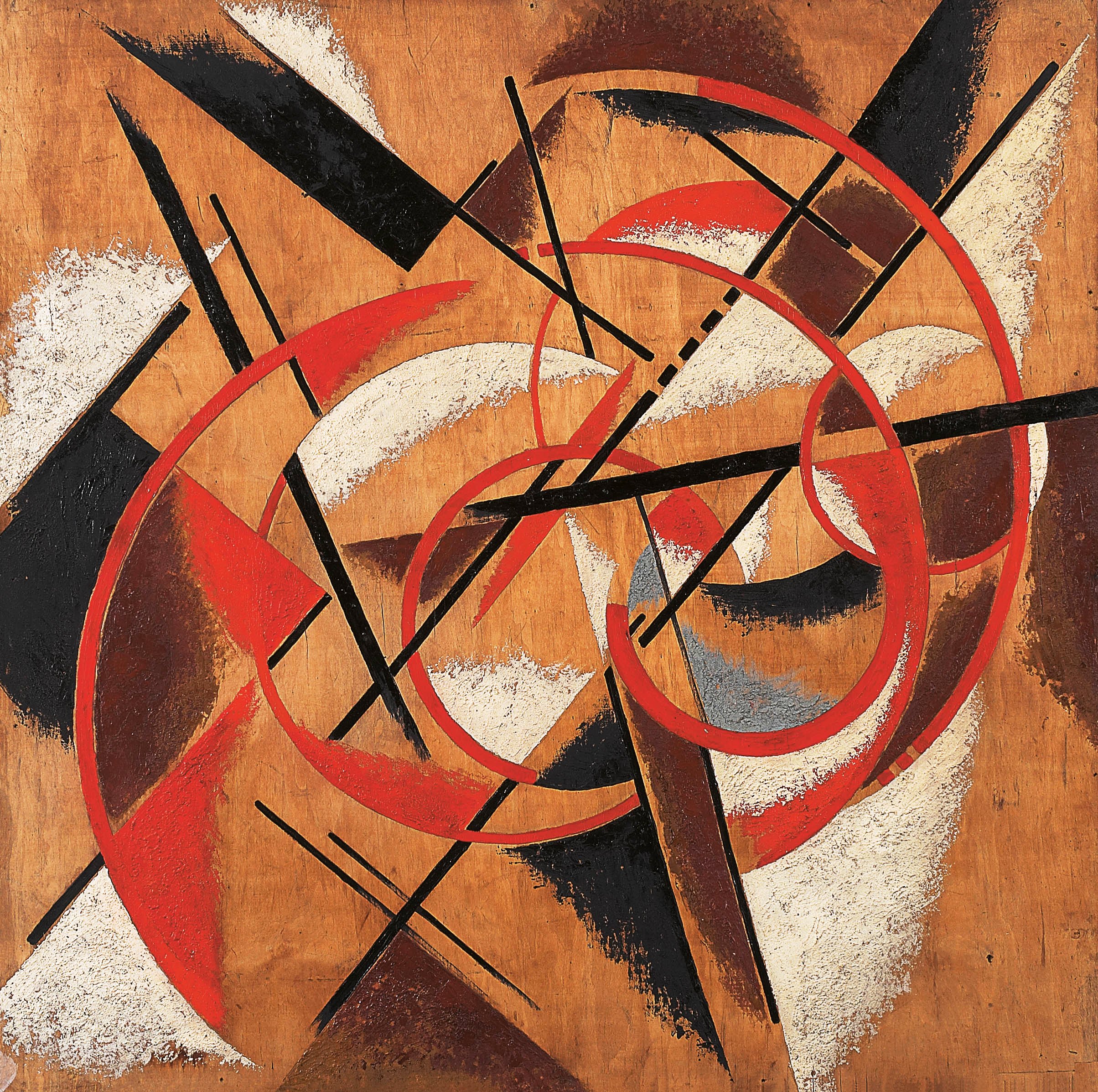 As Lenin's New Economic Policy injected capital into the state economy in the early 1920s, a building boom opened up opportunities for architects to work with the theories of these artists and evolve new building types to meet the needs of the new socialist state – communal housing, mass-production factories, workers' clubs and more. Avant-garde architects, including Le Corbusier and Erich Mendelsohn (later, as a refugee from Nazi Germany, one of the architects of the De La Warr pavilion in Bexhill-on-Sea), were invited to contribute and "the heroic years of Soviet architecture" began.
The opening of the exhibition could not be more thrilling if it tried: a fabulous Rodchenko, Linearism, the all-too-overlooked Gustav Klutsis's Dynamic City, and an amazing Liubov Popova, Spatial Force Construction (pictured above right, State Museum of Contemporary Art/G Costakis Collection, Thessaloniki, Greece), made of oil paint and marble dust, just glow.
They are, however, almost (almost) cast into the shade by Richard Pare's vertiginous photograph (main picture, above) of the first permanent industrial structure to be built in Russia after 1917, the Shabolovka Radio Tower, designed in 1922 by Vladimir Shukhov. Its elegant steel trussses floated high over the still low-rise skyline of Moscow, and the archival images (pictured below, Havski-Shabolovskii residential block, with Shabolovka Radio Tower, photographer unknown, 1929, Dept of Photographs, Schusev State Museum of Architecture, Moscow) and Pare's extraordinary interior shot show how stark its modernity must have appeared at the time.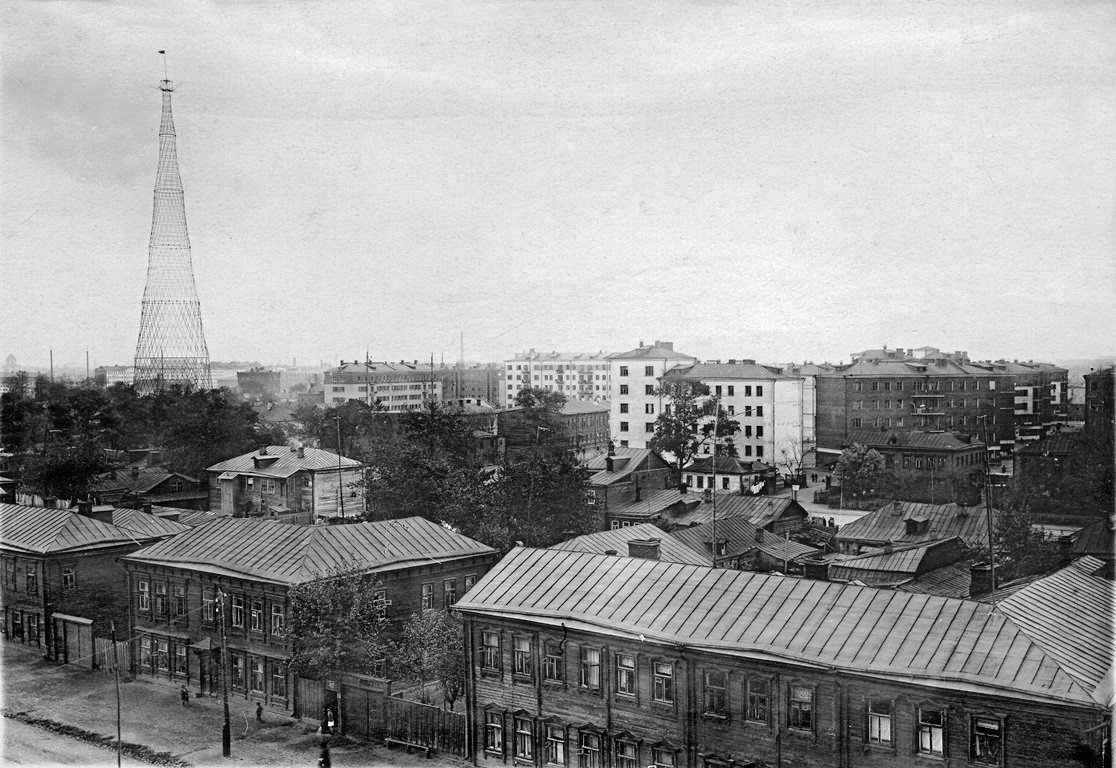 The architectural and artistic responses to the needs of industry, housing, education, propaganda, health and recreation then develop. The Narvski Factory kitchen embodies the new world order where communal feeding enabled women to join the workforce by ensuring that they no longer needed to stay at home to produce meals for their men.
While the politics and pragmatism are on display in the archival material, Richard Pare manages to infuse his photographs with a delicate and touching domestic reality (Rusakov Workers' Club, pictured below, photograph Richard Pare, 1995, courtesy Kicken, Berlin © Richard Pare). The DenproGES hydroelectric dam and power station's majestic turbine hall has a small clutch of seedlings being grown on a trestle table set out by the starkly modern windows, a worker's contribution, no doubt, while the railings, which must have appeared astonishingly modern in 1927, today seem quaintly old world with their decorative brackets.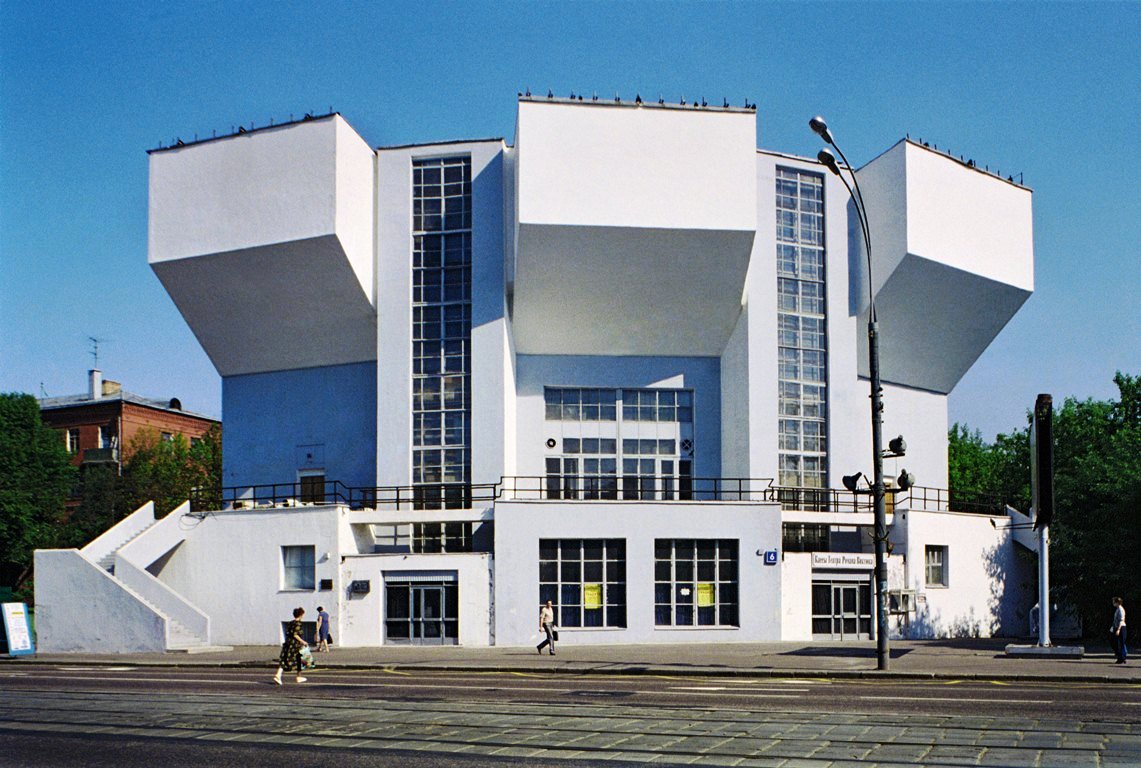 It is further on that doubts begin first to creep, then to gallop in. There is never, at any point, any question of the aesthetic value of what is on show. That is peerless. But when one looks at photographs of mass-production bakeries, and reads the captions stating that in the 1930s these were created to feed the workers, without any mention of the tens of millions of fellow workers who were being starved to death by the very same state that was building these model factories, well, one would wish for more editorial comment from the exhibition's curators.
And when it comes to admiring the (admittedly wonderful) swooping white stucco curves of Ivan Antonov, Veniamin Sokolov and Arsenii Tumbasov's housing scheme in Ekaterinburg, I reached my limit. To show the offices of the Cheka – the state security force that tortured and murdered, was responsible for the Gulag camps where millions more died, the organisation run by the psychopathic mass-murderer Feliks Dzherzhinsky – and only note that the building had a kindergarten, a playgroup and a hairdresser, seems to me to be taking aesthetic objectivity too far. Where is the difference between this and a show that displays posters or cartoons from 1940s Germany which discusses their graphic value while neglecting to say that they promote genocide?
There is a brief mention that Miron Merzhanov, the architect of Stalin's own dacha, spent time in the Gulag, but, the caption adds brightly, he continued to produce architectural designs there. It fails to note the few hundred million others who were not so fortunate.
On an artistic level, the show is immaculately conceived and presented. But, by ignoring the reality of the situation in which these artists were working, it becomes intellectually dishonest. And it betrays the millions murdered by their government all over again.
I'm not sure I've ever felt so ambivalent about a show, and so strongly both pro and con
Explore topics
Share this article
Subscribe to theartsdesk.com
Thank you for continuing to read our work on theartsdesk.com. For unlimited access to every article in its entirety, including our archive of more than 10,000 pieces, we're asking for £3.95 per month or £30 per year. We feel it's a very good deal, and hope you do too.
To take an annual subscription now simply click here.
And if you're looking for that extra gift for a friend or family member, why not treat them to a theartsdesk.com gift subscription?