Degas and the Ballet: Picturing Movement, Royal Academy |

reviews, news & interviews
Degas and the Ballet: Picturing Movement, Royal Academy
Degas and the Ballet: Picturing Movement, Royal Academy
An exquisite draughtsman, yes, but a supreme colourist too, as this wonderful show reminds us
Tuesday, 20 September 2011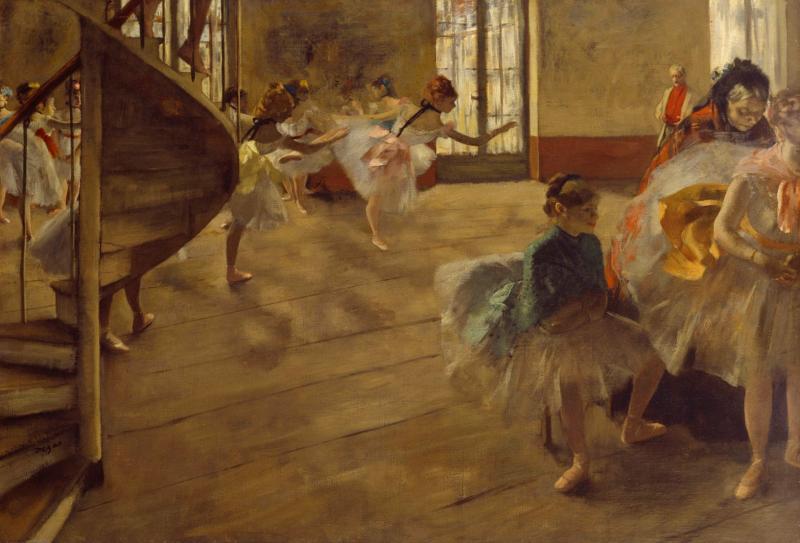 Degas's 'The Rehearsal', c 1874
A beguiling shadow play greets and enchants on arrival: the silhouettes of three ballerinas, each performing an arabesque, are cast upon the wall as you enter. The effect, as their softly delineated forms dip and slowly rotate, is mesmerising. It's also an apt opener to an exhibition devoted to exploring how Degas strove to achieve a sense of fluidity and movement in his paintings of dancers, a subject for which he is chiefly known.
And yet these delightful silhouettes suggest the contradiction at the heart of Degas's paintings: his charming images are, in fact, exposés. We witness the endless behind-the-scenes graft that goes into making the art of the ballet look perfectly seamless, for the artist rarely depicted a finished performance but instead concentrated on the sweat and strain of getting there. And here an analogy can be drawn to Degas himself: we witness the exhaustive preparatory sketches that went into his finished product.
The Royal Academy's exhibition offers, in a sense, two exhibitions for the price of one
But the shadow play is also inspired by a real episode: Walter Sickert's account of a demonstration he was given by the older artist in Degas's Paris studio. Degas had placed one of his sculpted figures, modelled in such a pose, on a turntable, and her entrancing animated shadow danced against the wall. How would the French Impressionist achieve a sense of movement in work that was stationary?
It's a question that has exercised artists through the ages - artists of classical antiquity no less than their early-20th-century counterparts, eager to recreate on canvas and in solid form the kinetic energy of the industrial age. It was Polykleitos who invented the classical Greek style in the 4th century BC when he innovated the contrapposto: a figure placing his or her weight upon one leg, and thus suggesting a muscular tension about to erupt into action. It was that moment of tension, from tightly held stasis to animation, that particularly interested Degas. His adolescent performers are featured in a series of swiftly transient poses.
We begin in the 1870s and some of the paintings and pastels that are most familiar to us. The Rehearsal, c 1874 (main picture), features dancers who are both practising their positions and who are at rest. The floor is tilted forward, so that we are looking down on the intimate, self-absorbed scene like voyeurs. We spy a pair of legs making their way down the spiral staircase, whilst, at the other end of the canvas, a standing figure is only half-glimpsed – bisected as if in a severely cropped snapshot. And while dancers practise their arabesques in the background, a young dancer sits, waiting, in the foreground - but relaxing is not quite the right word: she is in a state of suspended animation, physically alert to her surroundings, her body carefully poised, her feet neatly turned out.
Degas, like his fellow Impressionists (the label has always sat rather uncomfortably with Degas, since it is not the fleeting impressions of light that he sought to capture but the more classical concerns of movement), was influenced by advances in photography that many felt were threatening to make the painted image all but redundant. Although he never owned a camera until 1895, when he was already in his sixties – after which he took numerous portraits of himself and fellow artists which can be seen in this exhibition - Degas was aware of the experimental photography of Étienne-Jules Marey in France and Eadweard Muybridge in England. And like his fellow artists he was clearly influenced by their work.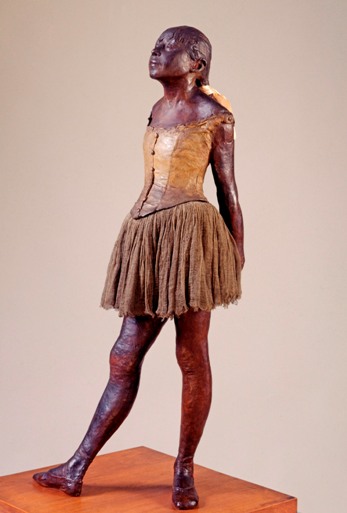 The Royal Academy's exhibition offers, in a sense, two exhibitions for the price of one. To illuminate its theme, the biggest room features, alongside Degas's bronze casts, Marey and Muybridge and other contemporaneous photographers and film-makers fascinated by the exploration of movement. Marey's photographs depict, in a single print, one figure spreading out like a fan in a sequence of incremental movements, while Muybridge's stop-start photography features a series of prints which each depict one figure followed through a complete action. We also see François Willème's "photo-sculptures", statuettes based on multiple shots of sitters in the round – rather kitsch works that just go to show that exactitude isn't the chief ingredient of great art.
Degas's sculpture The Little Dancer (pictured above), whose wax original was shown in the sixth Impressionist exhibition of 1881, is also based on a careful study in the round. A wall chart features a photograph of the figure surrounded by photographs of sketches depicting from every angle the 14-year-old model she is based on. They surround the finished sculpture like small satellites. Meanwhile, in place of the original, a posthumous cast, in worn and dusty tutu, is shown next to Marey's bronze birds in flight – Marey's sequential images realised in solid form.
But Degas was much more than a documenter of movement. His paintings and pastels shimmer and seduce, their colours putting Gauguin to near shame – for although he is known for his supreme draughtsmanship, this exhibition will surely highlight the fact that Degas is also a supreme colourist. And how could we have ever neglected this fact? His line is exquisite, but how his sketches come alive with a rub of coloured pastel: bewitching emeralds and intense blues and those burnished oranges which appear time and again.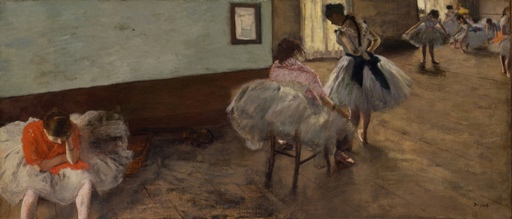 And how couldn't we be seduced by his judicious use of colour in The Dance Lesson, c 1879 (pictured above)? On the far left of this panoramic canvas a dancer sits in weary contemplation on the floor, away from the bustling activity of her fellows; yet your eye is completed arrested by her, captivated by this still figure in her dazzling red shawl.
Indeed, stillness characterises Degas's later work, that and intense, inflamed colour. By the late 1890s, and with failing eyesight, Degas's dancers have become almost frieze-like, monumental and statuesque. There is little sense of movement left. What's more, they have stepped out of the rehearsal studio and into some kind of pastoral arcadia, as we clearly see in his Russian Dancers, c 1899.
But we must go back to the 1870s to appreciate Degas's true greatness, for this is when line and colour come together so brilliantly. This wonderful exhibition does what all wonderful exhibitions must – makes us see again.
His paintings and pastels shimmer and seduce, their colours putting Gauguin to near shame
Share this article