Aladdin, Richmond Theatre review - great Dame, weak script |

reviews, news & interviews
Aladdin, Richmond Theatre review - great Dame, weak script
Aladdin, Richmond Theatre review - great Dame, weak script
Christopher Biggins is back in gorgeous frocks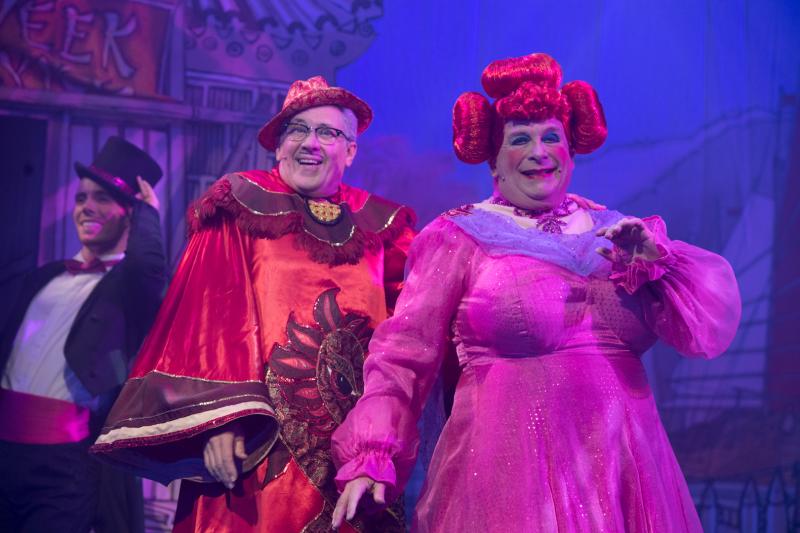 Count Arthur Strong as Emperor Ming and Christopher Biggins as Widow Twankey
It's always good news when Christopher Biggins announces he's going to don false bosoms again to play a panto Dame, and Aladdin offers lots of frock action in the role of Widow Twankey, Aladdin's washer-woman mum. So hopes were high for this show, which also stars Count Arthur Strong as Emperor Ming.
It's a rich tale with colourful locations in downtown Peking and Ancient Egypt, a magic carpet and a cave stuffed with gold and jewels, but Ken Alexander's production sadly doesn't really sparkle. He's not helped by a weak script by Jonathan Kiley and Alan McHugh, which is noticeably lacking in innuendo for the adults and daft gags for the youngsters. Jokes may be groaners – indeed they're contractually obliged to be stinkers in panto – but when the references are too ancient even for the grandparents in the audience to get, then it's a fail.
A highlight is Aladdin's magic-carpet ride, when he swoops over the audience
It may be that the show, which I saw in preview, hadn't quite bedded in (and indeed may already be there by the time you read this), but Biggins didn't look entirely comfortable, and his interaction with Count Arthur (aka Steve Delaney) seemed stilted in places. Their characters are supposed to be attracted to each other – whether in lust, or love of money – but you would never know it.
Rikki Jay, meanwhile, was left to mine the laughs as a hard-working Wishee Washee and happily his shopping-cart scene, with every food gag going, is a triumph.
There's lots to enjoy, not least Widow Twankey's outrageously OTT costumes (by Mike Coltman) and Issy van Randwyck's appealing Scheherazade. Bob Harms as Abanazar is good fun, too, and his increasing irritation throughout the show as nobody can remember his name ("Avabanana?", "Abergavenny?") provides much of the comedy. Aladdin (AJ Jenks) and Princess Jasmine (Denquar Chupak) are as sweet as they should be, and the poppy tunes are played under the vibrant musical direction of Pierce Tee.
The story is told efficiently, and the sparkly sets convey the story's magical elements. A highlight is Aladdin's magic-carpet ride (visual special effects by The Twins FX), when he swoops over the audience – much to the young ones' screaming delight – even if the Genie, a sort of blow-up contraction by the side of the stage, is rather less captivating. Let's hope the stars start shining...
There's lots to enjoy, not least Widow Twankey's outrageously OTT costumes
rating
Share this article