Raving, Hampstead Theatre |

reviews, news & interviews
Raving, Hampstead Theatre
Raving, Hampstead Theatre
Simon Paisley Day's new comedy about parenting is all schadenfreude and no knickers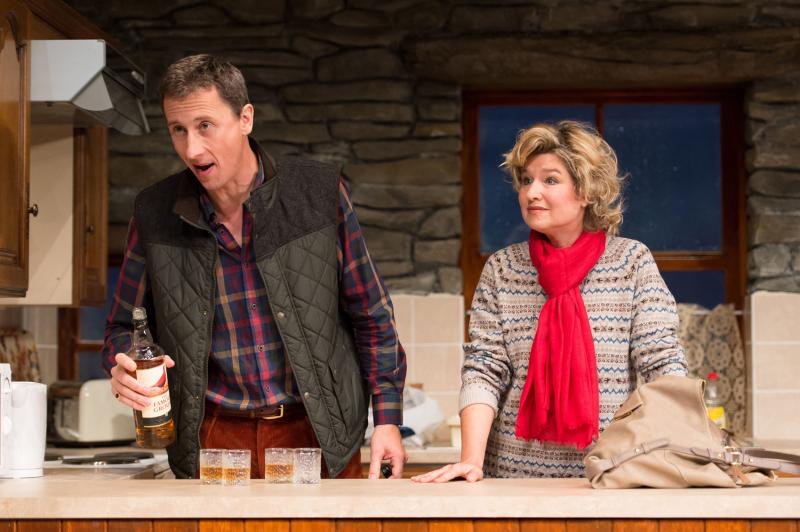 Frisky whisky: Nicholas Rowe and Issy Van Randwick in 'Raving'
The comedy of manners is not dead. It's alive and kicking, often literally, at this north London venue in actor Simon Paisley Day's new play. Although the title suggests a group of teenagers dancing in a warehouse, the actual subject of the play is a handful of couples who have left their children behind in order to spend three days relaxing in a remote countryside location. Throw in one or two wild cards and this laughter machine is soon turning over.
We are in a holiday cottage in deepest Wales. Keith and Briony are a teacher couple from London who have a three-year-old son, Fin. At first glance, Briony is a bundle of anxieties, fretting about being a good parent, leaving her son and worrying about her breast milk. (There's some comic business with a breast pump.) But the comedy only really heats up when Charles and Serena, a much more upper-class, shootin'-an'-huntin' couple (complete with shotgun) arrive. Jokes about class begin to pepper the show before Ross and Rosy, a super-organised super-couple, arrive.
A handful of social issues soon
flash into view
At this point, the mechanics of the plotting get a bit clunky, rather like some old farm machinery. Ross and Rosy tell the story of their au pair, who has claimed to have had a wild fling with Ross, and although she claims to believe that her hubbie is innocent, we just know that some revelations that will shatter the image of this perfect couple are on their way up to this hillside cottage. And, lo and behold, they are.
Amid the jokes about how to behave in polite middle-class society, a handful of social issues flash into view as the characters get caught with their pants down. The most obvious theme is that of parenting, and Paisley Day (himself a relatively new parent) clearly enjoys throwing a few satirical barbs into the mix: controlling friends are laughed at, controlling parents are laughed at, controlling couples are laughed at. Yet get the picture, don't you?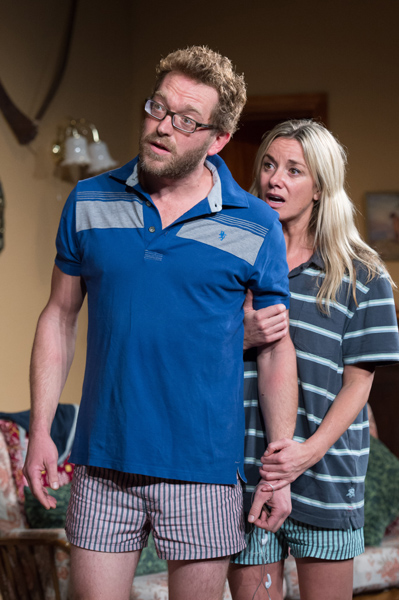 Paisley Day also throws in, or more accurately vomits forth, a surprise and unexpected visitor: Rosy's mouthy teenage niece, Tabby, who is high on drink and drugs. This anarchic personality suddenly galvanises the proceedings, and when she leaves we miss her. When she's not on stage, there's an ongoing discussion about the right and wrong kinds of parenting; there's a lot about male sexuality; there's a bit about adults parenting other adults. And, when a local farmer warns them about an upcoming rave in the field next door, the plot clunks yet again.
But just as all couples are different, so not all comedies are the same. The previous show at this venue was Terry Johnson's Hysteria, darkly hilarious but intellectually thrilling. In Raving, the feeling is quite different. The jokes come fast and furious but the plotting is sadly predictable and there's a lot less here than meets the eye. Most TV sitcoms are smarter, tighter and better performed. I laughed a bit, but I longed for more nourishment — repeated doses of schadenfreude rapidly lose their effect.
Still, Edward Hall's efficient production rolls along fairly merrily, helped by a bright and effective cast. Tamzin Outhwaite and Barnaby Kay (pictured above) play the depressed Briony and the horny Keith; Issy van Randwyck and Nicholas Rowe are the posh Serena and Charles; Sarah Hadland (taking time off from Miranda) and Robert Webb are the sickeningly perfect Rosy and Ross. Bel Powley does her usual number as the screaming teen. But not even the milk of Briony's human kindness could persuade me to love this show.
But just as all couples are different, so not all comedies are the same
rating
Explore topics
Share this article