The Rake's Progress, Wilton's Music Hall review - mercurial Stravinsky made cumbersome |

reviews, news & interviews
The Rake's Progress, Wilton's Music Hall review - mercurial Stravinsky made cumbersome
The Rake's Progress, Wilton's Music Hall review - mercurial Stravinsky made cumbersome
Fine cast, but playing and production need both sharpening and lightening up
Tuesday, 21 November 2017
Jonathan Lemalu's Nick Shadow tries to trick Robert Murray's Tom Rakewell in a crucial card game
If you're not going to mention the imaginative genius of Stravinsky, Auden and Kallman within the covers of your programme, and the only article, by the director, is titled "Acting Naturally", then the production had better deliver.
That remarkable actor Selina Cadell's eloquent words, both there and in a "First Person" piece on
theartsdesk
, promise more than actually emerges in a debut staging from the lavishly-supported OperaGlass Works which doesn't even have the curiosity value of going daringly wrong. Between them Cadell and her curiously un-buoyant conductor, Laurence Cummings, much more sprightly on Handelian home territory, never fully honour a fine team of singers and instrumentalists.
I take one of Cadell's key points, that performers should engage more directly with the audience. In a work which starts with Stravinsky's typical inverted commas around the word "heart", only to glide into a terrifying earnestness beneath the facade by the time we reach the last two scenes as weak-willed Tom Rakewell finds himself first in a graveyard and then in a madhouse, that's a mixed blessing.
It's a sadness that the production Stravinsky treasured most, that by Ingmar Bergman in Stockholm, is lost to posterity, but we do have Bergman's Magic Flute, the greatest, surely, of all opera films, to hint at what might have been achieved: it starts with a pretty recreation of the Drottningholm theatre, all delightful painted flats and much addressing of the audience, but strips away the illusion in the second act. Stravinsky being equal to Mozart in his variousness, a similar sense that we're no longer asked to be directly complicit – with a bit too much "like me" about it for my taste last night – but finally inside the characters' heads was missing last night.
Given an audience ready to titter at just about anything, and lights full up, the power of Nick Shadow's attempt to claim Tom's soul didn't stand a chance. A rigidly 18th century London with the occasional reference to Hogarth's series, though without wigs and only using minimal props – albeit with a nice touch in Cummings dressed up as his god, Mr Handel – fails to mark the full historical range of Stravinsky's musical mystery tour. Hockney at Glyndebourne got away with it; the Brechtian austerity of Tom Piper's sets and the splashes of colour in Rosalind Ebbutt's pretty costumes weren't enough. Several numbers delivered from the balconies were completely lost on the sizeable proportion of the audience seated beneath them.
Nor did those exquisite endpapers, a pastoral idyll at the start and a masque-like final catering for Stravinsky's deep myths of rebirth in Bedlam, have the eyes pricking as they can when the conducting is more deft, the instrumental lines more beautifully phrased than the young players of the Southbank Sinfonia were encouraged to make them (no problem at all, though, with the restricted forces). We did at least have two master colourists in tenor Robert Murray as Tom and Susanna Hurrell as his Anne Trulove (pictured above), though the sense of callow youth trying, however feebly, to find his way was lost in casting an older tenor.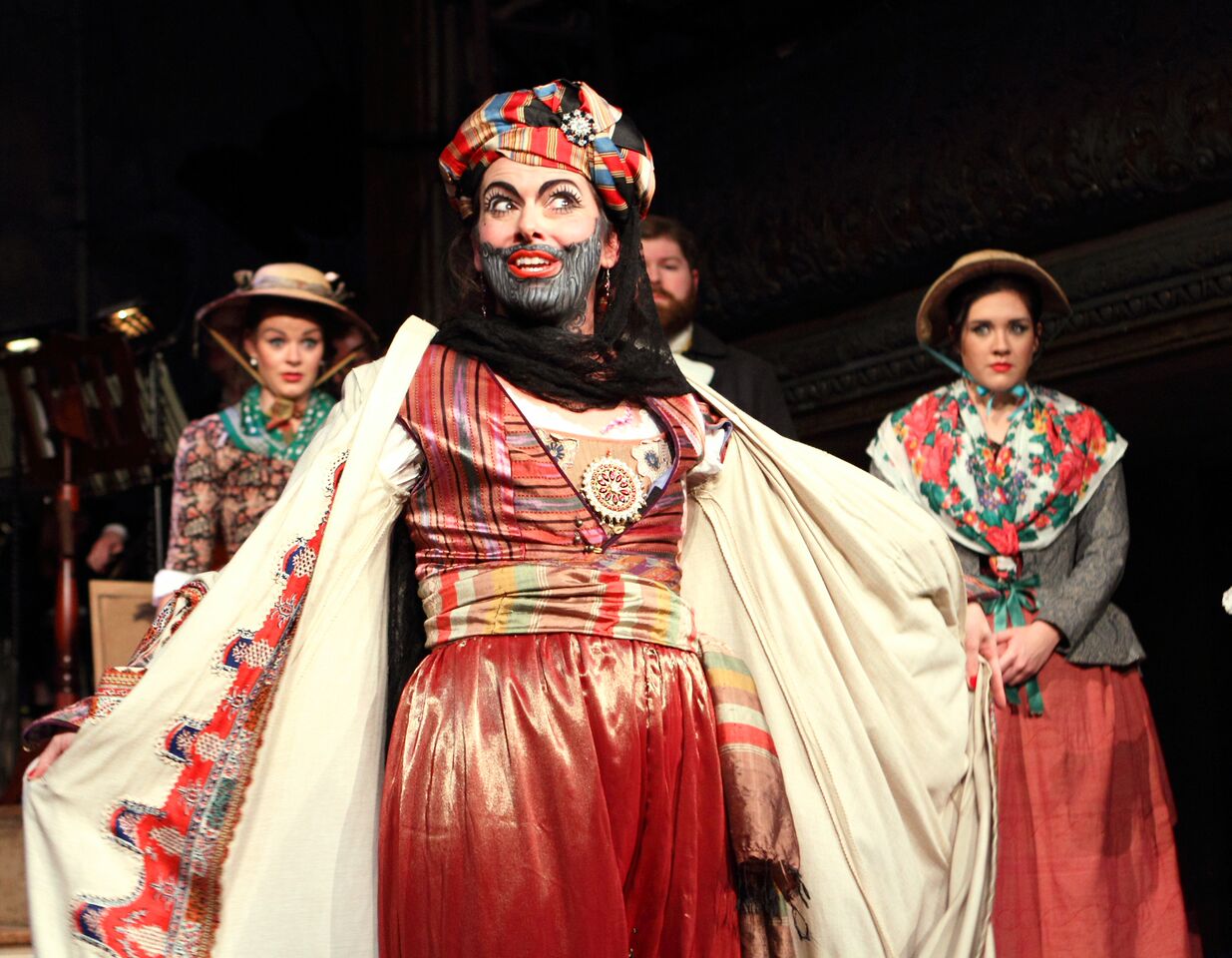 Jonathan Lemalu had light and shade in his singing, too, though perhaps not enough menace and authority. Even Victoria Simmonds as Baba the Turk (pictured above), the bearded lady of St Giles' Fair whom Tom is urged to marry as an existential jest, didn't get the best context from Cadell; was it health and safety which prevented any crockery from being smashed at such close proximity to the audience in her breakfast vengeance aria? Nevertheless much expressive use of her well-made-up eyes – pity the beard had to be a paint job – and full mezzo dudgeon gave the cue for the fullest laughter of the evening.
The chorus of eight needed much more help with their acting; Mother Goose's brothel served up Roaring Boys with all the threat of the men in an English cathedral choir and a bit of vague moue-ing from the tarts. But musically they were very much on the ball, and not even minimal staging could sink the Broadway-style scene in which Baba's and scamster bankrupt Tom's possessions go up for sale; it made you realise how much theatre is in Stravinsky's brilliant setting of some of Auden's and/or Kallman's funniest lines. Indeed, in everything this under-nuanced production didn't achieve, one was reminded of the original's full, amazing potential. That's not much help, though, for those seeing a masterpiece for the first time, one sadly sold short.
A rigidly 18th century London fails to mark the full historical range of Stravinsky's musical mystery tour
rating
Explore topics
Share this article