Iolanthe, Wilton's Music Hall |

reviews, news & interviews
Iolanthe, Wilton's Music Hall
Iolanthe, Wilton's Music Hall
All-male fairies and peers dazzle their way through the best musical in town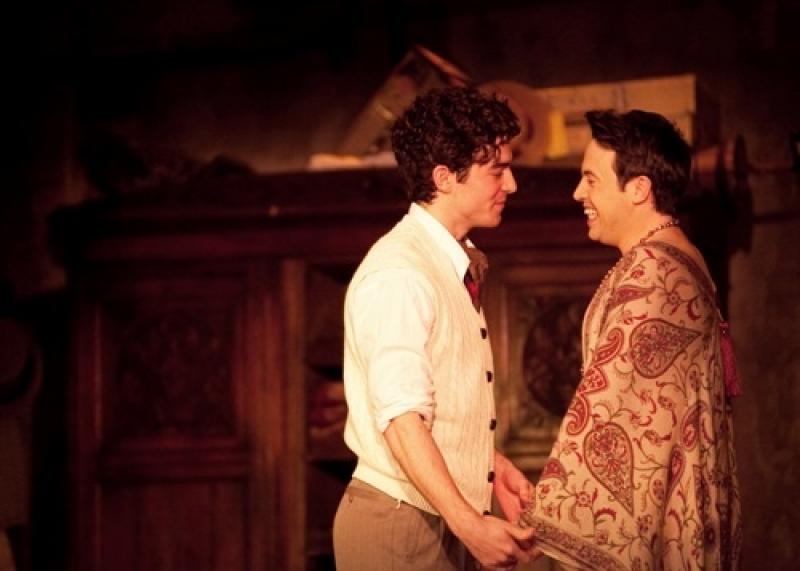 Blithe young lovers: Louis Maskell as half-fairy Strephon and Alan Richardson as shepherdess Phyllis
What's this? Goosebumps? Tears? Surely not in the usually brittle world of the Savoy operas. Yet handle Sullivan's pathos with tenderness, make everyone believe in a recognition scene between a sinning fairy and her preening peer of a husband, and the spectators will be putty in your hands.
It helps that they've already been softened by top-notch baritones, tenors and falsettists, tickled by dance routines and amazed by the freshness of Gilbert's lyrics - all suffused by the glow of Wilton's Music Hall, which can incline us to take even a spoof fairyland a little seriously. Lloyd Webber, eat your heart out; in the exuberant world of Sasha Regan's "all-male
Iolanthe
", G&S can still yield the wittiest, most tuneful musical in town.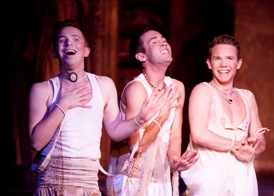 Even though it all begins with one lone piano in the near-darkness, like Peter Brook's dead-on-arrival Mozart the other week, you know there have to be more engaging things in store when Christopher Mundy gives us much of Sullivan's best overture with an energy that already leaves that fey Flute behind in a much more torpid dreamworld. Once the story is truly kicked into action by boys with torchlights, picking up a dusty old score of Iolanthe on a debris-laden stage with a Narnian-suggestive wardrobe, there are no cuts and no compromise in the feminine register of our fairies (Matthew McLaughlin, Patrick George and Joseph Davenport pictured above) - and surely no D'Oyly Carte chorines would have been up to the mark of Mark Smith's choreography, with graceful sign language to complement all that tripping hither. I don't know how much has been changed since the show's sell-out start in Regan's tiny Union Theatre, but the present venue fits it like a silk glove.
Stewart Charlesworth's fantastical designs look weird but not kinky, with lacy white underwear for the fairy ladyboys, dressing gowns and eccentric paraphernalia for the rhubarbing old lords with whom they come into conflict. Actually the "Entry of the Peers" seems to be whipping up cachuchas, fandangos and boleros from another G&S work, but all this busy going against the pompous grain certainly has everyone working with tireless energy; and later, Private Willis - company "dance captain" Raymond Tait, deadpan-funny - does a Scots jig in front of the curtain rather than a solemn strut before parliament in the immortal "Sentry's Song".
What's to take seriously? Well, Sullivan delves deeper than Mendelssohn as we learn how Iolanthe forfeited her immortal privileges by falling in love with a mortal. Her summons from 25 years at the bottom of a lake is occasion for flashing, lighted mirrors; later, her decision to die at the hands of her Queen by revealing herself to her lost husband so son Strephon can marry the girl he wants turns the action earnest again. Christopher Finn plays this absolutely straight, his fabulous popstar falsetto harnessed to serious intent; the kiss between his Iolanthe and Shaun McCourt's crisp Lord High Chancellor (pictured right with Finn) touches surprising depths.
Balancing this is the lighter play of the two young lovers (admirable how Sullivan keeps their music more or less pastoral throughout). Louis Maskell with his matinee-idol looks also has vocal and dramatic presence, sounds as yet a bit short-winded, but once he's decided what exactly he wants to be, his career is surely going to be a brilliant one. Against him, Alan Richardson has some shrill soubrette stuff to deal with as another of Gilbert's sly ingénues, but again manages to be both appealing and dignified - a lovely performance.
Indeed, what's also touching is the range of voices, especially in countertenor and male soprano territories, many of their owners straight out of drama school but all impeccably well cast, from Reuben Kaye's leggy fairy flirt Celia to Matthew James Willis's goofy Lord Tolloller (pictured with Luke Fredericks's Lord Mountararat below). Another lyric showstopper - and the great Victorian duo keeps rolling them out in Act II, after a first-act finale of overwhelming resourcefulness - is the Fairy Queen's "Oh, foolish fay", delivered with consummate artistry by true countertenor Alex Weatherhill. I doubt if the older ladies usually mockingly cast in this role could have sung it with such warmth and line.
So dazzling are all these virtues that the known enduring strengths of Iolanthe seem almost incidental. Yet its mockery of the Lords - whose supernaturally ordained infiltration by fairy-to-the-waist-only Strephon will put their institution up for "competitive examination" - and its anticipation of a forced liberal-conservative coalition still get the laughs in the right places. Not every line is timed to fall musically on the ear; some of the notoriously cut-glass dialogue needs working on. But that's a very small flaw in a show that's pure joy from start to finish. Pirates, Pinafore and Mikado can all fend for themselves these days, but the more ambitious scope of Iolanthe has long been in need of special pleading. Here, in the wonderful world of Sasha Regan, it finds it, but with such a lightness of touch that we can only leave Wilton's flitting into the East End night. Book fast and see it now in this wonderful venue before it goes on to even bigger things.
Iolanthe runs at Wilton's Music Hall until 7 May
Christopher Finn plays Iolanthe's dilemma absolutely straight, his fabulous popstar falsetto harnessed to serious intent
Explore topics
Share this article