Oreste, Royal Opera, Wilton's Music Hall |

reviews, news & interviews
Oreste, Royal Opera, Wilton's Music Hall
Oreste, Royal Opera, Wilton's Music Hall
Strong singing, if not fine-tuned to Handel, and playing at odds with hollow production
Wednesday, 09 November 2016
Gyula Nagy, Vlada Borevko, Simon Shibambu, Angela Simkin and Thomas Atkins in 'Oreste'
Human sacrifice and long-term reconciliation are serious matters for music-drama. Not that you'd know it from Handel's pasticcio or confectionary of previous operatic hits, nor from Gerard Jones's one-note production. For strip-cartoon violence Tarantino-style you need panache, and there's little of that here. Interesting, too, that Handel gets hardly a look-in throughout the interview Jones the Younger gives in the programme.
More important, does he serve the fledgling dramatic abilities of fellow trainees on the Royal Opera's Jette Parker Young Artists Programme? No, but these already accomplished singers are always fine if not entirely idiomatic in the multiple arias.
The story is the same in outline as the Greek myth at the heart of Gluck's Iphigénie en Tauride: a fury-haunted Orestes turns up on the Crimean shore where his long-suffering sister is foreigner-slaying high priestess to a bloodthirsty Scythian (here, African dictator), Thoas. Anna Fleischle's classical designs for the English Touring Opera production of Gluck's austere masterpiece would have fitted the former temple of music-hall at Wilton's much better than what Jones has come up with as co-designer with Matt Carter: a tagged, grungy space better suited to a multi-storey car-park as venue. Dry ice and a generator-like buzzing at the back of the stage were ominous signs from the start. And I'd never have guessed until I saw her take a bow that the masterly Mimi Jordan Sherin was responsible for the lighting.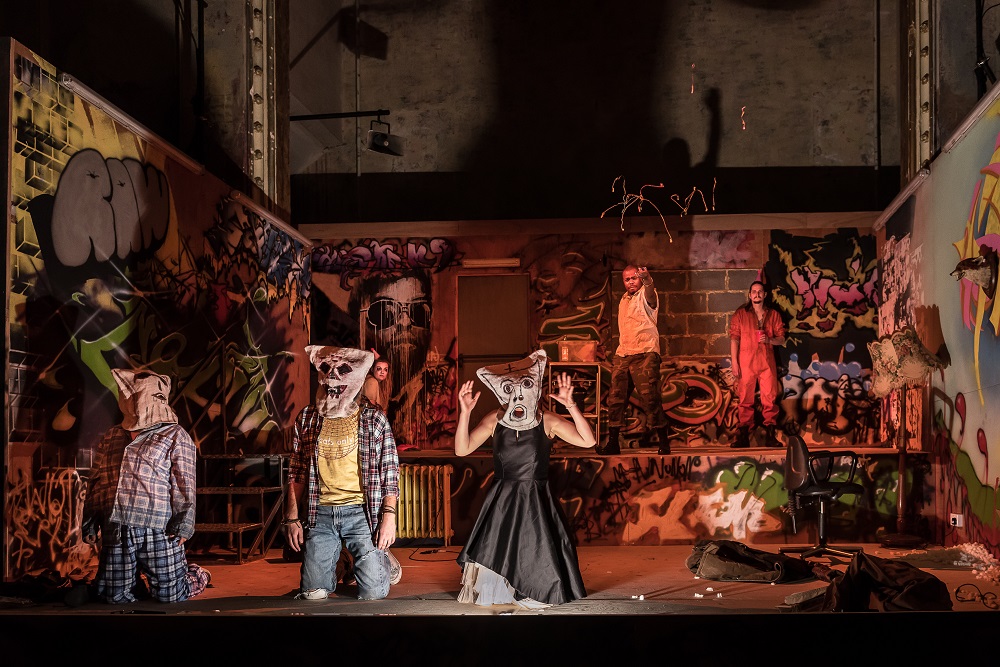 Within this awkward framework, tatty inhabitants perform clinical ritual sacrifice that ought to shock but only come across as dimly comical – "I've always liked that place where 'not funny' meets 'funny'," says Jones in the programme, but he has a long way to go to replicate the lesson of his master, Richard the Great – while two of the strangers from Argos are similarly raggle-taggle refugees. Not, oddly, Hermione, daughter of Helen and here married, with precedent in another part of the mythic canon, to cousin Orestes. She, at least, is the only character according to Jones who undergoes any sort of change, from prim pearl-necklaced society girl to hammer-wielding harpy. Certainly not right for the one who gets the most plangent music, and participates in the only duet, "Ah, mia cara", the best-known recycling (from Floridante) which would be occasion for heartfelt relief if Jones weren't bent on pointing out the misalliance of the related husband and wife.
If only Handel were as concise as Gluck. If anything gives licence to cut, it's a pasticcio. By running the first two long acts together, Jones has you wilting in sympathy with the poster of Diana that last night drooped and finally fell off the wall during a prime candidate for the snip, the otiose Act 2 aria for henchman Filotete. Frothy longer Handel always calls for two intervals and this show needs them more than most.
One constant source of admiration even in the audience's darkest moments is the neat little band of young professionals, the Southbank Sinfonia, conducted by the hyper-alert James Hendry. He seems to know every word not just of the arias but also of the recits, intriguingly and sometimes mysteriously accompanied by Nick Fletcher. The string quintet achieves wonders, very marked if you're sitting as I was virtually alongside them to the right of the stage. Handel's bottom lines are always a marvel to hear, and very impressively handled here by a single cello and double bass, but there was a lovely duet for two trilling violins to accompany Ermione, and some ravishing chord progressions in Pilade's Act Two aria of adoration for his beloved Oreste. Here tenor Thomas Atkins achieved the softest singing in a vocally loud evening, and artistry to match the da capo ornamentations of Jennifer Davis as Ifigenia (pictured below).
Handel might not seem natural territory for Vlada Borovko, the Ermione; she has energy and commitment but just a hint of under-the-noteness which may be a question of support. Angela Simkin, compelled to mutter and twitch throughout in response to the furies in Oreste's head, has lustre but could go for a little more subtlety at times. Simon Shibambu's tyrant gets some ridiculous routines – apparently there's a movement director, Anjali Mehra – and needs to keep an ear open for the band. Less would be more from Gyula Nagy's sidekick, who'd chew a rug if there were one to go with Toante's Act Two lampshade and foxhead.
Jones may wear you down, but he has a clever solution, deliberately disjunct with Handel's happy ending, for what a group of deranged folk is to do after all that slaughter; not the redemption of romance which is the usual role of Oreste's reconciliation with his sister (but then Handel doesn't seem interested in that anyway, alas). Atkins' Pylade finally decides to get the hell out of there, don his lifejacket and presumably swim to New Zealand. This morning, I know how he feels.
Frothy longer Handel always calls for two intervals and this show needs them more than most
rating
Explore topics
Share this article