The Rake's Progress, Royal Opera House |

reviews, news & interviews
The Rake's Progress, Royal Opera House
The Rake's Progress, Royal Opera House
Are Stravinsky and Lepage well matched?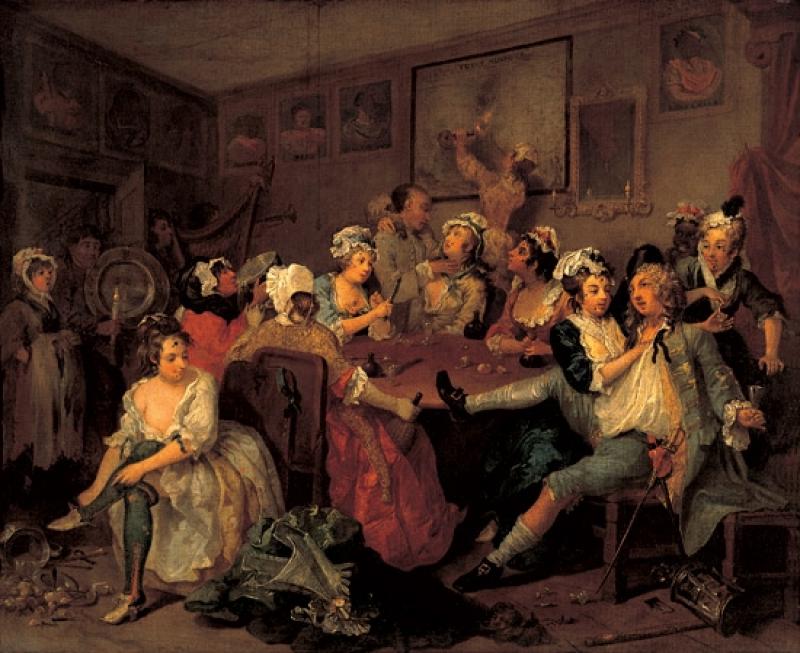 William Hogarth's A Rake's Progress: The Rake at the Rose Tavern (1734)
Not everyone was playing for the same team in last night's revival production of The Rake's Progress. On the one side were the conductor, choir and soloists, all focused in their service and submission to unravelling this quietly brilliant piece of neoclassicism by Stravinsky - mostly pretty effectively.
On the other side were the sets and direction of Carl Fillon and Robert Lepage, which included blow-up caravans, fold-out dolls' houses and a mattress-cum-Hoover sucking in lovers. Attention-seeking stuff . An initial interested "ooh" become a more circumspect "oh?"; bored eyes gave way to hungry ears.
Lepage transplants Auden's Hogarthian tale not unwisely to the 1950s world of "the American dream", to the oil fields of the Midwest and the Hollywood temptations of the West Coast. However, the detachment of the visuals - of the concept as a whole, in fact - from the music and the libretto cuts the work adrift and emphasises the biggest problems with the production's conception. If a peformance of The Rake's Progress is to work at all, it must have a pretty decent Rake and an equally robust Progress. Both were absent at the Royal Opera House.
It's a wonder that Toby Spence (reprieving the role of Tom Rakewell here), such a handsome and generously voiced tenor, cannot seem to project these talents into a convincing or thoughtful stage presence. He started well, with a Texan's case for the defence of Rakewell's plans for fame and fortune; it was delivered with plenty of gusto. But from then on, one was always one step ahead of him, always unsurprised by what turn he made and bemused by those he did. The few spoken lines especially exposed his inability to internalise the role.
The lack of "Progess", meanwhile, sprang from the lack of intellectual integrity to the Lepage concept. The moral dilemmas were never very sharply delineated or forcefully put. One modestly rakish venture - some filmed slap-and-tickle and light cocaine-snorting - would follow another without there being much sense of a shocking ethical slippage (except late on, and even then just in act not in emotion) that a rake's progress usually entails.
So the night required saving. And there were two ready to save: conductor Ingo Metzmacher (always worth your while) and Rosemary Joshua as Anne Trulove, both of whom seemed to immerse themselves in their roles better than anyone else. There was something absolutely captivating about Joshua's rain-coated, furrow-browed pursuit of Tom, her love. Most of this was down to a vocal, rather than physical, acting ability; a natural, almost effortless way to inhabit each and every note, so that, like in everyday speech, all was both expected and a surprise. As the words moved, her body moved; as the emotions frayed, the face frayed.
Trulove has particularly ravishing orchestral beds on which to sit, mainly lined with oboes or horn and strings, paired. In Metzmacher's hands, these delicate threads resembled the softness and suppleness of a Mozart adagio. The work is filled with these contemplative arias and ariosi, and they were, every one, a joy. Kyle Ketelsen's Nick Shadow, in fine voice, was almost there but not quite. That I barely noticed Patricia Bardon's Baba the Turk - a bearded lady - is quite an achievement.
Though we missed a key dialogue between the intellectual thread of the libretto and the conceit of the visuals, with Meztmacher and Joshua burring away so beautifully throughout, a work that is widely thought of as cold ultimately came alive.
Explore topics
Share this article