King Lear, RSC, Barbican |

reviews, news & interviews
King Lear, RSC, Barbican
King Lear, RSC, Barbican
Antony Sher runs the full delivery gamut in Gregory Doran's distinguished production
We two old boys together clinging: Antony Sher's Lear, with David Troughton as Gloucester
At the conclusion of a year in which Britishness has come so resoundingly to the fore of the national debate – and with a play that at the time of its writing, 1605-6, was engaging with that concept no less urgently – the first impression made by Gregory Doran's King Lear is how far removed it looks from any traditional sense of "British".
That's the case not least in Niki Turner's design, which moves from an introductory tableau of hunched figures and a noise like the rumbling of a ship's engine room to reveal a minimalist, brick wall-backed space. Black dominates – Cordelia's virgin white apparel the exception – with sharp contrasts of light and darkness, as if this court scene could be playing out at El Escorial, say, and were we to step outside it would be into an insistent Spanish sun (where Lear's heavy fur coat would be even more of a stand-out). And when we do step outside, onto the blasted heath, there's ne'er a hint of British green to be seen bar the wreaths; instead, an almost abstract landscape defined by neutral back lighting, and a single bent tree nodding to Waiting for Godot, its appropriated absurdity quite at home amid this play's distracted comings-and-goings of wits lost to cruelty.
Sher's words hardly flow; instead, they are drawled out, forcibly
Lear's initial entrance certainly has a grandeur that looks more Oriental than anything from a northern clime, as he's carried in on a shoulder-born palanquin, enclosed in a Perspex box like some prototype of the popemobile. (A Vatican association somehow continues in the scene of Gloucester's blinding with the return of that same Perspex box, visually recalling the screaming popes of Francis Bacon, as well, surely, as those early Damien Hirst cubes with their sense that something very nasty is taking place behind the transparent screens.)
Antony Sher's remarkable journey as Lear begins from the moment that he descends, literally, from that throne (pictured below). The sense of being raised up is there in Sher's language from the start, in his resolutely stately timbre that clings to its attachment to formality. He seems to be projecting every syllable with the self-assurance of a high court judge, for whom any variation of pace or rhythm would be a diminution of dignity. His words hardly flow; instead, they are drawled out, forcibly. Follow Sher's speech patterns, his control of sentences, through the play and we have a bellwether of Lear's emotional state. A change comes in "Reason not the need…", that phrase rushed into rather than coming after reflection, and next thing he's literally fluffing his lines, the pauses speaking more potently than words could. It would be exaggerating to say that by the end Sher's rhythms are liquid – Lear's change is never total: those old habits of command remain – but he does approach an almost natural rhythm of speech in which sounds simply emerge into silence. Conjure with the play's closing lines – not only "speak what you feel", but "speak how you feel", too – and the extent of Lear's trajectory becomes crystal clear: simplicity reached in tandem with sympathy.
Doran mines the different registers of delivery right across his cast for insights, one of the earliest emphasising just how Lear's "tight" speech so closely mirrors that of Goneril (Nia Gwynne) and Regan (Kelly Williams), underlining his opening meanness of character. Those two bring us resoundingly back into the here and now: give them a string of pearls apiece, and they'd be right at home jabbing their elbows into one another at a Tory hustings, before their clipped apparent self-restraint – we are right back in the British class system here – decimates itself over uncontrollable mutual sexual jealousies. That casual moment in which Regan – who gives us at least one line that rings pure Downton – knifes her servant, usually insignificant after Gloucester's blinding, had me conjuring up what the atmosphere at Conservative Central Office might have been like in those heady post-Brexit days (not that the mood music in opposition headquarters has been any lighter). Far-fetched? Surely not in a play where one of the most potent insults mad Lear hurls is "scurvy politician".
If the opposite style to that is "loose" speech, it is certainly there in the playful, notably camp early soliloquy of Edmund, captivatingly delivered by Paapa Essiedu with a wryness that confirms he's the only character in the play whose self-knowledge endures from start to finish. Such dramatic control feels lacking in Graham Turner's Fool, but is there in spades in the Edgar-Poor Tom of Oliver Johnstone (pictured below), who gives one of the best interpretations of the latter incarnation that I can remember. Last but not least, of course, we have the "straight" speakers, delivering their "plain message bluntly", in which Antony Byrne's gruff Kent excels, while David Troughton as Gloucester occasionally steals the show. His interaction with Poor Tom is particularly strong – a grand outing all round here for the Gloucester clan – and if anything draws tears in Doran's production, they flow there.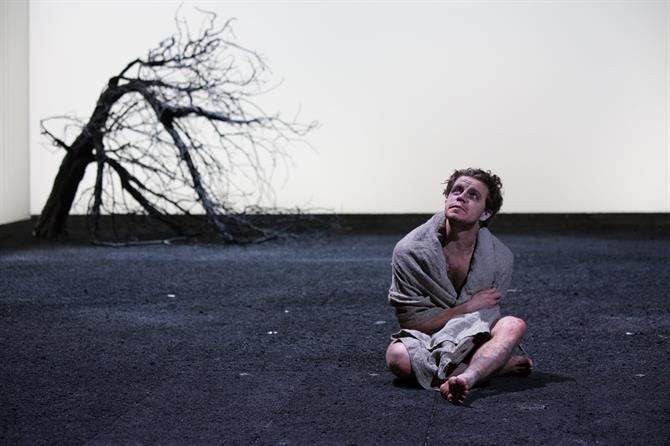 They didn't, for me at least, in the reunion of Cordelia (Natalie Simpson) with Lear, which has her in the "burdocks, hemlock, nettles, cuckoo-flowers" speech gesticulating distractingly. Set against her sisters, it's a case of Yeats's best lacking conviction, the worst being filled with passionate intensity, but this Cordelia somehow lacks the sheer poise that is so necessary. Sher bows out with exactly that quality, as after the melodramatic touch of his "howl"s comes the transfixing intensity of that final repeated "never".
Doran's conclusion really does bring a transfixing simplicity. His blocking throughout loves its symmetries, an exactness only accentuated by Turner's bare design, while Ilona Sekacz's score is so spare that at times we almost forgot it is there at all. If less being more is the motto here – an approach epitomised by that strange existential phrase, "the quality of nothing", that somehow captures the essence of King Lear – the storm scene is the exception that proves that rule. With its back cloth billowing like a lazy hot air balloon behind Lear and his Fool once again raised above the stage, it brings the action back into Victorian spectacle, and Sher towards the territory of The Dresser. What comes before, and after, is very fine indeed.
10 GREAT KING LEARS
Greg Hicks, RSC. Hicks occupies the part with brisk and inventive intensity.
Derek Jacobi, Donmar Warehouse. A thrilling chamber version, though even at 72 Jacobi still seems too spry
Glenda Jackson, Old Vic. Jackson returns to the stage as an authoritative Lear, gender irrelevant
Grigori Kozintsev, 1971 Russian film version. Truly apocalyptic masterpiece, stunningly performed
Tatsuya Nakadai, Kurosawa's Ran. Lear-inspired epic of the futility of war
Jonathan Pryce, Almeida Theatre. Pryce heads a disturbingly dysfunctional family in a compelling production of Shakespeare's tragedy
Simon Russell Beale, National Theatre. Russell Beale's Lear budges up to make room for Mendes's vision
Barrie Rutter, Northern Broadsides. Jonathan Miller's vivid production puts Lear in a Yorkshire accent
John Shrapnel, Tobacco Factory. A traditional Lear triumphs in the heat of Bristol's alchemical vessel
Aleh Sidorchik, Shakespeare's Globe. Belarus Free Theatre stages Lear as post-Soviet Oedipal X-Factor extravaganza