BBC Ballet Season |

reviews, news & interviews
BBC Ballet Season
BBC Ballet Season
A feast of archive footage is some compensation for this season's narrow scope
Robert Helpmann and Margot Fonteyn performing Les Sylphides in 1939 sums up a season focused firmly on the glory days of British ballet.
There's been reasonable diversity in the ballet shown on the BBC in recent years – from full-length broadcasts of Matthew Bourne's Sleeping Beauty and The Red Shoes to the compelling 2011 fly-on-the-wall The Agony and the Ecstasy. That's why it was something of a disappointment to find this week's five-hour ballet season, which finished last night, pushing a rather blandly uniform story about Tchaikovsky, Darcey Bussell and Margot Fonteyn.
Last Saturday, the season opener, Darcey's Ballerina Heroines (BBC 2), set the tone by getting the predictable Fonteyn panegyric in early, and by giving Darcey Bussell some pretty inane lines – if you can get any helpful information out of "British ballet is lyrical and refined" while "French ballet is elegant and understated", you're doing better than I am. It improved when dance historian Jennifer Homans explained the roots of ballet in French court manners (visual: wonderful Swedish recreations of Baroque dancing) and then the nineteenth-century association of femininity and the supernatural which gave rise both to the Romantic ballet and the Romantic ballerina. It was a treat to see footage of Soviet star Galina Ulanova and the mesmerising American ballerina Suzannne Farrell; Bussell's programme also deserves credit for being the only one all season to mention the legendary Russian-American choreographer George Balanchine.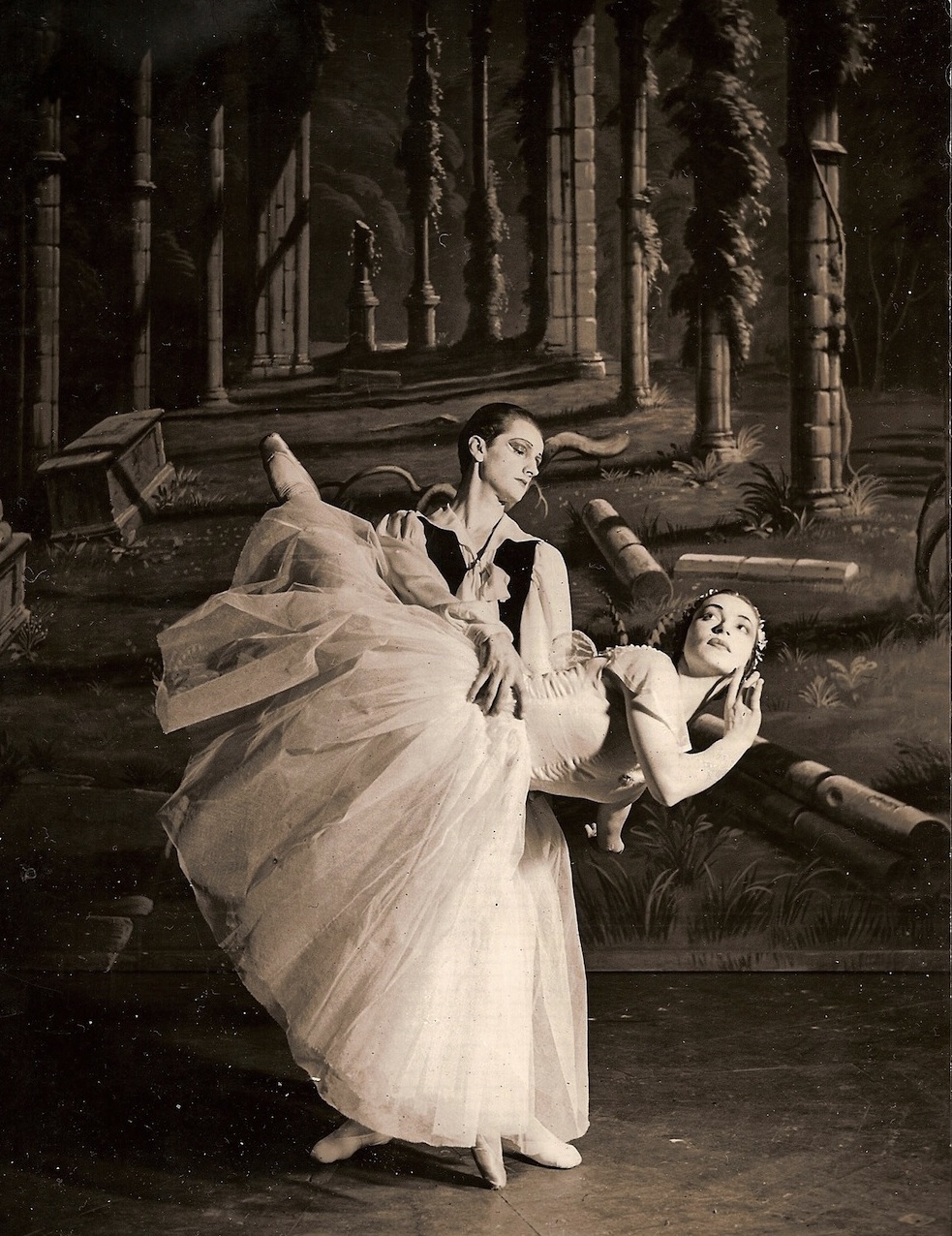 For this was a season that whacked viewers over the head with its Britishness - not least in Wednesday's Dancing in the Blitz: How World War Two Made British Ballet, a gregarious history presented by the endearing David Bintley. "British" here was misleading, though, for the programme revolved entirely around the Vic-Wells ballet, the Ninette de Valois company out of which the Royal Ballet was born. Not a hint was breathed that other companies were also dancing in those years: Ballet Rambert, and Mona Inglesby's large touring International Ballet. Inglesby's company, which closed in 1953, never had a publicity machine like the Royal Ballet's to protect its reputation (though theartsdesk's own Ismene Brown has done her bit), but for a BBC documentary to ignore it completely was rather off, particularly since many people featured talking on the programme undeniably knew of it. Indeed, Henry Danton (pictured above right with Inglesby), who featured prominently in the documentary, danced most of the war for Inglesby, not de Valois!
Continuing the mid-century British theme was Friday's broadcast of an archive 1959 Margot Fonteyn performance of Sleeping Beauty. It was noticeable that Fonteyn (pictured left), aged 40 at the time of the broadcast, was already being upstaged in technique by some younger dancers, notable among them a fresh-faced Antoinette Sibley, whose turns as Candide (Fairy of the Crystal Fountain) and Princess Florine unmistakably marked her out as the star she would go on to become. But Fonteyn's acting was still not only fresh, but enchanting: her smile right into the eyes of each suitor when receiving her roses was thrilling, and her port de bras in the Rose Adagio series of penché arabesques was the best I've ever seen. An elegant hand must brought to float flirtily by the chin just as the leg swings punchily up and it's damned hard to look neither wooden nor affected but rose-satin-smooth, as Fonteyn did. Her charm carried the storytelling, making the 60-minute broadcast pass quick as a flash (although it's also true that many variations were actually faster; Tchaikovsky lovers must have been gratified to hear the score much closer to concert speed than today's dancers will take it). I advise dance lovers to seek out the 90-minute version available online, which includes all the fairy variations from the Prologue and several variations from Act III, including a beautifully synchronous rendition of the pas de trois.
We had Tchaikovsky again last night to round off the season in Good Swan, Bad Swan, presented by and focusing on Tamara Rojo (pictured right) as she prepared to dance the dual lead role in Swan Lake. The English National ballet chief is an engaging guide, at her best when unscripted (her breathy running gloss of the Black Swan pas de deux as she rehearses it is TV gold). But she's also a canny manager, and this is much better publicity for her that than The Agony and the Ecstasy was for her predecessor, Wayne Eagling. A chain-smoking Eagling snapped at shoemakers and morosely devised choreography in a car park scant hours before it was needed on stage, but Rojo has herself filmed coaching young dancers with warmth and charm and intelligently discussing the finer points of bygone ballerina swans with supposed archrival Alina Cojocaru (can we have a documentary hosted by her next?) Among the clichés about black and white, there were a few insights into the ballet's fascinating psychology, principally from Marina Warner on the potency of water birds in world myth.
More interesting material on Swan Lake was actually to be found in Matthew Bourne's contributions to the unhyped fifth column of the ballet season, Friday's re-broadcast of a short 2012 feature (made for BBC Scotland by an independent production house) about Peter Darrell, founder of Scottish Ballet. Here, finally, the wider world of British ballet came into view – and life outside Covent Garden looked like fun. I was entranced by clips of Darrell's expressionist 1964 TV ballet Houseparty, the 1963 Beatles ballet Mods and Rockers, and the closing recreation of a pas de deux from Chéri (1980), all bespeaking not just a major choreographic talent, but a vibrant nationwide ballet scene that was not in evidence in the season's other offerings.
Die-hard ballet fanatics, colloquially known as "bunheads", will have feasted greedily on all this (I won't deny my own share of geeky pleasure), and I imagine a less fanatic audience will have been happily entertained. But a season in which huge names like Stravinsky, Cranko, Guillem and Balanchine are just footnotes to a story about Tchaikovsky, Margot Fonteyn, Blitz spirit and the Royal Ballet's own origins is really too one-sided to swallow. Let's have another one, please, but more balanced!
Episodes from the BBC Ballet Season are available to view on BBC iPlayer.
Next page: watch newly-discovered footage from the BFI archive of a 1946 dress rehearsal for Frederick Ashton's Symphonic Variations.
This was a season that whacked viewers over the head with its Britishness
rating
Share this article