Peaky Blinders, BBC Two
Peaky Blinders, BBC Two
Guns, gangs, anarchy and dodgy accents in post-World War One Birmingham
Friday, 13 September 2013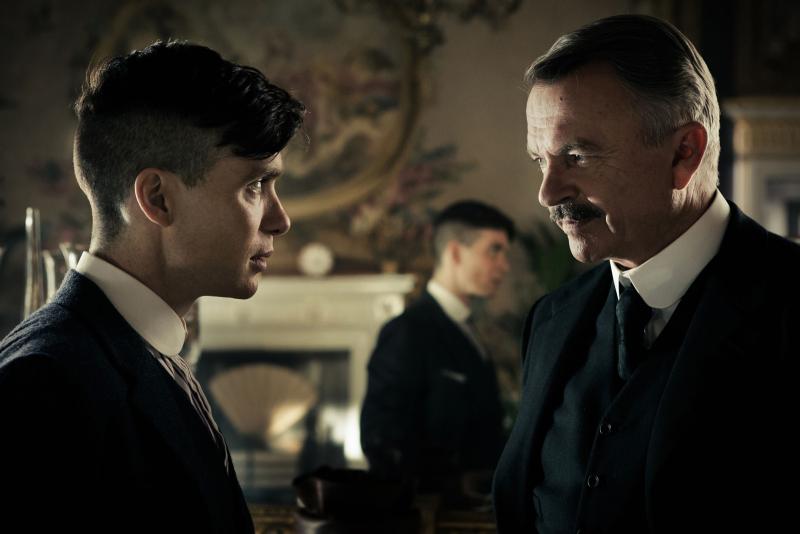 Hubris and nemesis? Tommy Shelby (Cillian Murphy, left) meets the ruthless Inspector Campbell (Sam Neill)
Much hype has been whipped up around this tale of a gang of thuggish, racketeering bookies in Birmingham just after World War One. It's a pretty good cast, with Helen McCrory's Aunt Polly laying down the law within the criminal Shelby family, Cillian Murphy playing her ambitious nephew Tommy and Sam Neill as sinister Belfast copper Inspector Campbell. But this opener still felt a little wobbly on its feet.
A lot of it was down to the accents, which can be slippery little devils to get right (we know how easily attempts at Welsh can end up detouring to Mumbai). Since this is Birmingham, everyone has been speed-coached into sticking lots of oys and ows and eeews into every sentence, like Harry Enfield's permatanned Black Country flash-harry who is considerablay richer than yow. In a long introductory tracking shot, as Tommy rode through his lowlife manor on horseback casting a critical eye over the handiwork of the vintage props department, he was hailed by a couple of tame coppers with a cheery "morning, mistur Shelbu-yee!" On the other hand, Paul Anderson's Arthur Shelby sounds as if he hails from Wolverhampton-on-Mersey, while McCrory's "loying arownd" hinted at a mysterious West Country provenance.
All of this had the effect of applying a subtle patina of farce to the proceedings, which of course wasn't the idea at all. Indeed, Peaky Blinders creator Steven Knight is to be commended for (if nothing else) the breadth of his ambitions. His traumatised post-war milieu takes in industrial unrest and Communist agitators in the workplace, the battle against Fenians and the IRA in Northern Ireland and a general air of incipient social breakdown. Gang warfare between the Peakies and Billy Kimber's mob is also on the agenda for future episodes (Iddo Goldberg as Communist recruiter Freddie Thorne, pictured above).
The big plot idea driving the piece is the mistaken theft of a huge cache of guns and ammunition from Birmingham's BSA factory (Tommy's boys were supposed to nick some motorcycles but they grabbed the wrong crates), which has terrified the authorities so much that they've sent in ferocious super-cop Campbell to get the weapons back using any methods that work. Although Campbell has been warned, by a relatively youthful Winston Churchill (Andy Nyman), then Secretary of State for War, not to leave bodies floating ostentatiously in the Birmingham canals.
Neill brings an appropriate ominous bulk to Campbell, introducing himself to his new clientele by hauling Arthur Shelby out of the arms of a brace of hookers in the local cinema and treating him to a heavy-duty beating, but he has to cope with the special burden of speaking Ulster-ese. At least it offers a diversion from bogus Brummie, but it can take a moment to work out that "vushus" is vicious and "tham" is them.
Will it fly? Only one way to find out, but I'd guess that Peaky Blinders might find itself overwhelmed by a tide of historical baggage washing away any fine detail in the characterisations. And those accents have serious millstone potential.
Inspector Campbell has been warned by Winston Churchill, Secretary of State for War, not to leave bodies floating ostentatiously in the Birmingham canals
rating
Share this article