Trpčeski, RLPO, Petrenko, Liverpool Philharmonic Hall review - one composer, many views |

reviews, news & interviews
Trpčeski, RLPO, Petrenko, Liverpool Philharmonic Hall review - one composer, many views
Trpčeski, RLPO, Petrenko, Liverpool Philharmonic Hall review - one composer, many views
Brahmsfest brings a big spectacular from a dream team
Trpčeski and Petrenko: 15 years of great concerto performances
It probably goes without saying that there will be "dream teams" in a football-mad city like Liverpool. What might be a little unusual is that this particular one has long been associated with the Liverpool Philharmonic and has turned into one of the most potent marketing forces for the organisation for many a long year. It has nothing to do with the "beautiful game", though.
Instead,
Vasily Petrenko
and
Simon Trpčeski
have become the organisation's box office golden boys, with concert tickets selling almost instantly and recordings garnering cupboards-full of trophies.
Indeed, as Trpčeski pointed out when introducing his post-concerto encore, a snippet from Brahms's Schumann Variations, it's been 15 years since his first concert appearance on Hope Street. One wonders whither this partnership once Petrenko departs for pastures new.
Their latest concert was the last of the series examining Brahms. These have included all the symphonies, the German Requiem and just the First Piano Concerto. "Just" might not be kind. It is not an easy work, neither for performers nor listeners. But this was a mature, robust performance. The Royal Liverpool Philharmonic Orchestra seemed to be on edge, accepting that the "dream team" was in town and that this was not the time to score an own goal.
This performance of the concerto showed that clear and defined empathy between the soloist and the conductor. The first movement was robust to the point of pomposity, almost emphasising points of argument between orchestra and soloist. But throughout, there was drama. Tension was apparent with the orchestra apparently on edge. It's not a piece which has humour as a trait but, just occasionally, Petrenko let those light beams show through the over-riding gloom of the first movement. And when he let those beams shine forth, it was a breath of fresh air.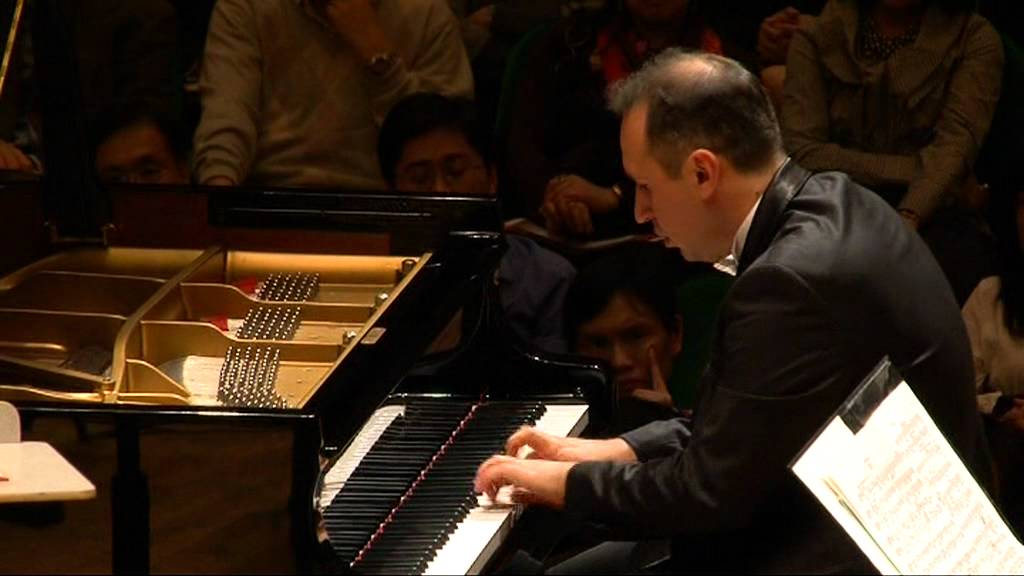 But that drama... There was that sudden piano outburst at the start of the development section. It was quite sublime, if not totally arresting. Then there was the stunning diminuendo leading into the explosive conclusion to the whole movement. The glorious Adagio was reserved, almost eerie at times although the inherent drama expected of this performance rarely failed. And then there was the stupendous Rondo. Its arrival was precipitous, if not surprising. Here there was humour, bravado almost. It was also possible to see Trpčeski (pictured above playing in Honk Kong) enjoying himself, bouncing on the piano stool and laughing as he played. Rarely can an audience have seen more joyous music making.
The Fourth Symphony was an altogether more black-and-white event. It presented bright and dark, the sombre pitted against the humorous, witty side of Brahms. The huge questions presented by the first movement were airily asked by both conductor and orchestra. It was a shapely performance which brought a lot to bear on the audience (a six-minute highly informative explanation of the work by Petrenko, in addition to the programme notes, helped).
There followed a solid Andante which melted into a seriously raucous and, perhaps, rather too energetic third movement followed by a sublime and hugely conclusive finale. Add to that some brilliant brass playing, the horns especially, as well as some splendid string moments, and this was a Brahms exploration well worth following. There should be more similar composer-oriented seasons.