Beethoven Ninth, RLPO, Petrenko, Philharmonic Hall, Liverpool |

reviews, news & interviews
Beethoven Ninth, RLPO, Petrenko, Philharmonic Hall, Liverpool
Beethoven Ninth, RLPO, Petrenko, Philharmonic Hall, Liverpool
Standing ovation ends series of all nine Beethoven symphonies
Wednesday, 28 September 2016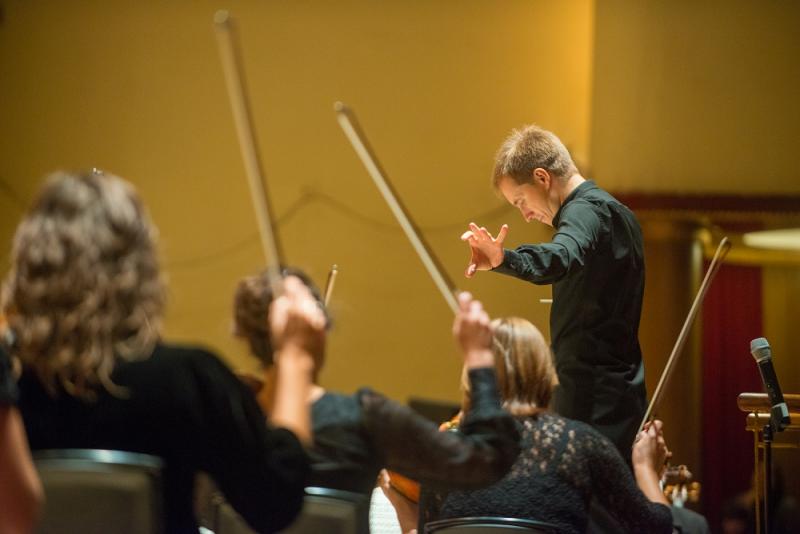 Vasily Petrenko conducting the Royal Liverpool Philharmonic Orchestra
The new season at the Royal Liverpool Philharmonic is focusing on revolutionaries. Bach, Beethoven and Berlioz all feature strongly over the next few months, as will Stravinsky and – where else but Liverpool? – The Beatles.
The RLPO has another reason to celebrate, too. It's 10 years since Vasily Petrenko took up the baton as chief conductor of the orchestra and much has changed in that decade, not least the edgily confident way in which Petrenko and the RLPO explore the repertoire. The start of the 11th season with Petrenko at the helm presented audiences with something of a marathon: all nine Beethoven symphonies along with his Violin Concerto (with James Ehnes as soloist: he's the new artist-in-residence), all served up with side orders of Berlioz and Mendelssohn.
The cycle of symphonies closed with the Ninth ("Choral") Symphony. The fact that tickets were sold out almost goes without saying, but to see a packed house leap to its feet almost as one at the end of the work is, indeed, unusual. It's not difficult to see why: Petrenko, ever in control, made sure the drama of the first movement was played out to maximum effect. The phrasing was pointed, to the extent of almost being brusque. A breathless Molto Vivace second movement felt equally dramatic, especially the barely perceptible string pianissimos which Petrenko allowed to build into explosive climaxes.
Possibly the most memorable part of this entire performance was the serene, relaxed, perfectly shaped slow movement. There really was something other-worldly about it: "languorous" is too harsh a word, while "relaxed" is not right either. But the feeling of being transported somewhere else was certainly there. This was the movement where the woodwind chorus really came into its own and the strings played with considerable precision.
And then that finale. Again, it was controlled: neither too fast nor too slow, well balanced with the orchestra accompanying the Royal Liverpool Philharmonic Chorus rather than overpowering. The chorus, singing without scores, showed how well-drilled they were as far as diction was concerned, and they managed to bring off the vocal parts without any feeling of strain or stress. Bass-baritone Konstantin Wolff (pictured above by Marco Borggreve) was particularly striking, singing out with authority. The same could be said for mezzo-soprano Anna Stéphany, though tenor Timothy Robinson and soprano Veronika Dzhioeva were slightly less convincing.
Stéphany was soloist in Berlioz's Le nuits d'été. This song cycle always seems hard to bring off for a soloist, yet this was a beautiful, rather subdued performance. It didn't really open that well: the first few moments felt somewhat lifeless, despite the sensitive playing of the woodwind. But the soloist quickly settled, effortlessly singing through the rather morbid and forbidding songs until the finale brought some relief. The Lamento, "Sur les lagunes", was ponderous as well as heart-breaking Despite the initial misgivings, this turned into a polished performance.
Petrenko made sure the drama of the first movement was played out to maximum effect
rating
Share this article