theartsdesk at the Rosendal Festival: Schubert above a fjord |

reviews, news & interviews
theartsdesk at the Rosendal Festival: Schubert above a fjord
theartsdesk at the Rosendal Festival: Schubert above a fjord
A half-Norwegian voyage around 1828 from Leif Ove Andsnes and friends
Wednesday, 24 August 2016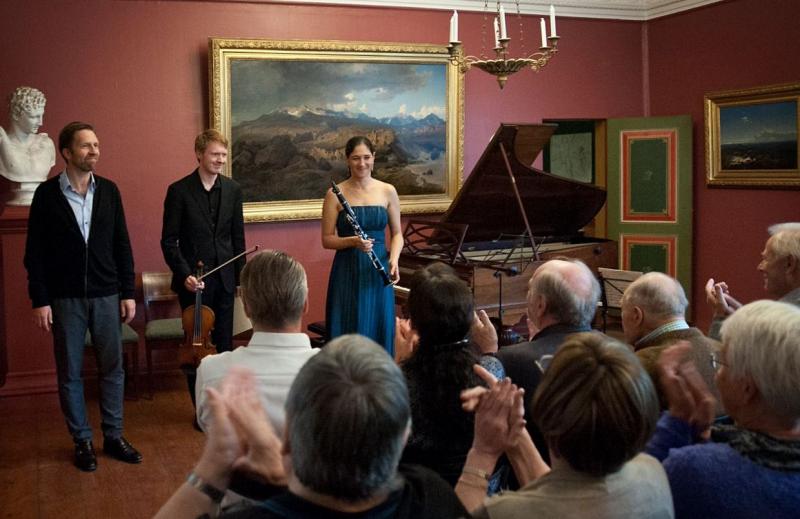 Leif Ove Andsnes, Eivind Holtsmark Ringstad and Sharon Kam after their performance of Schumann's 'Märchenerzählungen' in Baroniet Rosendal's Red Room
More than just a great and serious pianist, Leif Ove Andsnes is a Mensch. His special gift in recent years has been to bring young musicians just establishing their careers together with star players like himself in beautiful and/or interesting places.
I feel privileged to have heard him and his juniors in a programme of rare Sibelius melodramas in Bergen,
Kurtág
and Liszt in the main room of Grieg's humble home at Troldhaugen, and two shared recitals linked to the revelatory exhibition of little-known Norwegian artist Nikolai Astrup at Dulwich Picture Gallery. Now Andsnes has just curated a superb series of concerts with the same mix focusing on 1828, Schubert's astoundingly creative last year, around the baronial estate of Rosendal in Norway's mountainous, fjord-riven heartland.
The nobility was officially abolished in Norway in 1821, only seven years before Schubert's untimely death, though Baroniet Rosendal, built in 1665, flourished the most under an innately noble laird, Norwegian-Danish Marcus Gerhard Hoff-Rosenkrone (1823-1896). His father had pulled down the walls around the manor house, two hours' boat ride up the Hardangerfjord from Bergen, to welcome everyone on to the Rosendal land; the son added peripheral landcaping so subtle that, walking into the grounds from a number of angles, you hardly notice you've left wild nature until you reach the renaissance-style formal gardens. Marcus Gerhard also travelled around southern Europe, transferring a fashionable love of Pompeii to the most curious room in the modestly-scaled Baroniet, and held musical soirees, no doubt with Schubert included, in two of the Biedermeier-style neighbouring rooms.
It was in the Red Room (main image) that two of this year's festival recitals took place. I left before them, but had my compensation as the sole listener to a wonderful rehearsal. The main venue, though, is the Riddersalen – Knight's Hall, a title which had me heading to the Baroniet proper before I was directed downhill – on the estate farm. In fact it's a barn, newly and handsomely converted with lightbox reproduction of ancestral portraits on the walls. A first hearing, of the Brentano String Quartet in "Death and the Maiden", came as something of a shock. I hadn't been expecting much after the Brentanos' disappointing performance of the same work at the East Neuk Festival – where they were outclassed by their fellow Americans in the form of the younger Calidore Quartet – and sure enough, communication was limited and the first violinist's intonation not always secure. But why the pallidness of the sound and the reverberation?
All was explained later. Andsnes had been so impressed by the sound achieved at the brand new hall in Fosnavåg, where he played Beethoven's "Emperor" Concerto, that he joined a demonstration by that great sound engineer John Pellowe, who had worked with the Meyer Sound Constellation system in Fosnavåg. Rosendal acousticians made a feasibility study, as Pellowe put it, 'that pointed to Constellation being the only option for the building to achieve reverberation times suited to classical repertoire. This was mainly due to the low cubic volume of the barn. Leif Ove agreed, and the Constellation system that utilises 34 microphones, digital processors and 120 loudspeakers was installed in June."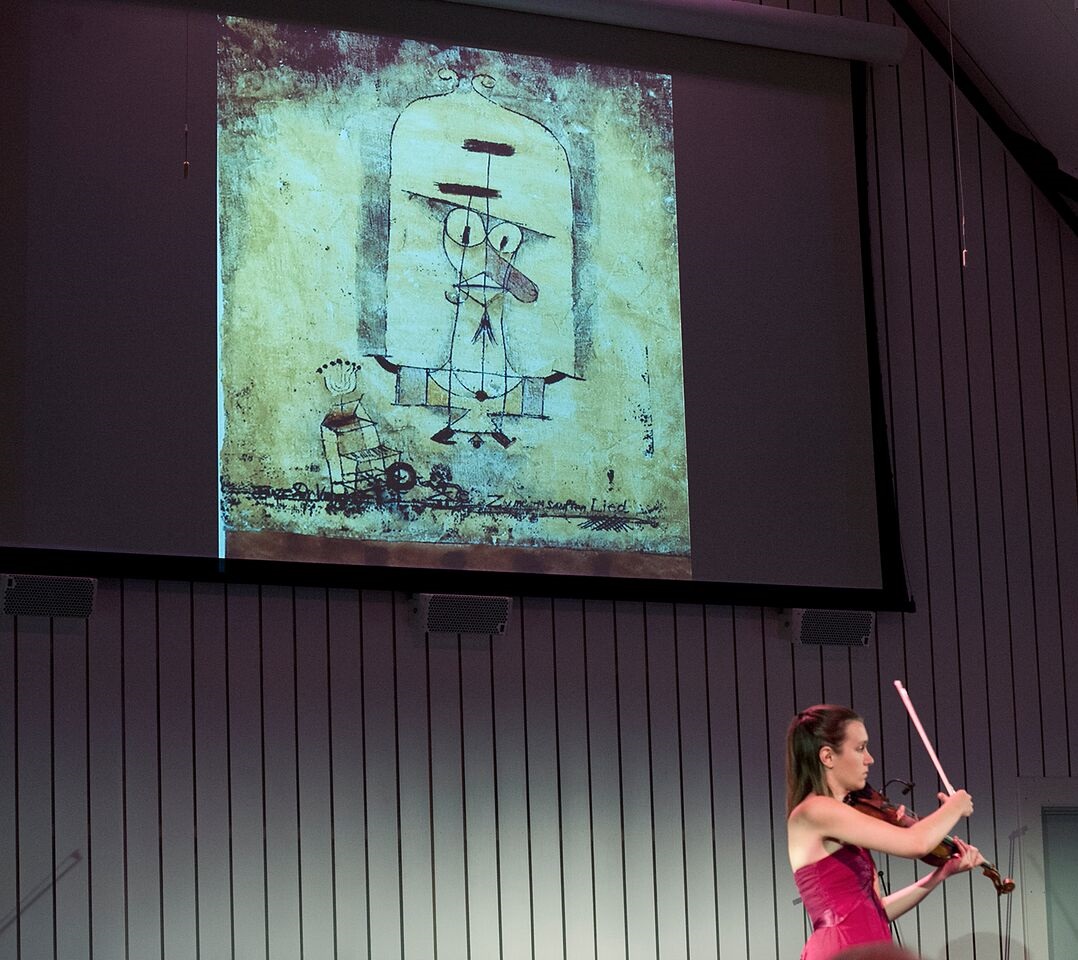 Needless to say, a 10-day testing period in a mostly empty hall was going to yield different results than a full house, which only happened on the first night of the first Rosendal Festival. The sound was spectacularly improved for young Norwegian violinist Guro Kleven Hagen's riveting performance of Arne Nordheim's Partita für Paul [Klee], which also involves electronics; it turned out to be amplified throughout, but not obtrusively so. The Klee connection was sealed by the more extraordinary of the two festival exhibitions. For "Schubert 1828", the only originals that could be obtained were early romantic paintings by Norwegian artists. But for the synasthaesic link between Kandinsky and Klee, the superb KODE Museum(s) in Bergen had loaned 14 drawings and paintings from 1916 to 1938 in the collection donated by financier and collector Rolf Stenersen, all of them fascinating. The five Klee works to which Nordheim refers were also shown on screen during Hagen's stupendous playing (pictured above).
For the second half of the programme, moving further forwarded yielded more of the tonal nuances in Schubert's Schwanengesang ("Swansongs") direct from Matthias Goerne and Andsnes. The impact was absolute, and shattering. Andsnes' flawless role brought tears to the eyes with a single chord or a cadence, as in the best performances of later Schubert; Goerne warned of earthquakes to come in a bigger than usual "Serenade", going on to dig deep into his soul to live the desolation and terror of the big numbers, "In der Ferne" ("In the distance"), "Der Atlas" and "Der Doppelgänger". A tenor could never give us the resonant cries of anguish that Goerne took risks to push to extremes here, and among baritones and bass-baritones he is now in a class of his own. Andsnes' final resolution was as moving as anything in this towering interpretation.
Friday afternoon's Riddersalen concert brought further qualifications: there was no doubt that Bertrand Chamayou had all the rubato and sparkle for waltzes by Schubert and Ravel, but was that his sound we were hearing? The hammers seemed to be struck powerfully for the bass, but the timbre here and in the treble didn't seem to match up. Still, Chamayou's runs were undoubtedly phenomenal in the finale of a deeply serious Schubert Second Piano Trio with the peerless Vilde Frang and Sol Gabetta; the Mullova-Barley-Ólafsson performance I heard earlier this summer in Reykjavík's Harpa Hall seemed to skate the surface by comparison. Still, doubts remained about aspects of the treated sound – though not in the dynamic extremes of a charismatic clarinettist, Sharon Kam, and Andsnes in Berg's Op. 5 Pieces.
It was my loss that I had to leave one festival half way through for part of another (Southrepps, in Norfolk). Everyone, it seems, was happy with Pellowe's adjustments by the third and last of the Riddersalen concerts that I didn't get to hear. Andsnes, a deeply conscientious and sharp-eared musician, afterwards observed that "in the third concert (Ravel Trio, Schubert Octet), I did feel that one could hear the nature of each instrument clearly, and at the same time there was a natural blend between the instruments which was beautiful, with resonance but yet clear and transparent". Kam agrees, remarking of the musicians' "constant contact" with Pellowe that "I gave him feedback after playing and later listening to the performance and he then changed his parameters and basically made all the problems vanish!...The possibilities of the system are endless and I am certain that we finally found a comfortable acoustic for both playing and listening". Which is good news for the second, 2017 Rosendal Festival.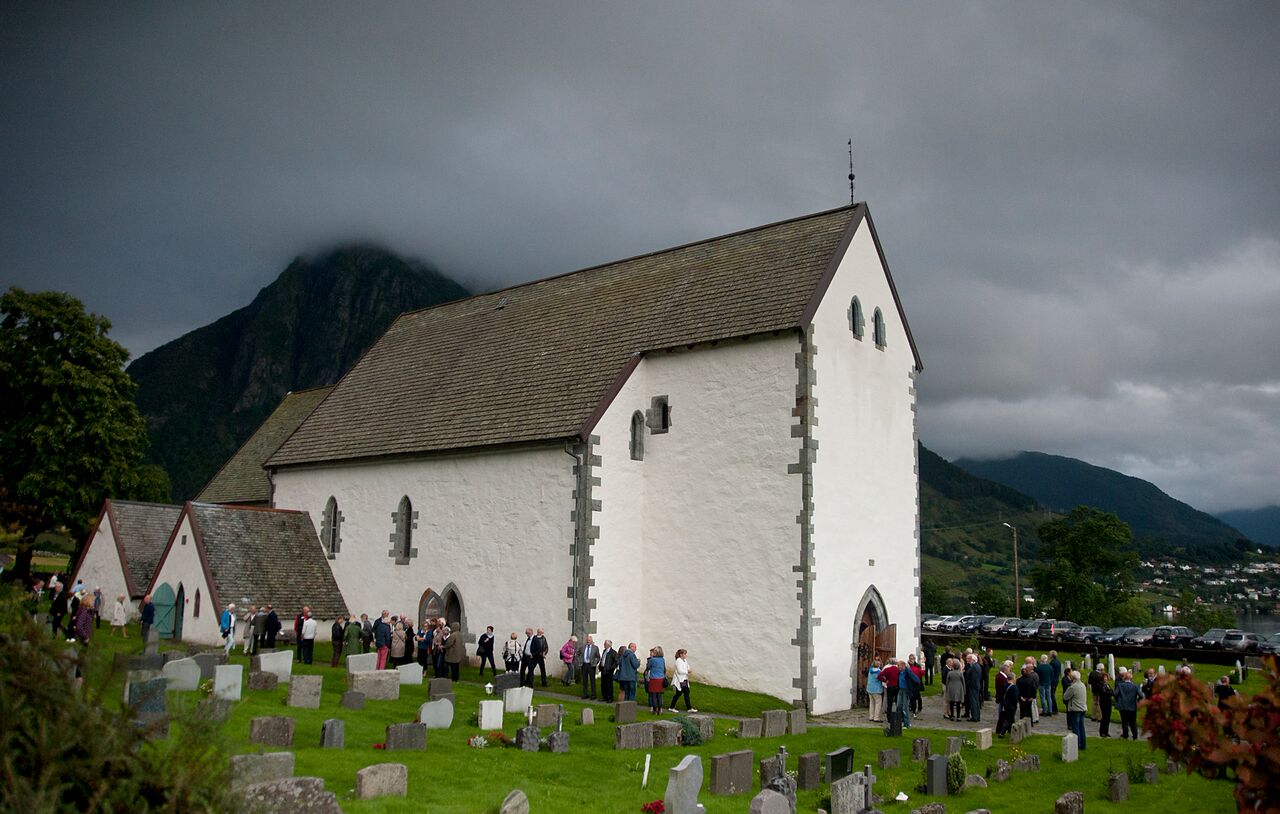 Friday's late-night concert took us into a very different atmosphere, the partly candlelit interior of the Kvinnherad Kyrkje (pictured above, before the first 10pm concert) just above the fjord, built of stone around 1250 and after centuries of baronial intervention restored to something like its original simplicity in 1913, when the estate was taken over by the University of Oslo. It was bold of Andsnes and his three proteges – Hagen, viola-player Eivind Holtsmark Ringstad and cellist Frida Fredrikke Waaler Wærvågen – to espouse John Harbison's "19 Nov 1828", a voyage around Schubert's journey into the next world. Alas, the surprisingly one-dimensional music doesn't live up to the supernatural promise of the movement titles. The Brentanos had prepared me only for stylishness, not deep emotion, in the Schubert String Quintet. The fascination here was listening to every note of the second cello part as Gabetta (pictured below at a later church concert with Andsnes) animated it, thereby energising the rest. Although there was no soloistic showing-off, you couldn't take your eyes off her.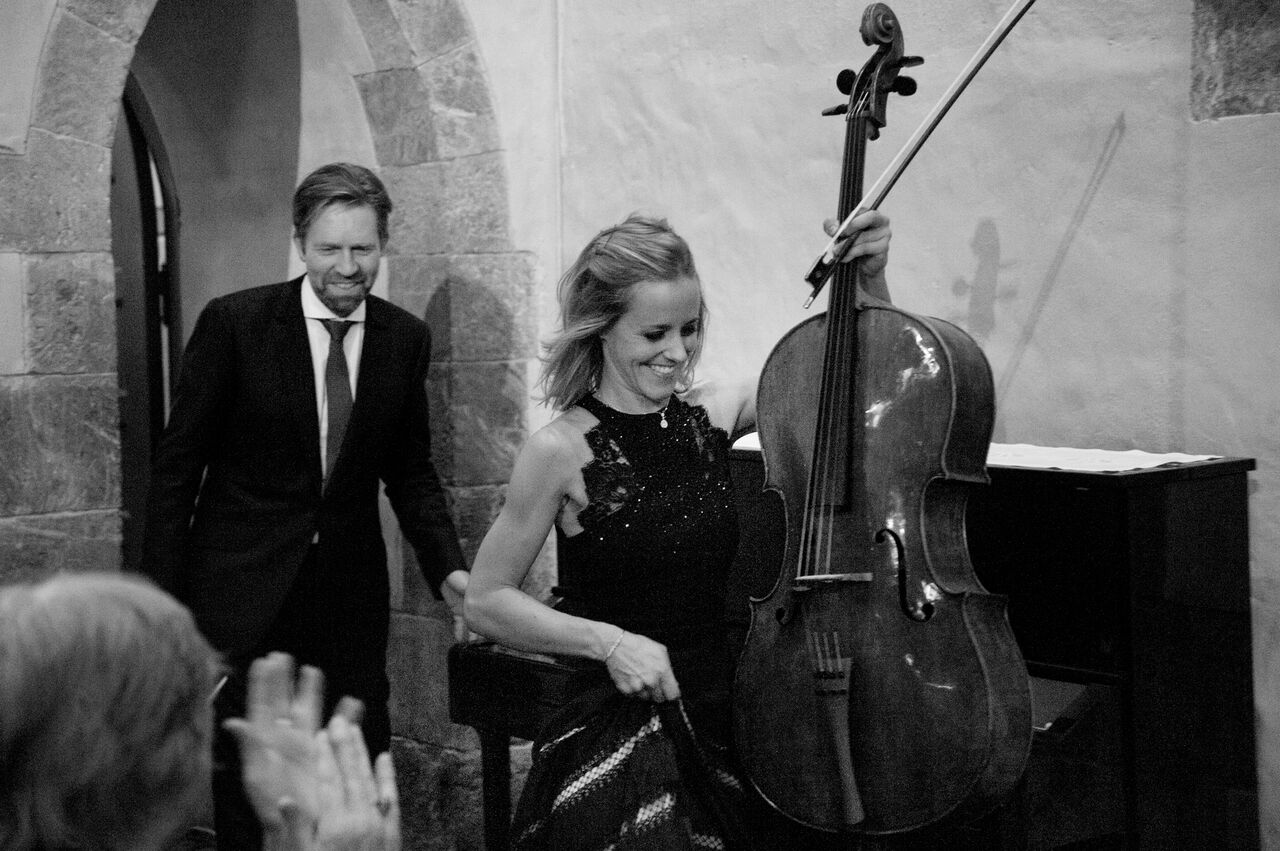 The best, though, I had to myself. It seemed a pity to miss both the special events in the Baroniet's Red Room, so I asked if Andsnes wouldn't mind me sitting in on a rehearsal. I'd heard Ringstad practising Schubert's "Arpeggione" Sonata with pianist Jie Zhang while being whisked around on a guided tour, and it was magical. All the more so sitting in the adjoining Pompeiian Room (pictured below) watching and listening to Andsnes, Kam and Ringstad going in intense detail through Schumann's Märchenerzählungen ("Fairy Tales"), one of his late, strange masterpieces – a tool of Kam's trade, of course, but a work with which I'd had only passing acquaintance.
Discussions, led by the vivacious clarinettist with wise rejoinders from Andsnes and a quieter acceptance from the youngest player in the room, were like a masterclass in the special qualities and challenges of the four strongly differentiated movements. "Let's play around with the second phrase and see what happens, it's quite different in feeling"; "I hear that more like screaming"; "it doesn't make sense but maybe that's the point," I was pole-axed by the writing in highest and lowest register for clarinet in the last piece, but above all by the sheer uninterrupted beauty of the slow movement (Ruhiges Tempo, mit zartem Ausdruck – "calm tempo, with tender expression"), the piano part kept crystalline, pure spring water, Andsnes' special gift.
Afterwards, he went further and declared this one of the few movements he knows in musical history which seem to come from somewhere else, and we talked about all that music Schumann wrote in the asylum which Clara destroyed: on this evidence, some of it would have sounded as radical as Schoenberg. But Andsnes is convinced that Schumann was very definitely not insane in any consistent sense, so sure are the mood changes and the intense, if unearthly beauty that shines through. And so we broke for lunch, and I headed to the glasshouse cafe through the pouring rain. Even on a day like that – in marked contrast to the sunshine of the Thursday – Rosendal's beauty still amazed; was, if anything, intensified. This is a Utopian place for Utopian musicians.
Andsnes' final resolution was as moving as anything in his and Matthias Goerne's towering Schubert
Share this article