Prom 9: Mahler Chamber Orchestra, Andsnes 1 |

reviews, news & interviews
Prom 9: Mahler Chamber Orchestra, Andsnes 1
Prom 9: Mahler Chamber Orchestra, Andsnes 1
Light and air fill the Royal Albert Hall in Beethoven, but Stravinsky needs to dance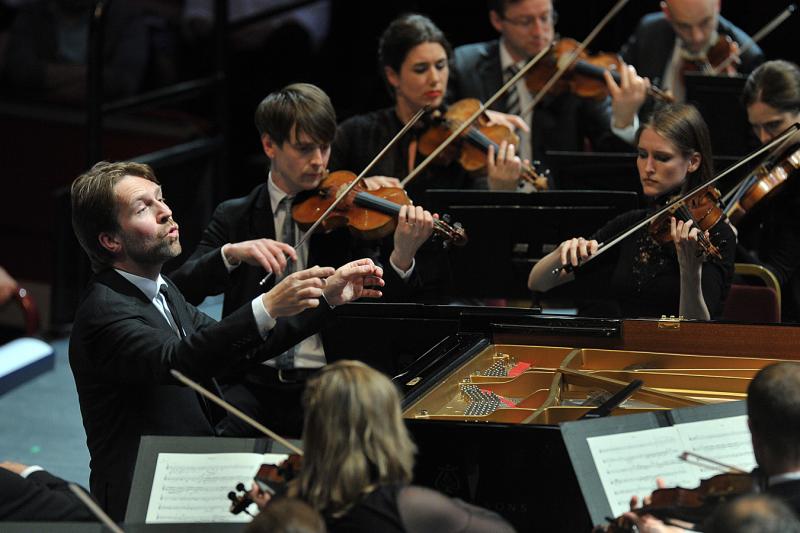 Andsnes and the Mahler Chamber Orchestra strings led by Matthew Truscott last night
Beethoven's piano concertos have been no strangers to any Proms season. Only five years ago our own Paul Lewis embarked on a cycle not so very far, in terms of elegance and stylishness, from that of the present pianist-in-residence, Leif Ove Andsnes. Where Lewis proved a phenomenal trill-master, Andsnes' runs and flights make his own approach especially rich and rare.
The difference is that the current Odysseus reaches the Ithaca of the Royal Albert Hall after four years touring with the Mahler Chamber Orchestra, a uniquely responsive and intuitive band which he's directing/conducting from the keyboard.
The results are similar to Lewis's rapport with the BBC Symphony Orchestra and Jiří Bělohlávek, with Andsnes bound to an even closer relationship with the MCO. If anything the sublime solos of oboist Mizuho Yoshii-Smith, the limning of the bassoonists Peter Whelan and Chiara Santi, and the crisp tuttis superbly underpinned by timpanist Martin Piechotta project to the back of the hall even better than the keyboard (lid off, since our pianist needs to face and see his players, and one can't help feeling that without it the sound goes up rather than out).
Despite his programme-note observations on attempting to convey Beethoven's "shock of the new", those "musical battlegrounds" where "soloist and orchestra appear almost to be pulling in different directions", Andsnes serves up not champagne or even stronger stuff but pure water from a Norwegian spring. The blend is consonant, the style – at least in the First Piano Concerto, which is actually the second of the five – looking back to Mozart rather than forward to the greater experiments of Beethoven's more radical piano sonatas. (Those who, like myself, unnecessarily declare that they'd give all five of Beethoven's concertos for one of Mozart's mature masterpieces can't complain, for there are seven Mozart concertos at the Proms this year).
Having briefly flashed fancy and imagination in the development, Andsnes kept his first-movement cadenza choice here crisp and to the point, moved along a slow movement that can become boggy rather than lucid in the wrong hands, and had measured fun with the finale. In the Fourth, after the interval, he and his orchestral colleagues never dropped any of the more complicated stitches, and if the remarkable central movement where many see Orpheus on piano taming ferocious string unisons – Beethoven knew Gluck's Orfeo ed Euridice, so the analogy is not unlikely – remained abstract rather than violently vocal, that was in keeping with the approach.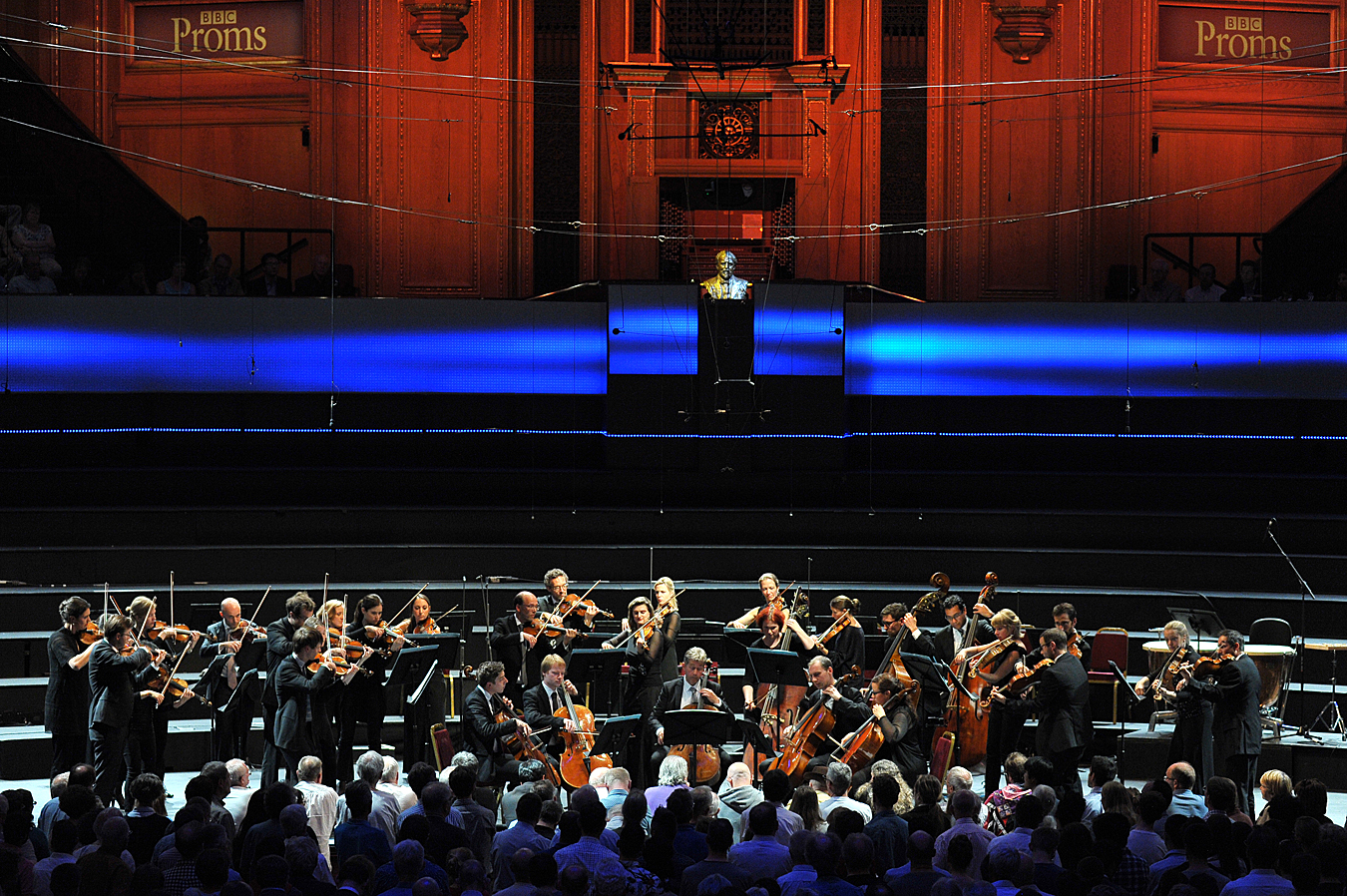 Under the circumstances, Stravinsky's austere but painfully beautiful ballet Orpheus would have made the ideal pre-interval companion. We got the more popular Apollon musagète, not conducted by Andsnes as I'd assumed but led by Matthew Truscott, the most poised of soloists here too. From Andsnes's rounded gestures when he wasn't playing in either concerto, he would have been welcome here, for, rich and serene as the MCO strings sounded as haloed by the Albert Hall – small ensembles always do better in the capricious acoustics – they never took flight. Maybe having the cellos in a ring around a now-invisible podium with the rest of the players standing around them (pictured above) kept the work just that bit too earthed. Abstraction and Apollonian detachment are fine up to a point, but it needed to be remembered that Stravinsky's music originally accompanied a role for a muscular male Apollo in Balanchine's choreography for Diaghilev, and the Muses ought to leap, too.
Stravinsky, who liked to keep his many espressivo and cantabile injunctions in invisible inverted commas, was always more emotional than he's painted; these players might have kept in mind that when challenged with disrespect to Pergolesi in his adaptations of that composer and others for Pulcinella, he shot back "you respect – I love". There was more respect than love in this performance. Fortunately the love as well as the subtlety and scrupulousness returned not only in the second of the evening's two concertos but also in ever-modest Andsnes's encores, two of those elliptical and utterly original Bagatelles from Beethoven's later years. Hopefully there will be at least four more to round off the two concerts to come.
Andsnes serves up not champagne or even stronger stuff but pure water from a Norwegian spring
rating
Share this article