Stravinsky: Myths & Rituals, Philharmonia, Salonen, RFH |

reviews, news & interviews
Stravinsky: Myths & Rituals, Philharmonia, Salonen, RFH
Stravinsky: Myths & Rituals, Philharmonia, Salonen, RFH
Finding the fun in early and late ballets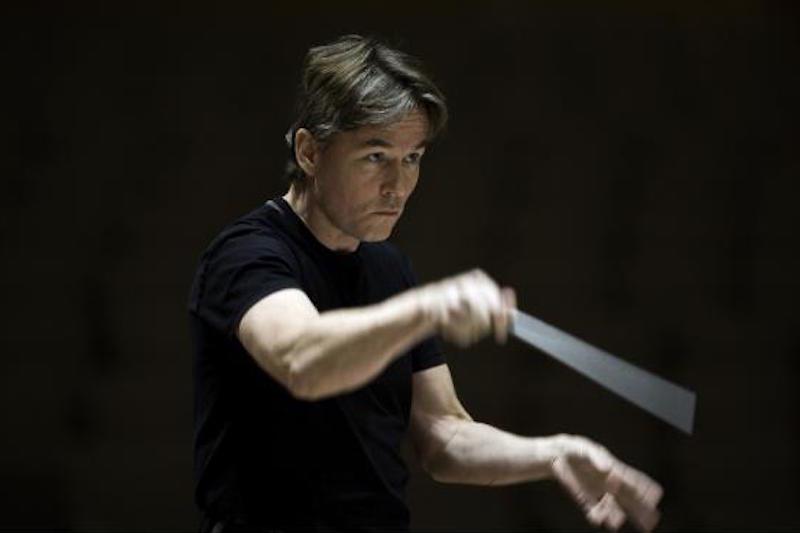 Esa-Pekka Salonen, music director and exuberant ringmaster of the Philharmonia
Looking past the ballets for Diaghilev, there are still many superb scores by Stravinsky honoured more in scholarship than performance. In Myths and Rituals, the Philharmonia addresses that lack of wider appreciation with five concerts from May to September. The series got off to a promising start last night with the tiny fanfare for three trumpets – Monteverdi with attitude and wrong notes – from 1955, which was one of Stravinsky's first thoughts for his last ballet, Agon.
The Symphonies of Wind Instruments are often played and heard as a Cubist funeral rite, moving in discontinuous blocks of sound. Salonen briskly directed a remarkable performance against the grain of the work's usual reception, but entirely in keeping with its context as a prelude to the pagan songlines threaded through the Rite of Spring. Chords and melodies answered rather than ignored each other. The brass climax was almost celebratory, and the slowly shifting textures of the coda thinned out like dancers leaving the stage one by one.
A pocket miracle of invention, Agon will always be a challenge for performers and audiences – 12-tone Stravinsky isn't for everybody – and the solo parts lacked the last degree of confidence that comes with a run of performances. Nonetheless, the Phiharmonia turned on a sixpence at Salonen's challenging tempi. Behind and above them at the back of the Festival Hall stage, a reduced staging paid passing homage to Balanchine's original concept. In a slightly apologetic programme note and promotional video, the choreographer Karole Armitage (pictured above right) admitted that Agon is perfect as it was conceived, and with limited space and rehearsal time, six dancers from her company did well to hint at the wit and delicacy of a fully-staged production.
After the hair-trigger coordination of Agon, the Philharmonia took an exhilarating romp through the Rite of Spring. Sometimes, this was a little too much like the concerto for orchestra – more particularly for brass and percussion – that is commonly made out of what used to be weird and challenging (again, for both performers and audiences). Some smudgy chords and more harum-scarum speeds were worthy of the ballet's infamously chaotic premiere in 1913. Had the dancers stayed on, they might have objected to Salonen's habit of getting faster in a piece which derives a lot of its primal energy in performance from the setting of a chosen tempo in a given dance and sticking to it. He and the orchestra have given many Rites together over the years, and the groove of familiarity has its pros and cons.
However, there was much to admire: in the punky strut of the strings through the Spring Rounds; in Salonen's handling of the Procession of the Sage, which built with controlled barbarism towards an ear-splitting climax; in the intertwining wind lines which flowed heedlessly through the Second Part's introduction like an ancient river. Everyone on stage, and especially Salonen, looked to be having tremendous fun.
The concert is broadcast by BBC Radio 3 on 16 May at 7.30pm. The next concert in Myths and Rituals takes place at the Royal Festival Hall on 26 May
A pocket miracle of invention, 'Agon' will always be a challenge for performers and audiences
rating
Share this article