Skride, CBSO, Wellber, Symphony Hall Birmingham |

reviews, news & interviews
Skride, CBSO, Wellber, Symphony Hall Birmingham
Skride, CBSO, Wellber, Symphony Hall Birmingham
Brahms's First is transformed - but Schumann's Violin Concerto remains beyond rescue
Omer Meir Wellber - controlling but compelling
If Omer Meir Wellber is making a bid for Andris Nelsons's old music directorship in Birmingham, he could hardly have signalled his intentions more audaciously. This concert began with Wagner's Lohengrin Prelude and ended with Brahms's First Symphony – basically a surgical strike into the heartlands of Nelsons's repertoire.
And as soloist, he had the Latvian violinist Baiba Skride – an artist who was introduced to Birmingham by Nelsons and who appeared with the CBSO on disc and in concert throughout Nelsons's tenure.
Skride was there to play Schumann's late Violin Concerto, and she found an intelligent, alert collaborator in Wellber. Together, they did everything possible to rescue a work that eludes all but a tiny handful of interpreters. Wellber reduced an already undersize CBSO to chamber orchestra proportions, and with crisp, detailed gestures, did all he could to instil some character into the opening tutti. Still, Schumann's themes struggled to emerge from a dense thicket of inner parts.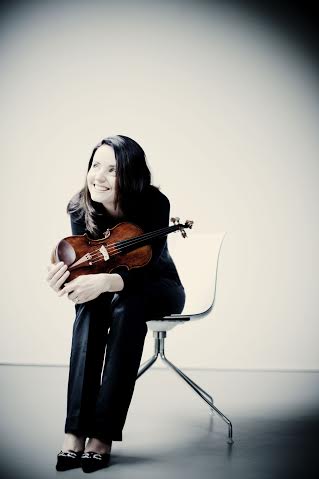 Skride (pictured right by Marco Borggreve) brought a dusky, singing quality to Schumann's ungrateful writing; her sound has a lovely, affecting catch in its voice. She gleamed at the top of a phrase, and bustled through yards of low-lying passagework and banks of double-stops with flowing grace. But the real poetry emerged from the short exchanges with solo clarinet or oboe. Skride turned, smiling, to her colleagues in the orchestra, Wellber slackened his grip, and for a few brief bars Schumann gave us chamber music.
That was the first real indication of Wellber's musical thinking. The Lohengrin Prelude had felt a little too much like an exercise in static, if sweet-toned, phrase-making - the long line was missing. But here it was, at the opening of Brahms's First Symphony: back with a vengeance. If the impression so far had been of a meticulous, thoughtful conductor with a hyperactive podium style, from the first bars of the symphony it was clear that Wellber had some seriously large-scale musical ideas – and the power to realise them.

On the strength of this performance, Wellber conceives the symphony as one huge, single-movement span – from expansive opening right through to a finish which, judging from the savage splendour of his brass-torn final bars, it's doubtful that he sees as any sort of resolution. The conflicts of the first movement lumbered angrily up from the bass line of the second, and this must have been one of the least relaxed performances imaginable of Brahms's third movement intermezzo. The finale followed almost without a break: the drive and bite with which Wellber lashed into the string figuration of Brahms's introduction – so often played purely for romantic atmosphere – felt like the tail-end of a development section that still had everything to fight for.
Throughout it all, Wellber unlocked the full, lustrous sonic depth of the CBSO string section – a rare achievement since Nelsons's departure. If there remained something claustrophobic about his vision (and it was particularly frustrating to hear leader Laurence Jackson and principal horn Elspeth Dutch's solos locked rigidly into tempo) it was unquestionably compelling. The audience responded with cheers, and the orchestra remained seated when Wellber gestured it to stand, handing all the credit to the young Israeli. It's been an open secret in Birmingham for some weeks that there is already a clear front-runner for the CBSO's music directorship. Last night, that contest got a lot more interesting
Wellber has some seriously large-scale musical ideas - and the power to realise them
rating
Share this article