Prom 13: National Youth Orchestra of America, Gergiev |

reviews, news & interviews
Prom 13: National Youth Orchestra of America, Gergiev
Prom 13: National Youth Orchestra of America, Gergiev
A difficult UK debut for America's first national youth orchestra
Valery Gergiev: Little of the conductor's Russian flair made it into last night's music
Youth orchestras do well at the Proms. Built to the same sprawling scale as the Royal Albert Hall, their energy is also a natural fit for the relentlessly enthusiastic Proms audience. The Gustav Mahler Jugendorchester, the Simón Bolívar Youth Orchestra, the Aldeburgh World Youth Orchestra, our own National Youth Orchestra – year after year we marvel at the skills of these young musicians and come away with new demands to make of our professional ensembles.
But last night the newly formed National Youth Orchestra of America showed their inexperience. Rarely has a youth orchestra sounded so young.
It seems astonishing that this should be the debut season of America's NYO, but so it is. For the first time musicians from across 42 of the 50 states have come together for an international tour, with the Proms as their final stop. So many weaknesses can be forgiven of a group still finding its feet, but following closely on two weeks of intensive rehearsal and concerts at the Mariinsky Theatre and Washington's Kennedy Centre among others, there are some issues that just can't be overlooked.
Bell's Tchaikovsky may yet turn out to be the concerto of the season
It didn't help that under Valery Gergiev they opted for Shostakovich's Tenth Symphony as their major showcase. There can be few who heard 2010's Proms performance by Mark Elder and the Australian Youth Orchestra who don't still remember the charged restraint and ferocity of their performance, setting a standard that the tentative NYO America just couldn't meet. While the Australians held their nerve in the slow-build, long-form Moderato, their pianissimo a fortissimo in all but volume, the Americans never found their focus. There's a lack of identity here, a lack of ownership, in their technically proficient playing that means they still struggle to convey the emotional text of music. The emotional and narrative subtext of Shostakovich, his many ambiguities and allusions, were just beyond them.
The Allegro's sound and fury saw the musicians at their best, drawing some of their most assured articulation, but once the motor of Shostakovich's rhythms was taken away, replaced by the wilful rhythmic uncertainty of the Allegretto, doubt returned. Tone – not timbre, but rhetorical, interpretative tone – is crucially lacking, absent in the rather anonymous solos as well as from the ensemble performance. Few if any of Gergiev's instincts with this repertoire were evident here, and still fewer in a performance of Tchaikovsky's Violin Concerto.
Thank goodness for soloist Joshua Bell (pictured above). Memories of recent technical issues were banished in a joyous performance that was at once unorthodox and entirely natural. Rather than play up to the Royal Albert Hall, Bell instead took Tchaikovsky's extrovert bravura and transformed it into whispered mischief and romance. Suddenly we all wanted to be invited to hear the folky flourishes and under-his-breath witticisms of the solo violin, tossed into the hall with unselfconscious delight in their own intricacy It was as though Till Eulenspiegel had got loose in the concerto, romping through the Allegro vivacissimo and upending the musical furniture in shuddering semiquavers. All this and a Canzonetta whose simplicity took the edge off any emotional excess, made up for any timidness in the accompanying orchestra.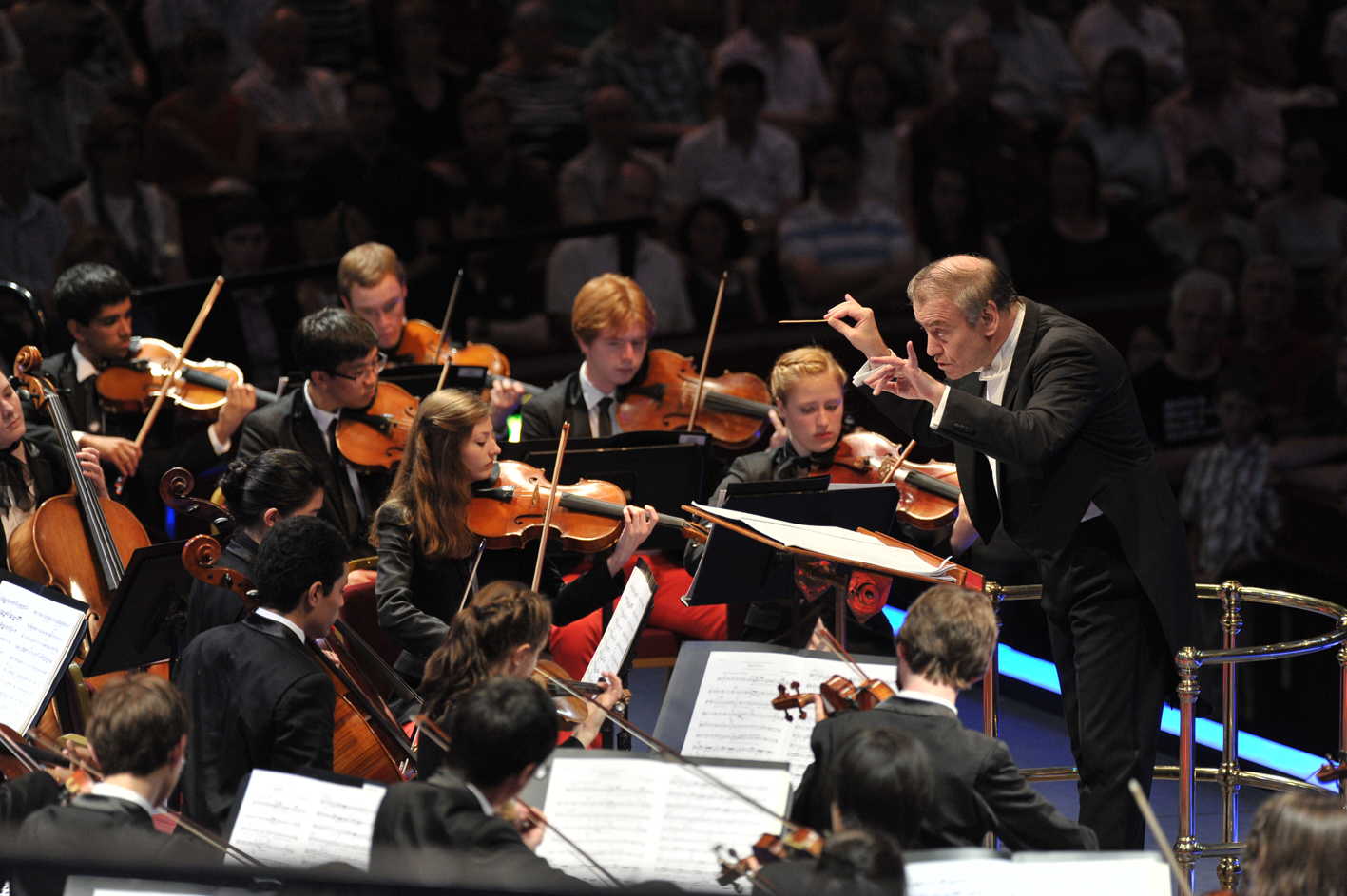 The evening opened with the European premiere of Sean Shepherd's Magiya. Meaning "magic", the work celebrates two centuries of Russian overtures in a textural miniature. Magiya's thrills are moment to moment rather than developmental, dominated by the metallic glint of tuned percussion, brass and high woodwind. If the journey through Shepherd's fairytale landscape never gains much cumulative momentum, its grotesque miniatures and fleeting beauties are compensation enough.
Bell's Tchaikovsky may yet turn out to be the concerto of the season. What a shame then to find it framed in so uneven an evening. Let's hope that another year and another conductor sees the NYO of America return to challenge and match their international rivals.
The Allegro's sound and fury saw the musicians at their best, drawing some assured articulation
rating
Explore topics
Share this article