Kelemen, BBCSO, Wigglesworth, Barbican |

reviews, news & interviews
Kelemen, BBCSO, Wigglesworth, Barbican
Kelemen, BBCSO, Wigglesworth, Barbican
Video projections muddy the impact in Britten, but Stravinsky brings pearls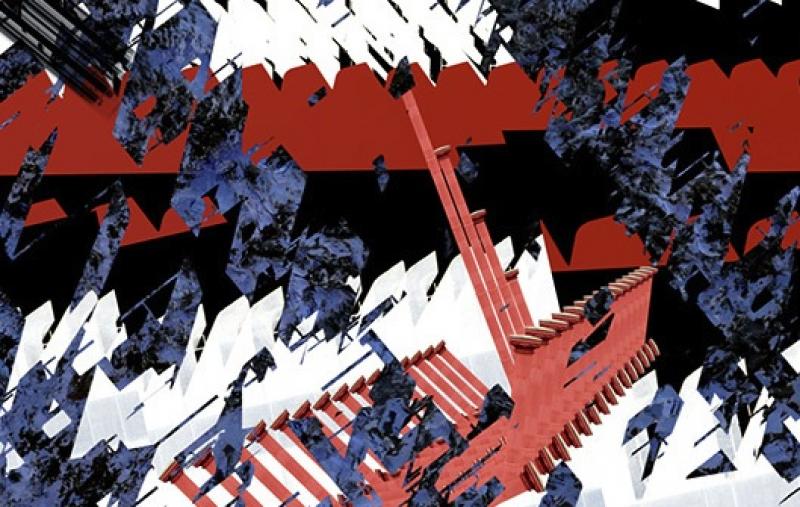 A snatch from Tal Rosner's video projections to accompany Britten's Passacaglia
In the deep recesses of my brain lies a distant memory of an early lesson in musical appreciation in primary school. Excerpts from Beethoven's "Pastoral" Symphony were being played. The teacher asked us what images came to mind. The answers came fairly quickly, prodded by the music's title: a babbling brook, a thunderstorm, twittering birds. I was on my way.
That childhood scene suddenly popped up during this spotty BBC Symphony Orchestra concert. It featured the latest manifestation of a burgeoning trend to do the audience's visual imagining for them by commissioning a film-maker and dangling a large screen of video images over the musicians' heads. Here we were presented with award-winning, Israeli-born Tal Rosner's visual thoughts on the "Four Sea Interludes" and Passacaglia from Britten's opera Peter Grimes – the result of recent commissions from four separate American orchestras (one for each interlude) and the BBCSO.
Nothing here was so prosaic or direct as those pastoral snippets in primary school. No heaving North Sea; no streaks of dawn light hitting Maggi Hambling's Scallop sculpture on Aldeburgh beach. Little sea at all, actually; but lots of bridges, girders, American highways, American waterfronts, American storm drains, mostly fractured by digital wizardry into a spinning myriad of abstract shapes, pulsing more or less in time to the rhythmic contours of Britten's score.
Watching and listening together only produced an unhelpful mishmash of sensations
If you shut your ears, I guess the parade could have been stimulating; the vigorous whoops from some in the audience at the end were obviously stirred by something. But for others – well, me – watching and listening together only produced an unhelpful mishmash of sensations. Down on the platform, Ryan (not to be confused with Mark) Wigglesworth and the BBCSO delivered a notably virile interpretation of the score, particularly strong on muscular strings, with an aching viola solo in the Passacaglia. Up on the screen, Rosner kept pulling in the opposite direction, away from the music's emotions, atmosphere and psychology into clean, cold, digital abstraction, peppered with just a trace of nautical references (sail shapes, fish heads, Blackfriars Bridge) to suggest the project's far-distant point of origin. Rosner's video component to In Seven Days, eight years ago, with original music by Thomas Adès, was far more beneficial than this. All in all, the experience was like finding your favourite supermarket staple suddenly given obscuring repackaging, complete with the slogan "New and Improved!".
Luckily, other items in the concert created vivid pictures without any outside assistance. I'm thinking especially of Stravinsky's Agon, that wonderfully spry ballet from the 1950s, couched in sonorities so sinewy, various and brazen that they suggest the composer was trying to write for pungent period instruments without having any to hand. Put on their mettle by his crisp, fleet beat, Wigglesworth's crew lapped up its magical games and contests. The "Galliarde" dance, written only for whispered sounds, high and low, never quite crystallised in the Barbican space; but that was the only wobble in an otherwise invigorating performance. I appreciated, too, the novel spectacle of a mandolin player (Nigel Woodhouse), usually the mouse lost inside an orchestra's roar, standing up for some personal applause.
Moods and colours proved equally various in Wigglesworth's own Violin Concerto in its 2013 revision, designed for violinist Barnabás Kelemen, its nimble exponent here. Lasting an action-packed 17 minutes, Wigglesworth's concerto may never dislodge the mighty Beethoven in the world's concert programming, but if promoters want a contemporary piece, pungently argued, full of lyrical flounces and no barbed wire, they know where to look. The austere splendours of Stravinsky's Symphony of Psalms formed an odd companion placed alongside, though it would be a dead heart that didn't throb when the orchestra and the BBC Symphony Chorus pressed on the crescendo pedal during the first movement or settled into the final coda, rapturous even in restraint. This is one work I never want to see with anyone's video projections.
The experience was like finding your favourite supermarket staple suddenly given obscuring repackaging, complete with the slogan 'New and Improved!'
rating
Explore topics
Share this article