Gerhardt, RPO, Payare, RFH review - personality muted by faceless conducting |

reviews, news & interviews
Gerhardt, RPO, Payare, RFH review - personality muted by faceless conducting
Gerhardt, RPO, Payare, RFH review - personality muted by faceless conducting
Cellist-knight can't completely rescue an evening more about sound than expression
Rafael Payare: soundsmith lacking the essential expressive kick
Former Royal Philharmonic Orchestra principal conductor Charles Dutoit has been exposed, to little surprise from musicians, as something of a roué whose apparent refusal to take "no" for an answer has rubbed up against the new #MeToo world. So his place in last night's concert was taken by Venezuelan Rafael Payare, not yet 40.
Unfortunately it seems certain Dutoit would have captured the
élan vital
of
Richard Strauss
's
Don Juan
better than Payare - an accomplished soundsmith, on this evidence, but fatally uninterested in the operatic drama of Strauss's tone poems, or for that matter the singing charm of
Mozart
.
Payare cuts a curious caper on the podium. The dancing legs in slightly too-short trousers seem to help him in moving fluently from one tempo to another - no easy feat in the second half of Strauss's volatile "Variations on a Theme of Knightly Character" Don Quixote, brilliantly accomplished here. But the arms are raised too high, and too symmetrically, too often: does that encouragement to the orchestra to play louder prevent the sound ever going much below mezzo-forte?
Even as one lamented the lack of forward momentum, this too laid-back quality for Strauss's idealistic, serial-monogamist Juan, it was hard not to admire the sheer brilliance of an orchestra which doesn't get to play major concerts nearly as often as its other London counterparts, set against whom its reputation has long been patchy. That's unfair: the strings can be truly voluptuous, there's no better horn section in town and among the woodwind principal oboist John Roberts gave us a shapely second love, though Payare wasn't going to go for any of the necessary vulnerability.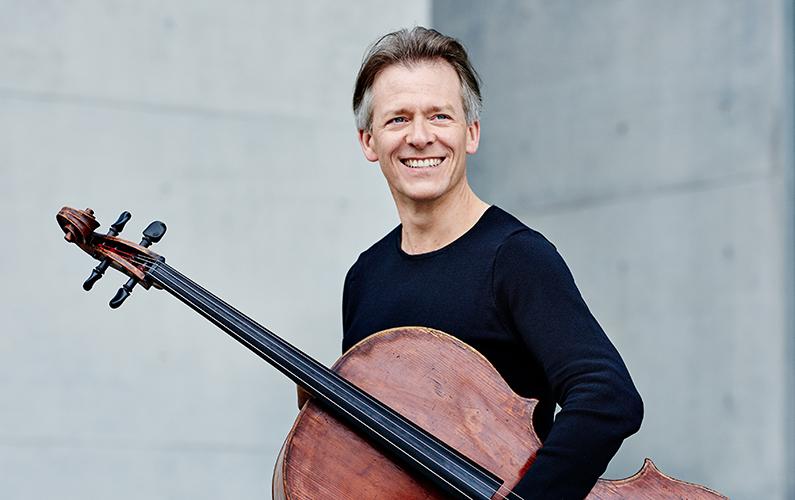 Shorn of the external glitter, Mozart's "Haffner" Symphony (No 35) exposed more worryingly Payare's apparent lack of interest in what the music has to say. Without the charm, the vocalising in the second movement and the fizz in the finale, it all fell disappointingly flat. Only some stylish trills and roulades in the outer portions of the Menuetto saved the performance from total anonymity.
Would the arrival of collegial, live-wire cellist Alban Gerhardt (pictured above) as the Knight of the Woeful Countenance galvanise conductor and orchestra into a more vivid way with what is Strauss's most intricately perfect symphonic poem? Only up to a point; after all, this is not a cello concerto, despite four purple patches for the soloist, and it seemed Gerhardt had to go along with Payare's lack of poetry in the usually gorgeous "castles in the air" vision of Variation Three. He didn't force the point of the characterisation, duetted engagingly with leader Duncan Riddell and flicked water at the plucky Sancho Panza of principal viola-player Abigail Fenna after emerging from the not-so-enchanted boat of Variation 8. But the exuberance of his Hyperion recording was largely absent, possibly because he was necessarily focused on trying to follow his none too clear conductor.
Despite the soloistic team's best efforts, and some splendid work from tenor tuba (presumably the "euphonium" listed in the programme), the performance as a whole remained as earthbound as the wooden horse which the blindfolded knight and squire believe to be carrying them through the air. And though balances in the intricate counterpoint of Quixote's madness were superb, there was little sense of this being Strauss's greatest "opera for orchestra" - a shame, because it was perfectly cast. But actors are only as good as their director gives them space to be, and Payare isn't sending out the right expressive signals to his players as yet.
This 'Don Quixote' remained as earthbound as the wooden horse which knight and squire believe to be carrying them through the air
rating
Share this article