We Made It: Factum Arte |

reviews, news & interviews
We Made It: Factum Arte
We Made It: Factum Arte
Recreating a facsimile of Tutankhamun's tomb and a painting by Veronese is all part of revolutionising our experience of art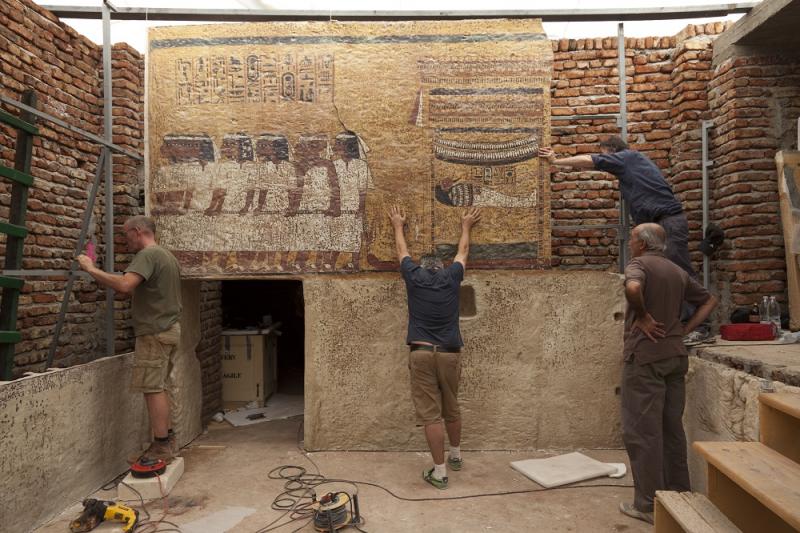 The first panels of the facsimile of Tutankhamun's tomb are installed by Adam Lowe (top right) and a team from Factum Arte
With its team of artists and craftsmen Factum Arte resembles the workshops of old, the rhythmic clatter of hammer and chisel a sound that has rung through city streets for centuries. But alongside the painters and sculptors are software designers and engineers, 3D printers and robots, evidence of 21st-century technologies that, under the directorship of artist Adam Lowe are being brought into the orbit of traditional artisanal skills.
Factum Arte's unique approach to problem-solving and innovative methods for collecting and expressing data in two- and three-dimensions have produced collaborations with artists like Anish Kapoor, Marina Abramović and Grayson Perry, as well as facsimiles of works of art that are set to change how institutions and governments care for cultural treasures.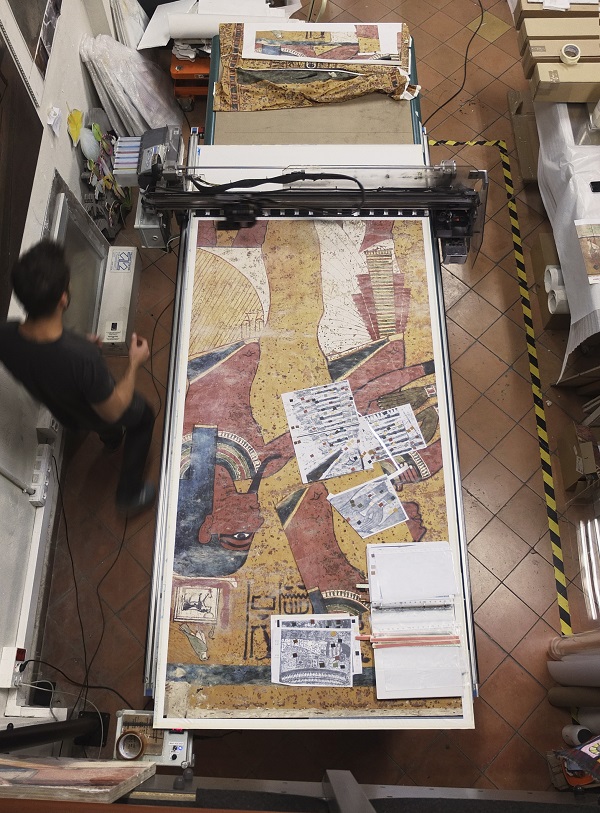 There are few historic sites as compelling as the tomb of Tutankhamun, and its popularity as a tourist attraction has caused it to deteriorate so rapidly that it will close in the coming years. But the closure of the tomb does not have to signal the end of the tourist industry that is so essential to the Egyptian economy, thanks to a replica of the tomb made in Factum Arte's Madrid workshop (main picture). A 3D scanner designed and built in-house collected detailed information about the tomb's interior, from which wall panels were 3D printed, reproducing faithfully every lump and bump of the wall's surface, before being overlaid with a skin, printed with an image of the tomb's walls (Pictured above right and below).
When the facsimile opened in April, eminent Egyptologist Salima Ikram walked in, and, says Adam Lowe: "just started hyperventilating and burst into tears." Another Egyptologist Erik Hornung was astonished by the amount of data collected in a related project to recreate the tomb of Thutmose III, remarking that he had learned more in three days in Factum Arte's Madrid workshop than in a lifetime in Egypt. The reason was simple – the tomb is so hot that you can't stay there for long.
Despite such plaudits, it is hard to believe that a facsimile can capture the essence – the aura – of the original. But Lowe argues that this is missing the point. "Places are very special" he agrees. "For me it is very important that the replica of Tutankhamun's burial chamber is located close to the original tomb, but we are asking for people to stop this kneejerk emotional thing that says 'I have to only see the original' because actually you are not seeing the original anyway, what you are seeing is an original mediated through many layers of action."
These "layers of action", the effects of time and pollution, human contact, accidental damage or restoration are, for Lowe, where works of art come into their own. "We are not only seeing some notion of original intent, which is never what we think it is, we are also seeing years of care and how it has changed according to how it has been valued, how it has been loved, what its function has been. These things change and art is not a fixed auratic presence, it's a very complicated, ongoing negotiation between articulate objects and how we read them."
Paintings in museums, often designed for specific locations where they could act as part of a multi-sensory experience are far removed from their original settings and some are restored to a point of being reproductions of themselves. Unsuitably lit and difficult to get close to, these objects are, in themselves, stretching the boundaries of authenticity.
The problematic concept of the original, and an acknowledgment that restoration interventions tend to be products of their time, with each generation of restorers decrying the work of their predecessors, informed Lowe and artist Manuel Franquelo when in the late 1990s they started working together and talking about developing their own 3D scanner. At the heart of the project, explains Lowe, was the question of whether: "it would be possible to make a facsimile that has the qualities of the painting - so that we can try out different things, that allows the whole biography of a painting to come to the foreground."
It was in this spirit that Lowe and his team made a facsimile of Veronese's Wedding at Cana, 1563, painted for the Benedictine monastery on the Venetian island of San Giorgio Maggiore, but residing now in the Louvre, ignored by visitors trying to catch a glimpse of the Mona Lisa nearby (Pictured above right). The painting's surface was recorded and rematerialised, the canvas cut up and reassembled just as Napoleon's soldiers had done when they looted the painting in 1797. It is surely arguable that the sight of the facsimile in the location for which it was designed is a more authentic experience than the original in Paris.
But Lowe (Pictured below left) is clear that this astonishingly accurate replica is not a clone. "Our Veronese is a performance of that painting. I would love someone else to do another performance of it. Just like with great bits of music we can listen and compare Yo-Yo Ma's Bach Cello Suites with Pablo Casals'. Different people interpret different things. The score is more ephemeral than the surface of a painting, or is it? Is it just different?"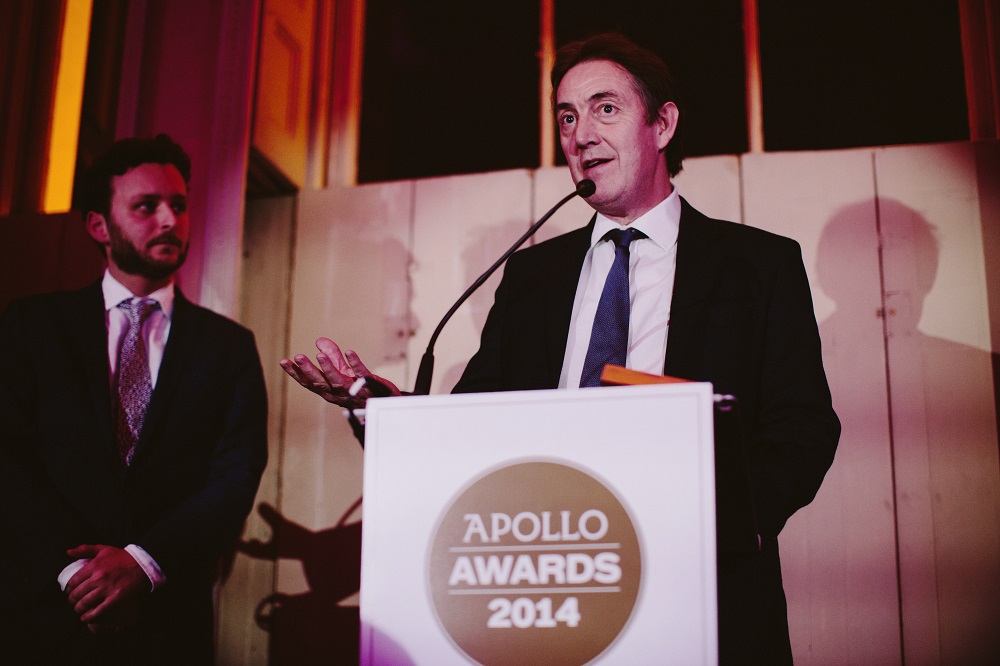 The equipment used to produce these facsimiles is, for the most part, designed and built in-house. "It's very much about taking control of your tools, just like a traditional artist did, they weren't just borrowing other people's brushes – a sculptor had his favourite chisels. You need an empathy with the means of making." That these technologies are simply tools to be used is reflected in Lowe's ambition to share them. "We want to make sure that the things that are needed to preserve great sites are made available. I would love it, and so would Manuel, if we could freely make this stuff available and train people to use it."
Lowe is adamant that money should not be an obstacle, and sister organisation the Factum Foundation is dedicated to fundraising for Factum Arte's conservation projects. But Factum Arte is also a commercial venture, with a list of notable artists consulting Lowe in a spirit of collaboration, rather than problem-solving. "Marina Abramović might say, 'I really want to make something that's permanent but ephemeral.' How do we do this? How do we play with the ephemeral nature of digitality and the permanence of material things with someone who is a performance artist? That is a beautiful, beautiful question."
It's very much about taking control of your tools, just like a traditional artist did, they weren't just borrowing other people's brushes
Explore topics
Share this article