We Made It: Horn Maker Tom Fisher |

reviews, news & interviews
We Made It: Horn Maker Tom Fisher
We Made It: Horn Maker Tom Fisher
Bespoke horns, handcrafted in a Derbyshire cellar
The Fisher FD2
Ask anyone for the name of a violin or piano maker, and they'll probably be able to summon up Stradivarius and Steinway. What about horns? Do concertgoers ever look closely at these instruments – noticing, perhaps, that some have four, others five valves? That there's a bewildering range of shades and colours, from golden to silver, usually polished and lacquered or left to tarnish gracefully? Start talking to horn players and brand loyalties will quickly be established.
Europeans, especially Germans, love the idiosyncratic Alexander 103, and many British players favour horns made by Paxman, now based in Southwark. The big, dark sound favoured by Hollywood session musicians might well be obtained on a vintage big-belled Conn 8D.
Cheaper horns are mass produced, but there's always been a market for handmade ones. Building them is an exacting, exhausting process, one which the British horn maker Tom Fisher is happy to outline in his workshop in a terraced house in a Peak District village. He has just serviced one of my horns, the formerly sluggish valves now swift and responsive. Fisher sees things that mere mortals would never spot, identifying a badly aligned joint near my thumb valve which I've never noticed. He has an uncannily sensitive ear, promptly diagnosing an issue with another horn which I've taken along for inspection. You suspect that he could comfortably diversify into heart or brain surgery. Fisher's cellar workshop (pictured above right) is an extraordinary, if cramped, space, the ceiling barely high enough to stand up in. Brass tubes, valves and sharp objects hang from the walls, amid shelves bursting with mysterious oils, pastes and wire wool. You'd need to fill in pages of risk assessments before letting a small child through its doors. The family washing machine is squeezed into a corner. Fisher's craft was in the news last year when an unusual prototype horn (the Fisher FD3, pictured below left) was stolen in a house burglary, an event even mentioned on Radio 4's The News Quiz. Fortunately, it was recovered unharmed.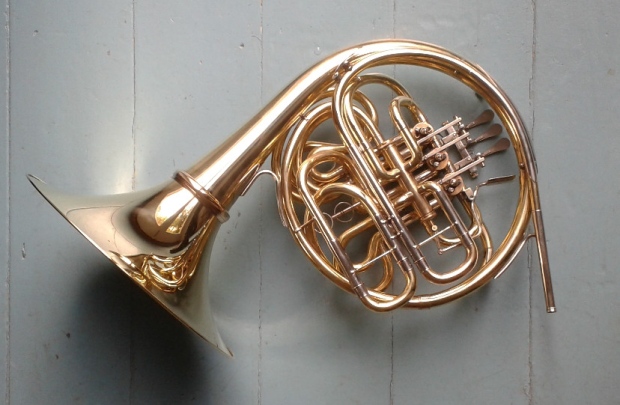 GRAHAM RICKSON: How did you get started?
TOM FISHER: I used to be a furniture maker, with a workshop in Leeds, which instilled an obsession with accuracy and precision. In 1994 I took up a teaching post at Sheffield Hallam University's School of Art, a city renowned for its metal working expertise. I'd learned to play the horn at school but, like so many people, had let it fall by the wayside. I took up the instrument again in 1997, at the same time as I was increasingly fascinated by the process of working with metal; I was able to use the department's facilities after hours and draw on the expertise of the technicians who already worked there.
What prompted you to decide to make a horn?
I had already replaced the leadpipe on my own horn, but the rapid growth of the internet was key! It allowed an enthusiast like me to make contact with all sorts of people and amass useful information. I was in touch with an American brass specialist called Rick Seraphinoff who makes natural horns and trumpets, based on his reverse-engineering of a German instrument dating from 1632. I flew to Indiana to take part in one of his trumpet-making courses, which did wonders for my confidence. I was able to meet people like Robert Barclay, a Canadian brass maker, natural horn virtuoso Lowell Greer and Mick Rath, the British trombone designer. These people were always happy to share their specialist knowledge. I also became aware of a group of specialist horn makers known as the "Geyer Guild", taking their name from the great Carl Geyer (Geyer was a German-born horn maker whose legendary instruments were crafted in the backroom of a Chicago music shop until the 1960s). The great Tony Halstead, an enthusiast for all things horn-related, was also supportive. And I was able to establish contact with various European suppliers, from who I could secure the parts I needed to make my instruments.
Where did you get the equipment needed to build a horn? And how does the process start?
I made most of it myself! Using it, my first horn was finished in 2005. The whole process takes approximately 100 hours. The overall configuration and basic geometry of the horns is mine. You build a horn in reverse, working backwards from the bell and bending the first branch. The leadpipe, into which the mouthpiece fits, comes last. I don't feel that I'm all the way there yet; after years of working at weekends I feel that I'm still in the process of product development.
How do you juggle making horns with the need to have a family life?
I now work at Nottingham Trent University during the week, so the horns are mostly a weekend activity. My children are older, so are lower-maintenance. Plus, my wife Jill is an artist, so we're very well-matched. At weekends she'll disappear into her studio, and I'll go downstairs and work. Though my cellar (pictured above right) isn't big enough, and I'm hoping to build a larger workshop so that I can make the horn business more viable when I retire.
What makes a good horn?
It's not complicated – the horn maker Daniel Rausch talked about the importance of making sure that all the bits fit together properly!
I'm still in the process of product development
Explore topics
Share this article