We Made It: Guitar Maker Brian Cohen |

reviews, news & interviews
We Made It: Guitar Maker Brian Cohen
We Made It: Guitar Maker Brian Cohen
The incredible one-man string band
A goldmine of arcane facts and techniques: Brian Cohen in his Guildford workshop
Tucked away in a warren of residential streets in the older part of Guildford, The Old Glassworks looks like a lock-up garage, and seems to have been designed to repel unwanted attention with a private force-field of anonymity. Once you've been welcomed inside, however, you find yourself in an improbable wonderland of mysterious musical instruments, from lutes and rare 17th century guitars to members of the violin family in various states of deconstruction.
Above all, you'll find the newly-built guitars of the owner of the establishment, Brian Cohen. Born in South Africa but resident in Britain since 1974, Cohen has painstakingly established himself as a guitar-maker of the highest calibre, and describes himself as the longest-established independent classical guitar maker in the UK. He's also an accomplished maker of violins and lutes, and could probably turn his hand to anything with a neck and strings if the need arose.
Among the instruments hanging in his workshop upstairs awaiting attention is Julian Bream's first-ever concert guitar, a Martin instrument which the 13-year-old Bream played at Cheltenham Town Hall in 1947. Cohen, who once restored the guitar for auction at Sotheby's, later bought it from Bream himself. Cohen got to know Bream, one of the greatest champions the classical guitar has ever had, after the guitarist approached him in 1991 to ask if he could make him a copy of a 1940 guitar by the renowned German maker Hermann Hauser, which Bream then had on loan. Over the next six years, Cohen made eight guitars for Bream, "all refinements of this same one," and found himself involved in an exacting process of learning and discovery.
"I learned a lot from Bream in the sense that he had vast experience of playing all sorts of guitars," he explains, pulling up a chair and sipping tea. Clients phone at regular intervals, but he lets the answering machine take the calls. "Most guitarists are completely unaware. They just play the guitar, and if the frets don't buzz that's alright. But Bream is way beyond that. He's the only person I've known who could play a guitar and he wouldn't look at it, but he'd say, 'You've got two bars on the right of the bridge haven't you, Brian?' [referring to the instrument's internal construction]. He could feel it through his fingers, which I've never known anybody else do."
With the orginal Hauser guitar, Bream (pictured below) wanted Cohen to make minute adjustments to the action (ie the height of the strings above the frets).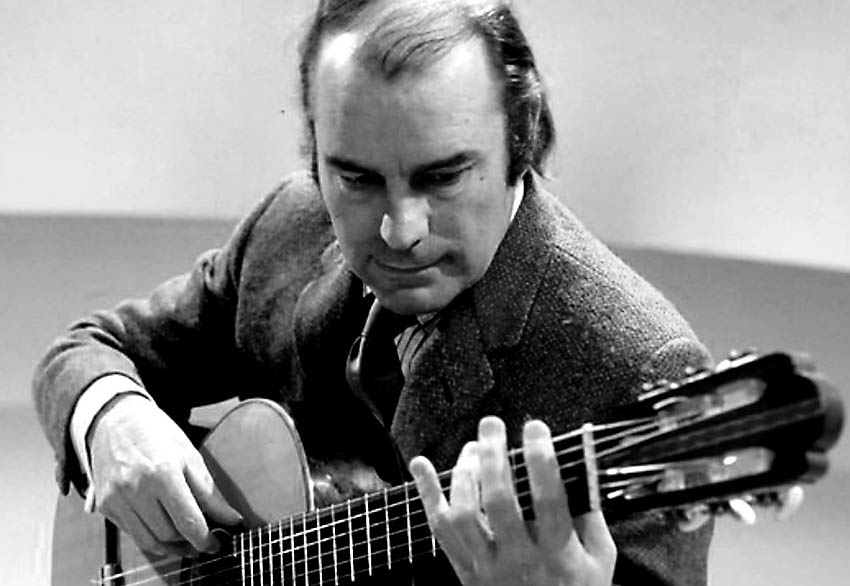 "It's a huge job," says Cohen. "I had to take all the frets out, remove the fingerboard, just skim a bit off the fingerboard and then re-fret it. I did this about eight times. There was one time when we adjusted the bridge saddle by 1,000th of an inch. I was getting a bit tired of this to be honest, so I thought to save myself time I'll just make it a 2,000th or one-and-a-half thousandth. Bream must have played the guitar for about 10 minutes and he said, 'You know Brian, I think you've gone one and a half here, this isn't the 1,000th I asked for.' And of course he was right." And this without even measuring it with the digital micrometer that the demanding Bream carried around with him.
The young Brian Cohen never dreamed that he'd end up keeping such rarefied company. When he was growing up, nobody was building classical guitars in South Africa, and Cohen only got involved when a guitar-playing friend he'd known from school days, John Silver, needed his instrument repaired, and bravely let Cohen have a go at it. Silver, who'd taught himself by listening to classical guitar LPs and figuring out the pieces note by note, helped teach Cohen to play, but he was eventually forced to admit that "I was adequate and I worked very hard at it, but I wasn't particularly gifted at playing the guitar."
Instead he took his first faltering steps at guitar-building, and his eyes were opened wide by an encounter with the guitar-playing Abreu brothers, Sergio and Eduardo, when they came to play in South Africa. It wasn't so much what they played as what they played it on. The Brazilian duo had David Rubio guitars, made at Rubio's workshop in New York. "You didn't need to be a great expert to realise they were superior to what I was doing. The guitar I'd made was really terrible, but when I saw these Rubio instruments I realised you could make a really fine guitar if you know what you're doing."
Rubio had now returned to his native England – his real surname was Spinks, but he'd acquired the new one during his time as a professional flamenco guitarist – and set up a workshop near Oxford. Cohen decided he must come to England, find Rubio and petition him for a job, and in 1974 duly turned up at his door. "He was a proper gent, he invited me in and showed me what he did," says Cohen, but Rubio couldn't employ him because Cohen still lacked the basic skills required. However, Rubio invited Cohen to come and seek his advice whenever he needed it. Cohen retreated to a bedsit in East Finchley, and set about mastering his chosen craft.
To the layman, it's startling to hear him claiming that you need very few tools to build a guitar. "Of course the more you get into anything the more specialist stuff you have. I have tools upstairs that I use just for one job, it just does one cut and that's it. But the artisan guitar maker was just a jumped-up carpenter really. You need a plane, a decent handsaw and maybe a sharp knife and actually very little else. You can improvise almost anything, and you don't need any machinery at all. I've got a bandsaw now, but I didn't back then."
Sleeping under his workbench by night and taking care not to let his landlord know what he was up to, Cohen doggedly honed his skills, gleaning regular tips from Rubio. His early efforts to sell his instruments at shops such as the Spanish Guitar Centre and the Ivor Mairants store in Rathbone Place proved fruitless. "Me and Mr Mairants didn't get on, I have to be honest," Cohen admits. "He was a difficult old buggar. He told me, 'the best thing you can do, Brian, is pack your bags and go home, there's no future for you here, just give up.' That was his advice."
Obviously this was advice Cohen didn't take, and he vividly remembers the day when he made his first sale, to Fleet Guitars in Hampstead.
"He bought it outright and paid me £180 for it, which wasn't a huge amount of money even then but it was for me. Something had just come right, and in the same week the Spanish Guitar Centre bought one and I think even Mairants bought one. So suddenly I had a pocket full of money, which was only about £1000 I suppose, but I went out and bought wood. I thought, 'this is alright, I make guitars, that's OK'."
H
e then rented himself a workshop off the Portobello Road, opposite Rough Trade records and near to where fey folk minstrel Donovan lived. He had an intriguing encounter with the acoustic guitar guru Davey Graham, who brought in a sarod for repair.
"He was into Indian music, and a sarod is like a sitar but with fewer strings. It had a vellum parchment on top, and he wanted it replaced. I had no idea how to do it, but I thought how hard can it be? I got some parchment and learned how to mould and tension it and that was fine, but I'd neglected to take Davey's address. He didn't come back for a year, then he just breezed in one day and asked, 'Is my sarod ready?' I said, yes, it's been ready for quite a while actually, I'll just get it down and clean it up. He said, 'OK, I'm just going out to buy a packet of fags and I'll be right back.' And I kid you not, he didn't come back for a year. Again. Extraordinary chap."
As it transpired, the mid-Seventies were interesting times for stringed instruments. The early music revival was under way (though Bream had been on the case with his Julian Bream Consort since the early Sixties), prompting renewed interest in lutes, theorboes, early guitars, violins and violas da gamba, and Cohen found himself in the thick of it when he moved into a workshop at the Early Music Centre in Holland Park. This had been founded by the lutenist Anthony Rooley, and Cohen found himself working alongside the likes of Norman Reed, Maish Weisman, Stephen Murphy and several more. Rooley commissioned a copy of a Belchior Dias guitar, made in Lisbon in 1581, for which Cohen devised a method of creating the bent staves used by the original maker.
"In fact it was a double bend, because the staves had to be bent and curved at the same time," Cohen recounts. "There was no text book telling you how to do it, but you have to think like the makers did back then. They probably had connections to boat-builders and barrel-makers, steam-bending wood with heat. (Collector's item: Cohen's replica of an 1851 Torres guitar, pictured below by Ellen Broughton.)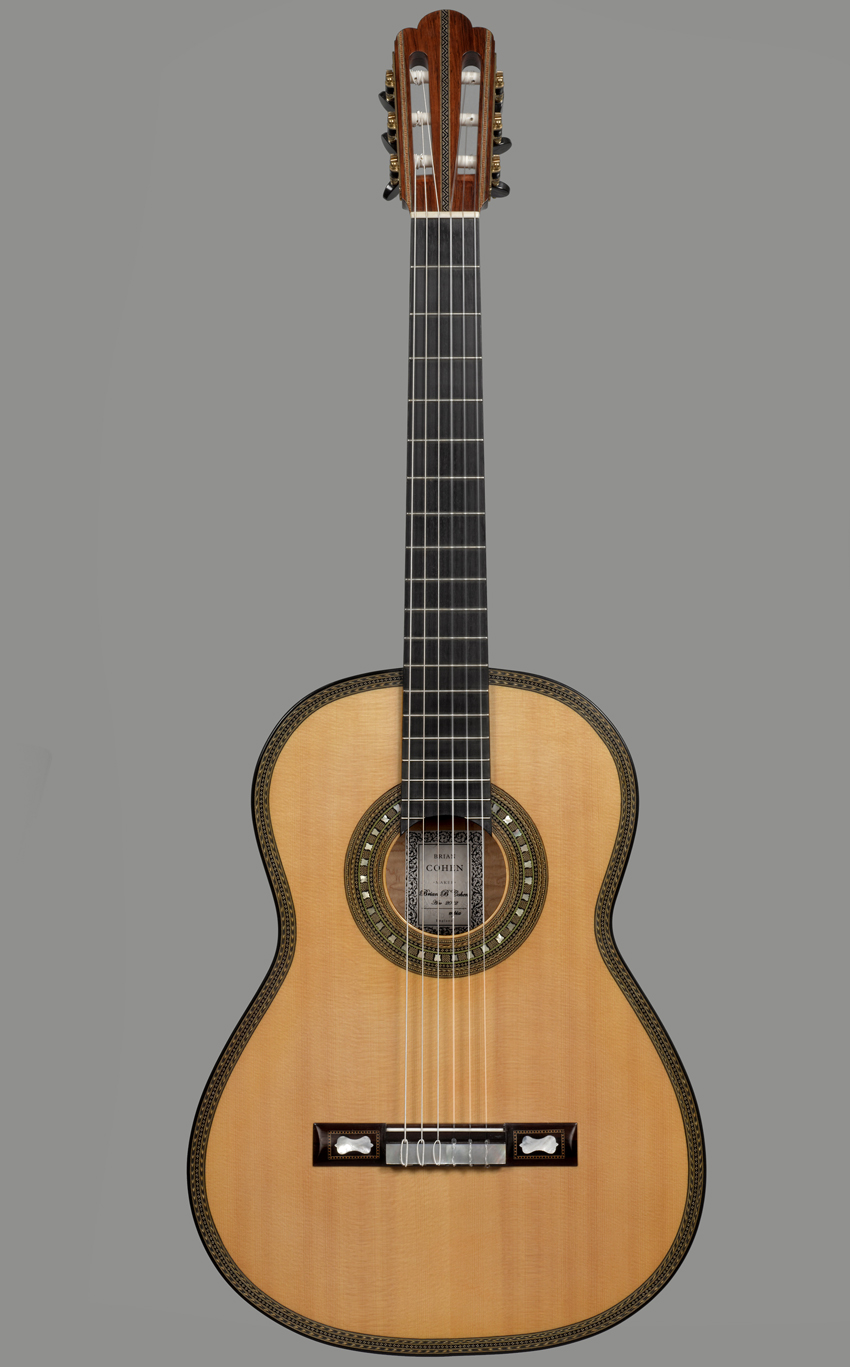 "I like to think I was the first person to do this in modern times, because it was a method that had been lost for a long time. Other makers have claimed to have discovered it, but I'm pretty sure I pre-date them."
The secrets and mysteries of instrument-making lend the job a certain mystique, and Cohen is a goldmine of arcane facts and techniques. Just finding the right wood for the job is a field of study in itself. The best timber with the finest grain, he estimates, is to be found "high up the mountain near the top of the tree-line. It's the coldest and worst environment, it's hard up there. The net result is the trees grow very dense, very hard, so the wood is quite tough. That means it's normally on the north side of the mountain, because the south side gets too much sun. Then the tree grows towards the sun, and it gets bigger on one side than the other and doesn't grow nice and round." The people he buys his wood from even select it according to the phases of the moon, according to "biodynamic" principles.
Something it took Cohen many years to perfect was the art of tuning a guitar – not the strings, but the different wooden surfaces in its construction. He got a hint about this from Julian Bream, who'd visited the Hauser workshop near Munich and noticed that they kept a full set of tuning forks there. To tune the guitar strings, you only need one. Eventually it dawned on Cohen that different parts of a guitar would resonate at different frequencies, which could be tuned by varying their stiffness in the way the instrument was constructed.
"You just tap the wood in certain places and you get a certain note, it's like tuning a steel drum. It all ties together with the physical properties of the wood. If you put the fan bars inside on a diagonal you can make the grain stiffer. If you have them parallel it stiffens it fore and aft but leaves it flexible sideways. "
Thus it became possible to have the different "plates" of the guitar – the back and top can each be divided into separate sections producing different notes – generating a whole octave of tones. "It's not only amplifying the sound of the strings, but itself is generating the sound," Cohen explains. "You're getting the sound plus a little bit extra, which is great."
It
isn't easy, though. Cohen builds each of his guitars twice, first assembling the instrument, then taking it apart to micro-tune it before re-assembly ("I don't know anybody else who builds a guitar the way I do"). You begin to see what you're getting for the £8,000 price tag.
It's infinitely painstaking work, and he points out that, unlike violins, guitars eventually wear out and lose the original bite and freshness of their sound. A 300-year-old Stradivari violin still sounds amazing because "the violin is under compression all the time. It's a bit like a stone arch – if you compress it, it stays hard and the wood remains intact." A guitar, by contrast, is constantly under tension. "Wood isn't good at tension. It loses its ability to stay straight, it loses its elasticity. The great Hauser guitars of 50-odd years ago are great, but they're not as good as they were."
But it's good news for guitar makers. Sooner or later, all those gently-deteriorating guitars will need to be replaced.
The artisan guitar maker was just a jumped-up carpenter really
Explore topics
Share this article