We Made It: 'The Revenant' Production Designer Jack Fisk |

reviews, news & interviews
We Made It: 'The Revenant' Production Designer Jack Fisk
We Made It: 'The Revenant' Production Designer Jack Fisk
How he stunningly recreated the authentic American frontier of 1823
Unholy ground: Jack Fisk and the sinister ruined church he designed for 'The Revenant'
The Revenant's production designer Jack Fisk wasn't required to build multiple sets for Alejandro González Iñárritu's 1823 wilderness epic. Indelible, however, are the few man-made settlements and structures with which Fisk marked the route of the bloodied, abandoned Hugh Glass (Leonard DiCaprio) as he struggles 200 miles southwards on his revenge mission through present-day Montana into South Dakota.
They include Glass and his fellow beaver-trappers' rudimentary camp among towering trees that afford Arikara Indians eyries from which to shoot at them; a Pawnee village following a massacre; and the squalid fort that's Glass's destination. Then there are the dreadful monuments in his nightmares: a ruined cathedral with frescoes, blending Central American murals and Russian icon paintings, that depict the dead and suffering; a mountain of buffalo skulls redolent of Vasily Vereshchagin's 1871 painting of human skulls, The Apotheosis of War.
We took some licence by creating a journey through the mountains
A versatile master of his craft, Fisk, 69, has been Oscar-nominated for The Revenant's production design, as he was for designing Paul Thomas Anderson's There Will Be Blood. His other credits include all nine of Terrence Malick's films (including the two scheduled to open this year); Brian De Palma's Carrie; and David Lynch's The Straight Story and Mulholland Dr. That means the man who prepared the forest clearing where Glass is mangled by a bear also designed Mulholland's extradimensional Club Silencio and the high-school auditorium where prom queen Carrie (Sissy Spacek, Fisk's wife) is drenched with pig's blood.
GRAHAM FULLER: What specific visual references and writings influenced your designs for The Revenant?
JACK FISK: About five years ago I read the Lewis and Clark journals of their trip across America and learned of a painter called Karl Bodmer [1809-93], who in the 1830s followed their trail and painted the Indians. He and the more famous Indian painter George Catlin [1796-1872] were both influences. When this film came up, I started reading journals of trappers explaining their day-to-day lives. Some were short, some long, some better written than others. The mountain man Osborne Russell [1814-92] wrote a really nice book. Then I found some anthropological reports from the 1900s that talked about Indians' homes and villages. Once you start making a film, you drop the research, but hopefully you have enough in your gut to approach the environment as people might have done in their own time.
Hugh Glass dreams of stumbling on a ruined church (pictured below) adorned with frescoes of suffering saints and tortured Indians. That was partially influenced by [Andrei Tarkovsky's] Andrei Rublev [1973], wasn't it?
Yes. Alejandro sent the film to me. I loved it, and it gave me an idea of the scale of what he was intending. I don't usually work from other films because it seems inbred, in a way, but Andrei Rublev is so stunning it told me more about Alejandro than anything else.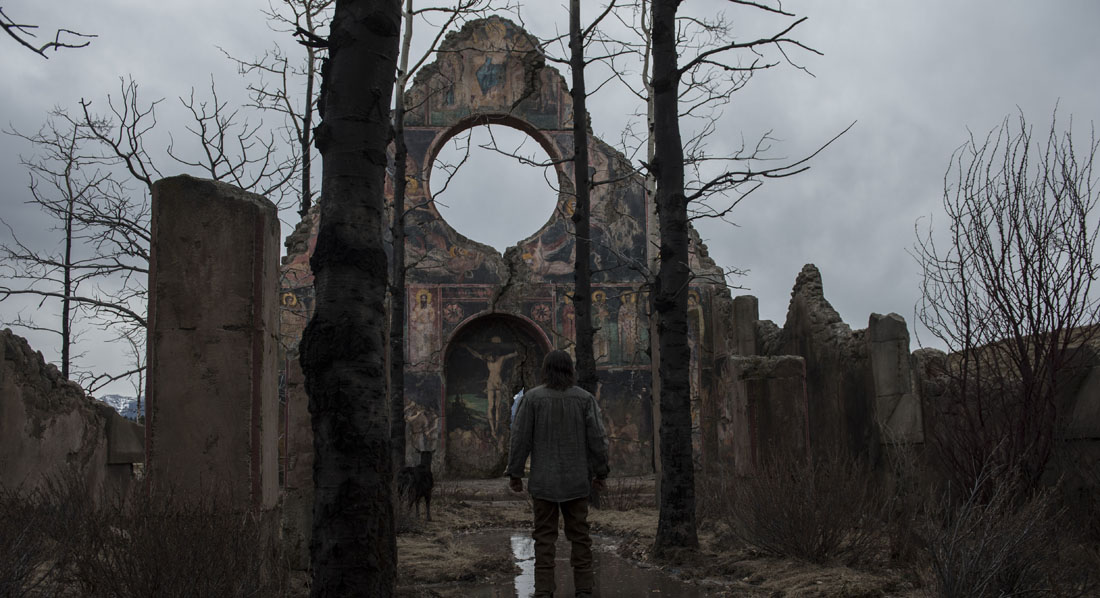 The terrain in the film is more dramatic than that encountered by the real Hugh Glass on his journey, as described in [Michael Punke's] The Revenant novel.
We thought often of the surfaces Glass would be confronted with. The real Glass's journey was in South Dakota, mostly across prairie. The story would not have been served well if he'd had to crawl across prairie for an hour, so we took some licence by creating a journey through the mountains. But if you go into woods and mountains, the confusing thing is that they all look the same after a while, and you get your location photos mixed up. Robin Mounsey, the [supervising] location manager, and I had to find startling locations that defined themselves and gave the viewer a sense of progression from place to place on Glass's journey. We also simplified the locations if there were any confusing elements, like broken trees or too many branches on the ground. We'd hide them or cover them up. It's the same thing I do in the interiors of houses – simplify. But it's hard to improve on nature. It's the best designer in the world.
How did cinematographer Emmanuel Lubezki's shooting the film in natural light affect the set decoration in terms of shooting in colour and the construction materials you used?
I've done six films now with Chivo [Lubezki's nickname]. All those we've done with Terrence Malick used natural light. On The Revenant, the important thing was that we shot everything backlit, looking south. If you stand anywhere in the world, there'll come a point in the day when it looks mundane, and a point when it looks magical. Painters have known this for centuries. If you point the camera toward the sun, so it's behind what you're shooting and the images are backlit, it transports you into the magic of the setting and the period, because you're not seeing so much detail. It helps you imagine you're in a different time (pictured below: Captain Henry's office in Fort Kiowa).
We tried to minimise using colours that drew attention to themselves, unless they were necessary for the scene, like the red of the blood, which would sometimes show up greyer. We also tried to avoid white, which was difficult because there was so much snow. We were always fighting contrast. It's difficult in forests because leaves will catch a harsh light and pop out of frame. If there's any lightness in a forest, it'll stop your eye from looking further, so we painted thousands of grey trees with a dark wash of dry colour and water because I wanted to make sure we could clean it off easily afterwards, or that nature could. You worry about how it will affect the trees' growth, and the park service was watching us closely. We were shooting a lot on Indian reservations, and nobody voluntarily says, "Paint my tree dark."
We mostly used real materials in the construction of the sets because it holds up better, especially as Alejandro was putting the camera so close to the actors and to the walls. Everything in the film that wasn't nature was obviously either brought by man or created by man, whether Indian or trapper, and it was important that it all had a handmade quality and looked used, because nothing there would have been brand new. A pair of moccasins would last a trapper about three days, a pair of leather boots about a month. They'd be continually jerry-rigging, making do, and inventing to insure their survival.
I like working like that myself. You put yourself in an environment and say, "What's the problem? How do I solve it?" I used to call it the Stanislavsky system of art direction. It helps the actors because the things they see and touch are real. I said to Clay Landry, our historian on the film, "I really want you to be able to smell the fort and the other locations." Trappers would probably bathe only a few times a year and the leather they wore would get wet, shrink, dry, and get stretched out. The Lewis and Clark journals said they'd eat about 10 pounds of red meat a day each, which means you're butchering a lot of animals to provide 300 pounds if there are 30 trappers at a camp. I was happy that Alejandro wanted the film to convey the smell of all that.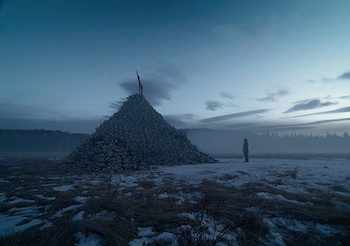 The mountain of buffalo skulls in Glass's nightmare (pictured right) must have originated in that 1870s photo of hundreds of thousand of skulls that were to be ground into fertiliser.
Yes. When Alejandro first presented the idea, it was going to be human skulls, but after we showed him that photograph he changed his mind. By 1870, the US government was encouraging whites to massacre the buffalo so they could control the Indians' food source and get them to move where they wanted them. When I looked at the scene Alejandro created, to me it represented the future of that environment.
Tell me about the trappers' boat on which Glass and the other survivors escape during the Arikara attack.
I love building boats, and when I was studying Lewis and Clark, I actually built a model of their barge, which they called a keelboat. Theirs was 55 feet long and eight feet wide, so it was very unstable. It seems that keelboat builders settled on a length of about 40-45 feet, which was the length of the one we eventually constructed for the film. Each keelboat had a cabin to protect the furs and the hunters and trappers. Those boats were so heavy, the men would get into the water or on the shore and pull the boat upstream with big ropes. It's called "cordelling". The boats had masts and sails, but the rivers turned so much you couldn't get a good lay with the wind.
The Lewis and Clark boat got me thinking about the boat for The Revenant. I talked to people who build period boats and saw a keelboat in Montana that had been built for a movie. It was made out of plywood and didn't quite work for us. Researching the locations, I found the rivers were so shallow at points that rocks were sticking out, plus there were swift rapids I knew we'd have to navigate when we were shooting. So I designed a boat, built a model, and Alejandro approved it. Then we got the effects department to build an aluminum hull, and we built the boat over that. We also put a 300 horsepower jet engine in the back and an 80 horsepower engine in the front, so you could turn the bow left or right to get the boat upstream easily for every time we did a take, though we didn't use the motor much. A simple boat had became a complex boat (pictured below with Leonardo DiCaprio). I don't know what became of it after the shoot.
Did you build the fort completely or just the façade, like an old-fashioned Western movie set?
We build the entire fort, partly because I knew Alejandro had never seen one before, partly because we were shooting in continuity and I didn't know exactly what our needs would be four months later…by when we were shooting the fort! I'd built a fort for [Malick's] The New World – for 1607 Jamestown – so I was curious to see how a fort would have looked over 200 years later. Most forts of that time were trading posts, not so much defensive, though we put a palisade around ours to protect the men from wildlife and Indians. We had an office for Captain Henry [Domnhall Gleeson] and his accountants, a mess hall, a dormitory, a room where Indians could trade their goods, and a butcher's shop that didn't make it into the film. You could have lived there – assuming you could have lived in that environment in the first place. There was no heat, electricity, or bathrooms. Forts like this were cesspools of disease, full of rats, lice, and fleas. Our fort represented one that would've been fairly new, but I notice Alejandro had one of the trappers scratching himself. It looked like he had mange.
Do you personally oversee the construction of the sets on a film of this size?
I get real involved. My reputation is as a hands-on designer. When I did There Will Be Blood, the construction co-ordinator gave me a hammer at the end of the film [laughs]. I started back in the '70s, building sets. I had a little truck with tools and I advertised myself to the Cormans [filmmakers Roger and Gene] as someone who could "design it, build it, prop it, and dress it".
Do you like working with wood?
I love it.
And you're a good carpenter?
I'm a fair carpenter, but I represent "normalman" [a comic book hero with no superpowers]. Usually after the first day or two, I'll tell the carpenters on a set to get rid of their spirit levels and tape measures. I'll say, "If you want six feet, just hold your arms out, or take a step – that's a foot," and they'll usually get into it. It's what they would've done in 1823. Certainly the carpenters on this film couldn't work with wood that had modern measurements. There was one building that was so straight, I had the crew pick it up with a forklift and drop it three times, to get it to be less regular.
Did you use any CGI?
Not for the settings or the camp locations, but we used them to create the buffaloes and the bear. You can't unleash a real bear on someone like that – it'd kill them. We did look at a couple of bears that are famous for working in the film business. When they show them to you, they put an electric fence around them because they can kill you, even though they're trained. They're sort of fat – they're too well-fed, they don't exercise – so they didn't look like bears of the period. And I couldn't find anybody who wanted to get them in shape [laughs].
Read other articles in We Made It, our series on craft in partnership with Bruichladdich
One building was so straight, I had the crew pick it up with a forklift and drop it three times
Explore topics
Share this article