Flaming June, Leighton House Museum |

reviews, news & interviews
Flaming June, Leighton House Museum
Flaming June, Leighton House Museum
Reunited with the artist's final works, a painting rarely seen but endlessly reproduced
Thursday, 24 November 2016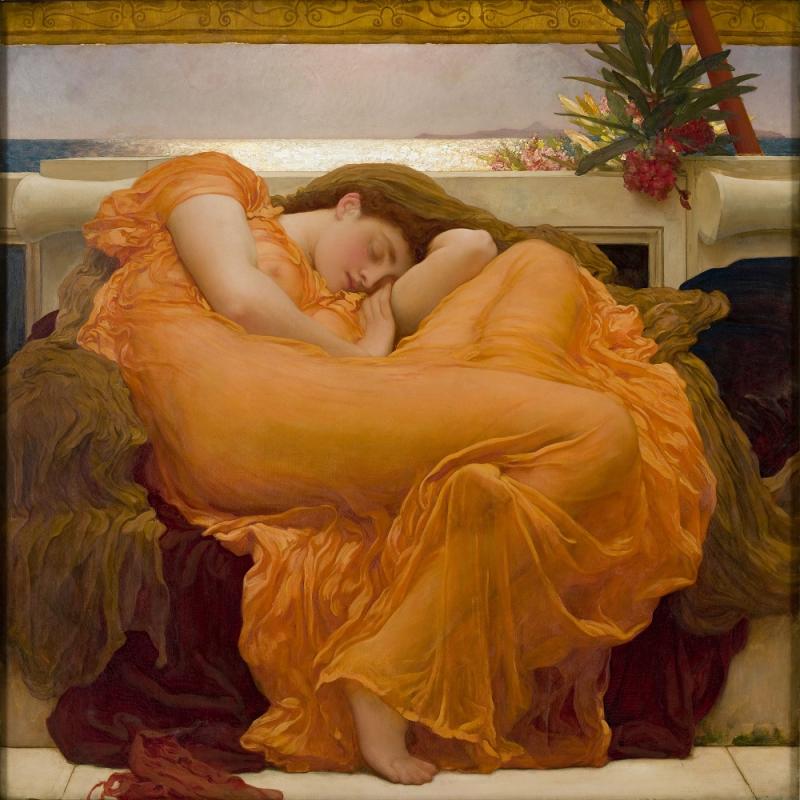 Frederic Leighton, 'Flaming June', 1895
The chances are, you've only ever seen Flaming June in reproduction: since 1963 it has resided in the Museo de Arte de Ponce in Puerto Rico, an out-of-the-way location that reflects the universal disdain for Victorian art in the post-war period.
When the painting disappeared and then resurfaced in a house on Battersea Rise it was rejected by every British museum imaginable, eventually being bought by the enterprising curator Luis A Ferré, to form part of what is now recognised as a world-class collection of Victorian art.
Returned to the studio at Leighton's fabulous "House Beautiful" for the first time since 1895 and reunited with the group of paintings submitted by him to the Summer Exhibition of that year, the reasons for Flaming June's reputation as an appalling example of Victorian bad taste are immediately apparent. Ubiquitous it might be, but no reproduction can prepare you for the visual assault of that orange dress, and despite its erstwhile reputation as typically tasteless Victoriana, it is worth noting that even in the 19th century, it got a mixed reception.
The critics fell over themselves trying to describe the sickly hue that dominates the painting, and whether they called it "old gold", "light amber pink" or "topaz yellow", all were agreed that this was a colour only Leighton could have produced. Looking at it now, surrounded by the more conventionally subdued palettes of its companion pieces, Leighton's orange is bizarrely anachronistic, belonging more to the age of plastics and petrochemicals than coal and steam.
If that's not an entirely positive assessment of Flaming June's modernist credentials, a real-life encounter with this painting permits a surprising, and far more compelling revelation: it's a colour field painting. While colours have always been used to achieve a balanced composition, a small oil sketch on display nearby shows the extent to which Leighton designed his canvas as an abstract arrangement of blocks of colour, dominated by a hot orange centre.
Of course much of this painting's fascination lies in its ambiguity, the title and broadly classicising appearance of the figure and setting suggesting the personification of summer, but more convincingly, the post-coital slumber of a woman aflame with desire. So is it just a sexy picture dressed up as something more edifying? It's tempting to think so, although its many allusions to the art of the past and contemporary culture do more than simply provide a cloak of respectability for porn.
The knowledge that times were changing seems woven into this final group of paintingsThe sleeping woman is an ancient iconographic trope, common in the Renaissance and popular in the 19th century, when for Victorian audiences, sleep had a particular association with drug-induced intoxication and death. And that curled-up pose is as old as art itself, with endless precedents in Greek sculpture, resurfacing in Michelangelo's figure of Night, c.1521-34, made to form part of the decorative scheme for the Medici tombs at San Lorenzo, Florence, photographs of which Leighton kept in his studio. Michelangelo reused this figure in a painting of Leda and the Swan, 1529, an image so erotic that it was burned in the 17th century by the Spanish Queen Mother.
As one of a group of paintings of lone female figures, immortalised in a photograph of Leighton's studio shortly before the 1895 Summer Exhibition (pictured above), Flaming June is the most frankly erotic, and perhaps this adds to the picture's strange modernity. And yet, even as it went on show just months before Leighton's death in 1896, times were changing, the knowledge of which seems woven into this final group of paintings. In amongst the idealised, sentimental images of otherworldly women was The Maid with the Golden Hair, a woman idealised for sure, but presented in what was identified at the time as a specifically English, rather than classical style, the informal pose indicative of a growing interest in the depiction of everyday life. In this painting, seen in the emphatically Victorian surroundings of Leighton's residence, the artist seems less a relic from the distant past, and more an artist on the cusp of a new age.
Critics fell over themselves trying to describe the sickly hue that dominates the painting
rating
Share this article