Upstart Crow: Lockdown Christmas 1603, BBC Two review – plaguey beaks and bubonidiots |

reviews, news & interviews
Upstart Crow: Lockdown Christmas 1603, BBC Two review – plaguey beaks and bubonidiots
Upstart Crow: Lockdown Christmas 1603, BBC Two review – plaguey beaks and bubonidiots
Ideas needed for a Scottish play from David Mitchell's Will and Gemma Whelan's Kate
Tuesday, 22 December 2020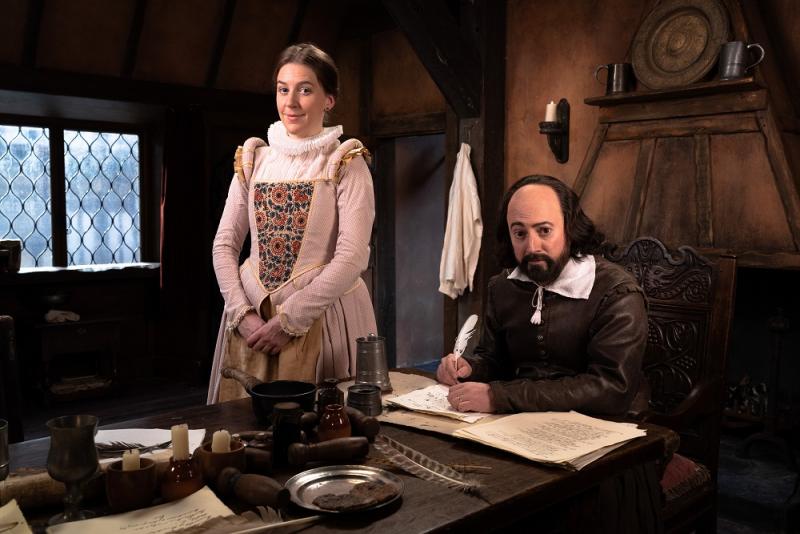 Gemma Whelan as Kate and David Mitchell as Will
If you've loved every episode of Ben Elton's Shakespeare and Co comedy, you'll know what to expect – but you'll have to swallow bittersweet pills from only two of the excellent ensemble who've given us such comfort and joyous rapid-fire delivery of wordsmithery over three series (and on the London stage, as it was befor
e mid-March). Anyone unfamiliar with the format must also watch the previous
Christmas
special on the BBC iPlayer, where Will writes sonnet lines for Anne and works on
Eighth Night
for Burbage, Condell and Kemp(e) to present before the Queen: a much more fleshly entertainment, full of loopy doodah twists.
A certain flatness goes with the territory here. James is now on the throne, promising a union between England and Scotland that might be good for 400 years. Shakespeare senior is in the grave – mum twisted an ankle dancing on his grave – so expect no more in future from Harry Enfield except by way of flashback. Bubonidiots are misbehaving, food is being hoarded and all the theatres are shut, as they were in the previous plague year of 1593, which yielded The Comedy of Errors and Love's Labour's Lost (not quite the "ill-constructed Bolingbrokes" they're cracked up to be here). There's still banging of pots for the "grotsome corpse-collectors," and Kate has some fitful ideas for merriment (fun to watch Whelan in her 15-second Tickle Toggling routine), but who will see them apart from Will, who should be working?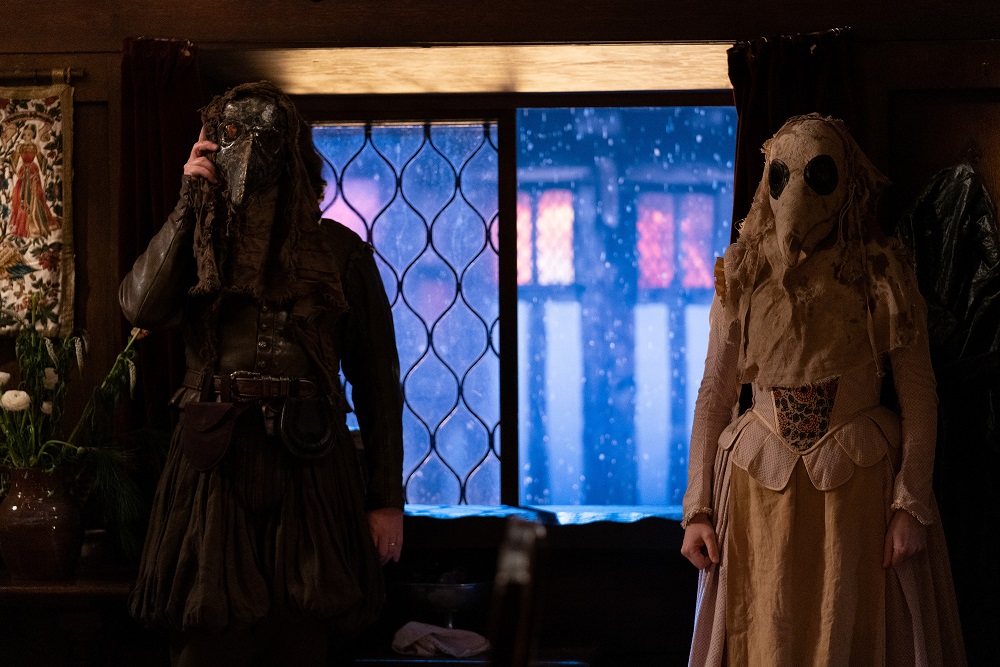 And what can he write to give the virtuoso horrors of his new Scottish play depth and substance? What will give voice to the nothingness of existence and the pointless passage of time? It's no spoiler to say that Kate has the best lines, so to speak, and the bonus is to hear Whelan reciting Macbeth with a grave beauty of diction. Hang the futtock on! The Shakespearean quill begins to work overtime.
There's an attempt at a merry Christmas of sorts as the two don their "plaguey beaks" to join carol singers at two metres' distance (pictured above); but the nagging feeling that none of this is really funny, because of the circumstances for them and us, lingers on. Which is part of the point, and there are still poignant comparisons between past and present – those between the ages of five and 30 were then most at risk – but for all the consummate pacing from Mitchell and Whelan, let this be the last lockdown comedy. Enough, no more, it's not as funny as it was before. Time, methinks, to revisit all three series.