Upstart Crow, BBC Two |

reviews, news & interviews
Upstart Crow, BBC Two
Upstart Crow, BBC Two
Superb Ben Elton sitcom about Shakespeare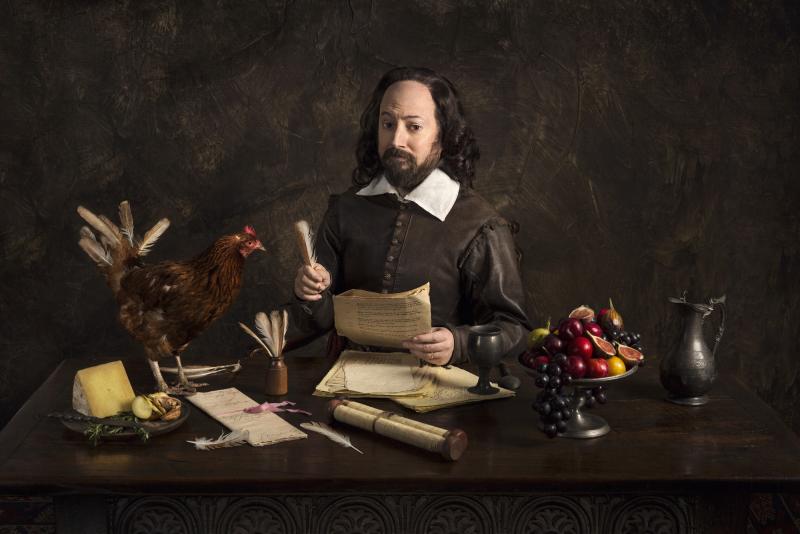 David Mitchell's Will Shakespeare is never too far from a moan about late-16th-century life
Time was when the words "a new sitcom from Ben Elton" wouldn't make anyone's heart quicken with anticipation. I think it's fair to say that after the glorious Blackadder (1983-89), he struggled to write anything so brilliantly, giddily funny, but with Upstart Crow he has made a storming return to form.
David Mitchell is William Shakespeare, here played as a man for whom one word will never do when he can say ten, and always on the verge of a moan – whether it's about the poor 16th-century transport system between London and Stratford-upon-Avon, or the fact that, as a Midlander, he's seen as an oik by the Oxbridge elite in London who rule the country. There are lots of lovely little historical conjunctions like that. "In England it's not what you know, it's what dead farmyard animal you rogered at university," says Will.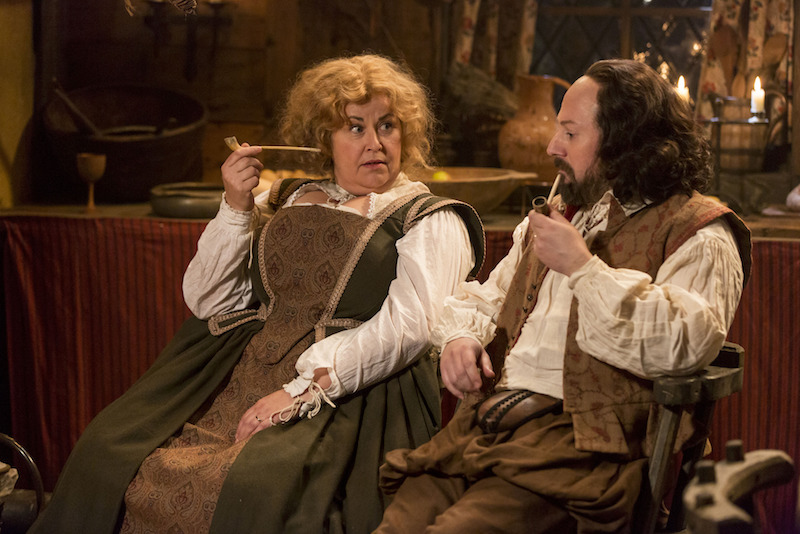 Director Matt Lipsey has assembled a terrific cast for the six-part series, all of whose role in life is to make Will more unhappy and frustrated. His family – Liza Tarbuck (pictured right) is his wife, Anne Hathaway, Harry Enfield his father John, and Helen Monks his daughter Susanna – along with his servant Bottom (Rob Rouse) are deeply unimpressed by Will's scratchings, and last night there was a running gag about "Wherefore art thou Romeo". Will insists everyone would easily understand it's Juliet speaking about the social conventions of late-16th-century Verona and absolutely not asking the whereabouts of her lover.
Each week the storyline mimics one of Shakespeare's plays, so the opener's Romeo equivalent was lovelorn fool Florian (Kieran Hodgson), nephew of Will's rival Robert Greene (Mark Heap) – the latter's waspish putdown of Shakespeare providing the show's title. Greene demanded that Florian should be locked in Will's London lodgings before he went up to Cambridge to save him from a disastrous marriage, but disaster of a different kind ensued.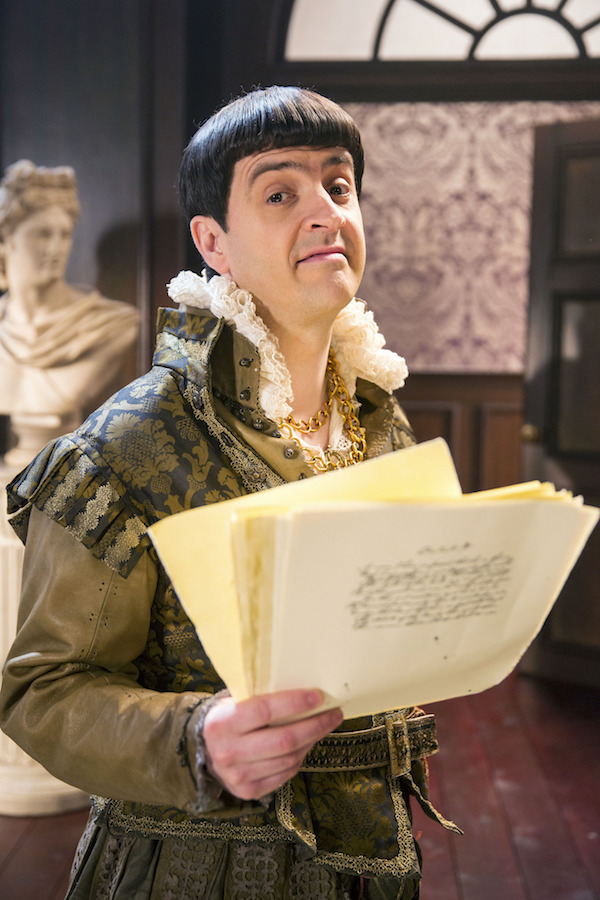 There are great jokes at Shakespeare's expense, although all done with great affection. Don't do comedy, it's not your strong point, Anne tells him. "It is my strong point," Will retorts huffily. "It just requires lengthy explanation and copious footnotes." Will's London friend Kate (Gemma Whelan) provides some neat spin on Juliet's origins and Spencer Jones (pictured left) does a great comic turn by performing egotistical actor Will Kempe while channelling Ricky Gervais. Telling everyone he's big in Italy: "Oh, did I get an award? Oh that's right, I did. A proper one. Not English. Italian."
It's tempting to see Upstart Crow as a rebooted Blackadder, with Mitchell as a nicer version of Rowan Atkinson's schemer. Certainly the show has the same kind of jaunty theme music, the linguistic gymnastics, an air of underlying madness, and contemporary jokes that sit easily among the historical facts, but it stands on its own merits. And even if it were Blackadder redux, so what?
Mitchell, like all the cast, is superb, and his pedantic, sarcastic panel show persona works beautifully for the put-upon Will. Elton's script is a gag-rich riot of clever comedy, the kind that has to be watched at least twice to appreciate all the jokes and references, the sight gags and throwaways. Complete joy from start to finish.
There were great jokes at Shakespeare's expense, although all done with great affection
rating
Explore topics
Share this article