Capital, BBC One |

reviews, news & interviews
Capital, BBC One
Capital, BBC One
John Lanchester's metropolis so far seems scattered in screen version from Peter Bowker
Wednesday, 25 November 2015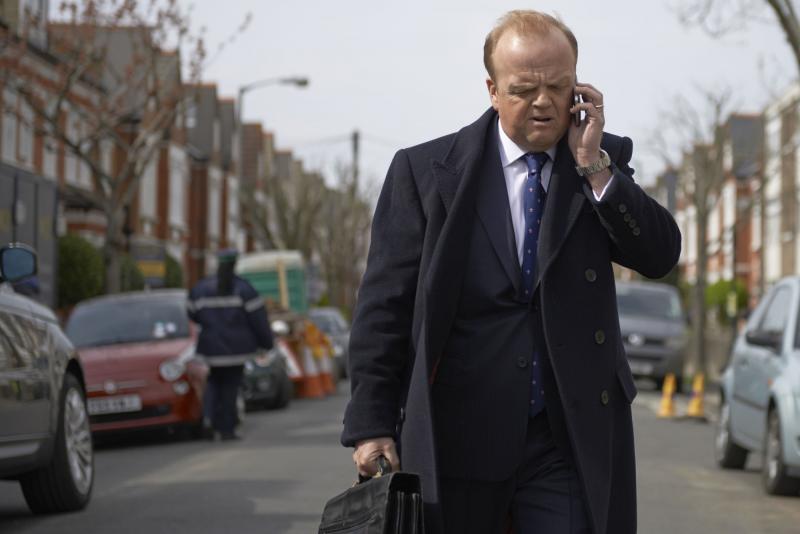 Stress of the street: Toby Jones as banker Roger faces new trials
If the title wasn't already occupied, television-wise, the BBC might have titled Capital "The Street". It's got the high soar-aways over urban geography that recall the soaps, but here they spread wider, taking in a metropolis.
It's "capital" as in
London
, and we may wonder just who's been padding around the premises before John Lanchester's 2012 novel, from which Peter Bowker's three-part drama is adapted. As a big-blend city story, comparisons to
Dickens
have been plentiful. But throw in the other meaning of the title – foundations of capitalism, the movement of money and all that, in a story that has one foot (of many) in the world of high finance, post-crisis – and you sense that maybe that Marx geezer's been sniffing around, too.
But Capital's actually set on a road not a street, which had Lanchester paying apposite homage to another assiduous chronicler of London's diversity, diarist Samuel Pepys. The action of this opening episode, more overlapping than commingling so far, was located on, or emanated from Pepys Road. It's somewhere in the SWs, probably in the double digits: we caught a glimpse of Tooting Broadway tube.
So far 'Capital' is stronger on satire rather than comedy
Pepys Road has seen more than its fair share of transformations, on the social register index, over the years. We got a brief catalogue in the opening scene courtesy of Mrs How (Gemma Jones as pensioner Petunia Howard, in a truly sensitive performance, pictured below), whose own life-story, from wedding, through marriage, and now into lonely widowhood (and new distress, too), has passed on it: first came immigrants, then speed bumps, followed by loft-conversions, and digging-up basements. This being an uber-London story the cost of property figured highly, with month-by-month updates of prices whizzing up in front of us, like a petrol station gauge gone crazy when you just can't get the nozzle out.
That was a nice bit of humour in an episode where smiles were rare: there were touches in the script that suggested otherwise, but so far Capital is much more satire than comedy. In fact, I wondered whether Lanchester had confused his eminent Londoners: Samuel Johnson's classic adage, "When a man is tired of London, he is tired of life," struck home. Almost everyone was.
No surprise, given that the immediate thing these Pepys Road residents had in common were the anonymous postcards, with the single terse phrase "We Want What You Have", that they were receiving. Just what was the message this stalker-observer trying to convey?
It added a certain element of thriller unease, as well as mystery, though viewers may have been struggling already to figure out the exact connections between characters. (If you've read the novel, the mystery looks like how Bowker and director Euros Lyn will succeed in condensing its rich, varied strands into three hours. Some have clearly gone AWOL, and it'll be a case of telescoping rather than binocularing.) Précis explanations – the one in the Radio Times anyway, which told us they were all being "watched by secretive artist Smitty" – didn't exactly elucidate, given that no character going by that moniker even got a namecheck. The sense was sometimes of rather a lot of random characters waiting for someone to blow the starting whistle.
We surmised that it had been a long time since Pepys Road held a street party, though the final scene came close, with everyone coming out on Christmas morning, in their various forms of nightwear, to find those same nasty words of envy painted in big red letters down the strasse. Christmas brought seasonal joy to precisely no-one here, it seemed, though banker Roger (Toby Jones, very nice indeed) came out worst of all: his wife Arabella (Rachael Stirling) had waltzed off unannounced for three days with a girlfriend to make him realise just what looking after their two young boys really involved. Given that Arabella in the novel is a character to have Thorstein Veblen rushing to update his classic on conspicuous consumption, she actually got away rather lightly here.
Though inflicting that particular surprise on Jones, an actor whose ongoing relationship with gruntlement isn't exactly that of best amigos, was a blow below the belt. Particularly because Roger had just been through end-of-year banking bonus (read, abysmally low level of) purgatory. He did have one moment earlier that looked close to bliss, lying back on the grass after managing to hide so well at a game of hide-and-seek that wife and kids were left screaming; he did look alarmingly like the chap in the public service advert about the dangers of overtaking unwisely, though.
It wasn't quite the only sign of happiness, though. There was real bliss, and a hint of romance, in the eyes of traffic-warden Quentina (Wunmi Mosaku) at church (the congregation there almost exclusively black and rejoicing, a poignant contrast with Petunia's earlier lonely vigil): it can't be often that such visible joy comes to someone whose job is handing out parking tickets. The Eastern European contingent, led by Polish builder Bogdan (Rad Kaim), proved adept as usual at just enduring, though the loss of his cripplingly funny reflections on his employers in the transfer from Lanchester's prose to screen reduces the character severely. Family dynamics in the flat above the corner newsagent run by Ahmed (Adeel Akhtar, pictured above, left) look nicely balanced, and still on the bearable side, though that's set to be tested by the twin perils of fundamentalism and a fearsome female visit from Pakistan. Which will prove the more alarming? A question no less actual than when Capital will pick up its momentum and coalesce. A fourth star for hoping that it does.
The sense was sometimes of rather a lot of random characters waiting for someone to blow the starting whistle
rating
Share this article