Whitewash, Soho Theatre review - a wild-at-heart linguistic joy-ride |

reviews, news & interviews
Whitewash, Soho Theatre review - a wild-at-heart linguistic joy-ride
Whitewash, Soho Theatre review - a wild-at-heart linguistic joy-ride
Energetic two-hander offers a sparky portrait of a transforming city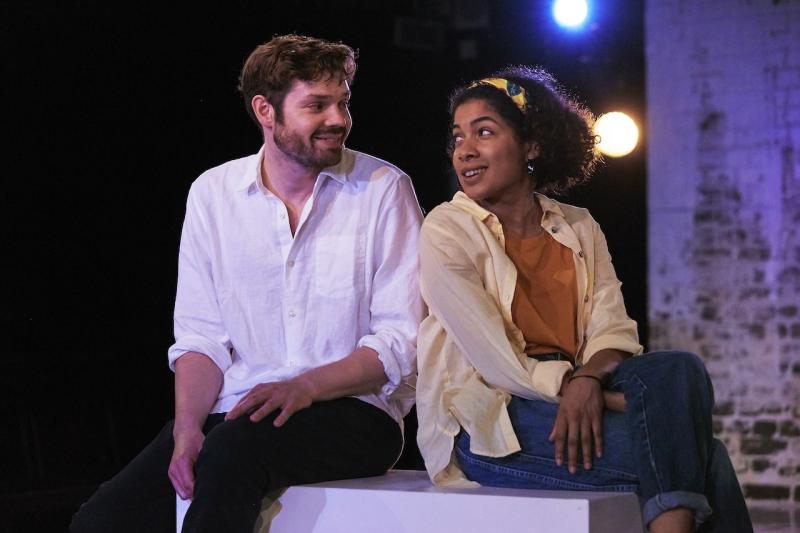 Mercurial chemistry: Gabriel Bisset-Smith and Rebekah Murrell
This witty street-smart play about a white-skinned boy born to a mixed-race mother deploys its narrative with the dexterity of a dance.
Two performers move backwards and forwards across the stage, switching through different characters, skin colours, genders and generations, as they tell a story of pride, poverty, passion and prejudice.
We're in Camden as the play starts, where it's, "Really fucking hot. That inside-an-oven hot you only get in a big concrete city." Playwright and performer Gabriel Bisset-Smith's vivid humorous language ambushes you from the outset. A police officer from the Eighties is described as "a cocktail of cocaine, hatred and Phil Collins", while the boy's mother is introduced as Mary, "not after the virgin, but the Tina Turner song".
Bisset-Smith already has a humdinger of a track record. BAFTA-nominated, he co-wrote, co-created and directed the BBC's revolutionary multi-platform murder mystery The Last Hours of Laura K, and wowed audiences as a comedian with Shy Corbynites. In this partly autobiographical play he splices together the story of Mary and her young son (Lysander) in 1989 with the story of the adult Lysander who's now working for a housing company trying to redevelop the estate where he grew up.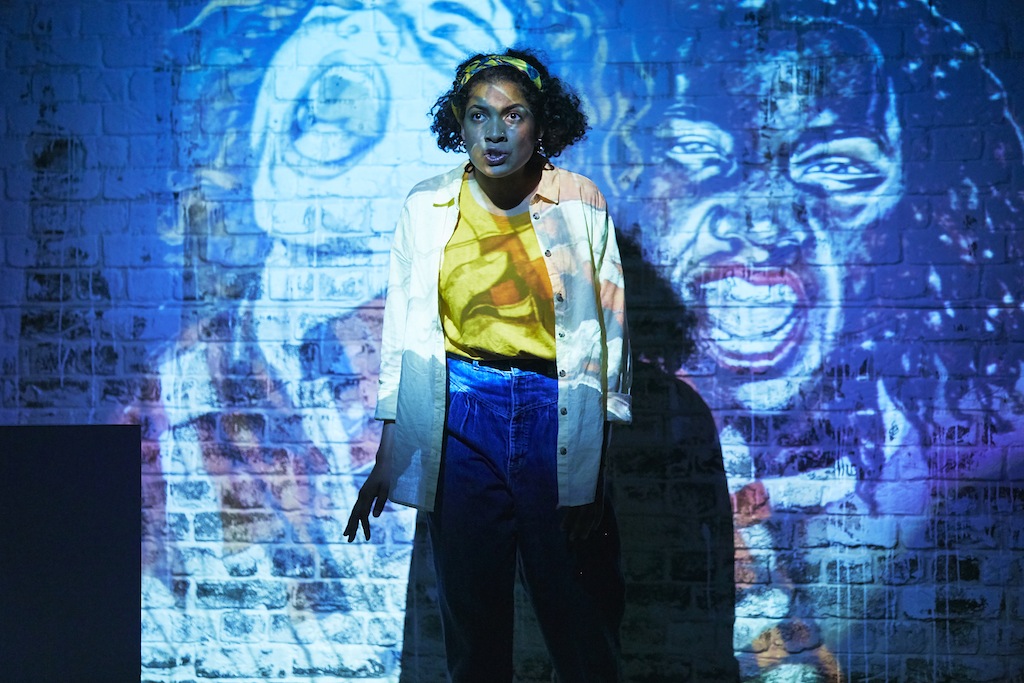 Rebekah Murrell (pictured above) joins Bisset-Smith in this dance between decades. From the moment we see her hand being tugged by an invisible little boy we get a sense of the physical versatility that will be part of a performance filled with zap and humour. She and Bisset-Smith have a wonderful mercurial chemistry that enables them to shift between roles that include mother and son, struggling artist and snooty gallerist, employer and employee, and lovers.
Charlotte Bennett's production interacts skillfully with the fluidity of Bisset-Smith's play – not least in the scene in we see both Mary and the grown-up Lysander go to a party in the same Peckham warehouse. What we're in fact watching are two different parties – one from the Nineties, one from now (Mary describes the warehouse as "dodgy as fuck", Lysander describes it as "fancy"). As the music plays and the characters dance, Mary gets picked up by a black man called Darren, and confesses to him that having a white child makes her feel alone. Lysander, by contrast, is at a photography exhibition that's been put on by his white partner who is pregnant with their child.
While much of the overlap between personal and political is deftly handled in this sparky portrait of a transforming city, the strand in which Lysander works for a company wanting to redevelop his old estate is uncharacteristically clunky. Firstly, it's too obvious as a metaphor for the way Lysander is wrestling with his past. Maybe, too, there's just so much to be said – especially post-Grenfell ­ – about the issues surrounding social housing, that it feels it might be better if it could break away and become a whole new play on its own.
Such observations aside, this is ultimately a wild-at-heart linguistic joy-ride, which alongside the fun also gives us some very moving insights into the struggle faced by a young mixed-race woman trying to bring up her son in London. Go and see it to experience Bisset-Smith's exuberant talent over an exhilarating 70 minutes: what's in no doubt is that we will be hearing a lot more from him in the future.
Rebekah Murrell and Bisset-Smith have a wonderful mercurial chemistry
rating
Explore topics
Share this article