Hamilton, Victoria Palace review - rich, radical and ridiculously exciting |

reviews, news & interviews
Hamilton, Victoria Palace review - rich, radical and ridiculously exciting
Hamilton, Victoria Palace review - rich, radical and ridiculously exciting
Lin-Manuel Miranda's hugely anticipated hit musical is a massive achievement
Saturday, 23 December 2017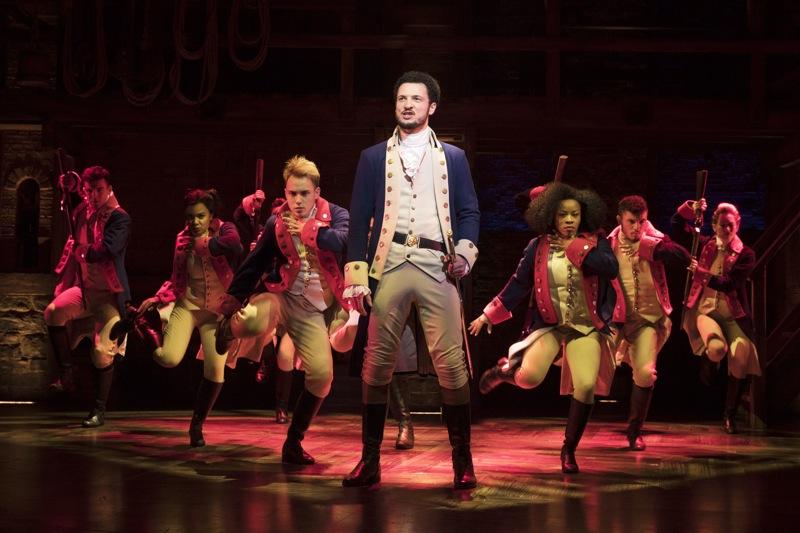 Revolutionary: Jamael Westman as Alexander Hamilton
"Are you aware that we're making history?" demands Alexander Hamilton in the show that has finally made the lesser-known Founding Father an international household name. And whether its creator, Lin-Manuel Miranda, knew it when he wrote that line or not, making history is, indeed, what Hamilton is doing.
The acclaim has been pretty much universal, the hype inescapable: 11 Tonys, a Grammy and a Pulitzer; celebrity fandom, and tickets as white-hot as they are hard to get your hands on. Now Thomas Kail's production opens in
London
, and we are so ready: we've read numerous interviews and earnest think-pieces, we've pored over online clips, and we know the Broadway cast album practically by heart. Can this wildly ambitious
musical
really meet such impossibly high expectations? What is it like to be in the room where it happens?
The answer to the first of those questions is a resounding yes. Hamilton is a massive achievement – a vast, questing, complex work of art that brings past and present into electrifying collision, and that blasts back the boundaries of the musical-theatre form while it's at it. And it's ridiculously exciting. The dramatic scope, the driving melodic and rhythmic force of the rap, hip hop and R&B score, the scintillating wit of the lyrics and the dazzle and dexterity of Kail's staging – all combine to make this a show that leaves you awestruck and breathless.
It's easy to understand why its admirers advocate seeing it more than once
Based on Ron Chernow's biography Alexander Hamilton, it brings its characters leaping off the page, pulsing with life. Here are stories of guts and glory – of war and sacrifice, of the rise of an impoverished immigrant, and the birth of a nation. And here, too, are egotism and political skulduggery, murder, blackmail and sexual betrayal. And suddenly what might have sounded like the desiccated history of a relatively minor American statesman seems written not in ink, but in fresh sweat and blood.
Newcomer Jamael Westman takes the title role, originated by Miranda himself; Giles Terera plays Aaron Burr, his associate, rival and ultimately his killer. Their connection is not unlike that of Valjean and Javert in Les Miserables, an enmity that is also a kind of kinship. Hamilton, an orphan from the Caribbean and a brilliant, hungry hothead, is the fire to Burr's smooth, slippery ice: "Talk less, smile more/Don't let them know what you're against or what you're for," Burr advises, every inch the weasel-worded modern politician. They tug the narrative back and forth between them, their grip never slackening. (Pictured below: Michael Jibson as King George)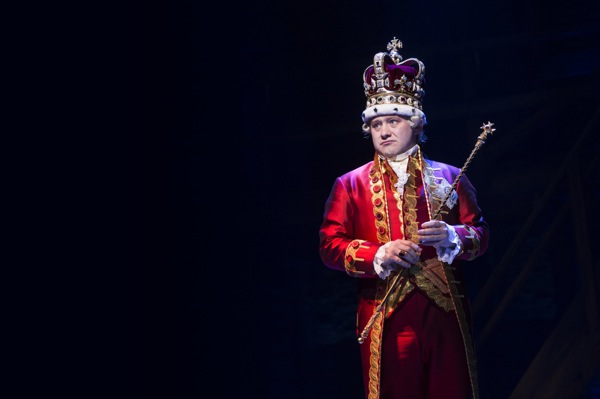 Around them swirl more familiar historical figures – George Washington, Thomas Jefferson, King George III – as well as passionate friendships and complicated family lives. David Korins' unfussy set – wooden steps and galleries, tables, chairs and ropes – teems with chorus members of both sexes and, of course, diverse ethnicities, dressed in boots and breeches. As the revolve turns, the scene shifts from battlefield to New York street, deadly duel to cabinet meeting, in choreography, by Andy Blankenbuehler, that is sinuous and swaggering. The actors glide in slow motion, strut and stride, or tumble through the air. Redcoats and revolutionary soldiers with muskets whirl, a blur of scarlet and blue. And at the ball where Hamilton meets the wealthy Schuyler sisters – two of whom will fall in love with him, one of whom he will marry, and cheat on – silk crinolines billow in a sensual sway of seduction and romance.
The sisters, Angelica (Rachel John) and Eliza (Rachelle Ann Go) are far more than love interests. "Let me be part of the narrative," Eliza pleads with her new, perpetually preoccupied husband, pointing up what is a key element of the musical – the question of who owns history, who gets to retell it, and how. It's this, above all, that makes Miranda's creation so radical: it lays claim to stories that have traditionally been appropriated by white males, and re-spins them in an idiom that is itself born of dispossession and struggle. (Pictured below: Rachelle Ann Go, Rachel John and Christine Allado)
The music is blissful, from its most swooning melodies to its jagged rap battles. And it's performed with stunning verve. Westman's Hamilton has restless charisma, while Terera is a tensely brooding Burr. Go's Eliza is both luminously lovely and fiercely resilient. There's fine work, too, from John's clever, self-sacrificing Angelica, Obioma Ugoala's soulful, authoritative Washington and Jason Pennycooke's funky Jefferson, Prince-like in his purple frock coat. And Michael Jibson turns in a terrific cameo as a bitterly affronted King George, whose bitchy Brit-pop admonitions of this upstart rogue territory are a jaunty comic contrast to the prevailing hip hop flavour.
This is, in fact, such a dense show, so rich in rewarding intricacies, that it's easy to understand why its admirers advocate seeing it more than once. Of course, for many, even once would take a miracle, given how tough it is to book. But if you can go, you should – because however close the hoopla around it has come to overkill, this is the real deal.