Strangers on a Train, Gielgud Theatre |

reviews, news & interviews
Strangers on a Train, Gielgud Theatre
Strangers on a Train, Gielgud Theatre
Highsmith's psychological thriller pulls into the West End, with a little 'Hitch' still on board
Wednesday, 20 November 2013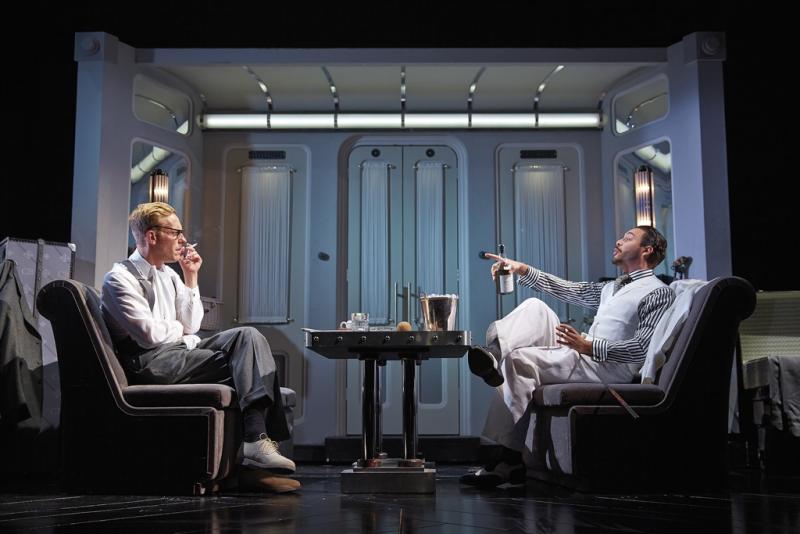 'You can trust me, you'll never see me again'. Laurence Fox and Jack Huston are the Strangers on a Train
Whether you're partial to Highsmith or Hitchcock, or both, there's something deliciously exciting about the prospect of Strangers on a Train. Much of that anticipation lies in the intriguing question of which side of the material this adaptation will fall – with book or film, two very different animals – and curiosity as to the staging. "Hitch" has rather spoiled us for visuals. Or has he?
The opening premise of Patricia Highsmith's debut novel, in 1950, is a cracker. Two strangers meet on a train and fall into conversation. One of them, alcoholic playboy Charles Bruno, talks of the perfect murder, in fact a double murder, each man killing for the other. Architect Guy Haines humours his tipsy companion in what he thinks is idle banter; Bruno, however, leaves the train believing he has a green light for murder.
Fox's under-powered performance doesn't deliver
Just a year later, Hitchcock and his screenwriters (including Raymond Chandler) presented the two men as antagonists throughout the piece – the murderous contract remaining in Bruno's mind only – leading to a thrilling, if black and white conflict. Here, writer Craig Warner stays with Highsmith, following the author's greyer moral compass as she piles the pressure on her upright hero to do ill and live with the consequences.
The result is that the West End gets a high-concept thriller of Hitchcockian panache, with a degree of psychological depth and a dark denouement that his own adaptation didn't possess. It's a flawed, but also novel and superbly staged production.
Director Robert Allan Ackerman, production designer Tim Goodchild and lighting designer Tim Lutkin go out of their way to make the staging three-dimensional, filmic even. A constantly revolving stage is surrounded by multiple planes of projected image, the whole lit with a feel for the atmosphere and drama of film noir. This set will conjure a train snaking its way down the track, a forest of New York tenements, a lush woodland and – most spectacularly – the merry-go-round on which Bruno stalks his prey (MyAnna Buring, pictured above), the first of his intended tit-for-tat murders.
Lending an unnecessary, and frankly cheeky rocket boost to the action, Ackerman uses music inspired by Hitchcock's favourite composer Bernard Hermann – who didn't work on Strangers, as it happens, but whose singular scores could make walking the dog seem like a life or death adventure.
The stage allows Bruno (Jack Huston) and Guy (Laurence Fox) to meet in the train's dining car, before switching with a quick revolve to Bruno's private compartment. Here the host riles against his hated father, while his ears prick up at the mention of Guy's estranged wife, impediment to both career and new love. "You can trust me, you'll never see me again," he declares jovially. Remember never to believe that one.
In white suit and a Panama hat, and with the light, stammering gaiety of the functioning drunk, Huston perfectly embodies a character at once comic and creepy, mother's boy, homosexual stalker and patricidal psychopath.
In other words, his Bruno is a treat. But he needs a counterpoint, which Fox's under-powered performance doesn't deliver. For much of the first act Guy hardly seems present at all, the actor playing decent as dull, and only flexing his muscles as his character cracks up under the strain of having a nutcase constantly popping round for drinks. The disparity in performance creates a dramatic void through much of an otherwise entertaining and well thought-out play – one in which, incidentally, Craig Warner's very own ending is extremely effective.
In the supporting cast, Christian McKay (pictured above, with Huston) makes an imposing, charismatic private detective, and Miranda Raison and MyAnna Buring are both impressive as Guy's two wives, one courtesy of the other's demise. But as the damagingly doting Mrs Bruno, Imogen Stubbs doesn't ring true; sounding like Blanche Dubois channelled through Marilyn Monroe, how could she?
Strangers on a Train at Gielgud Theatre until 22 February 2014
It's a flawed, but also novel and superbly staged production
rating
Explore topics
Share this article