The Hitchcock Players: Farley Granger and Robert Walker, Strangers on a Train
The Hitchcock Players: Farley Granger and Robert Walker, Strangers on a Train
A charming psychopath gets the better of a goody two-shoes
Never talk to strangers on a train: Guy (Farley Granger, left) and Bruno (Robert Walker)
Some actors build their characters from the feet up. In fact, it's a theatrical commonplace to think that shoes can hold the key to a character's psychology. Hitchcock takes the idea and applies it to the opening sequence of Strangers on a Train, his 1951 adaptation of Patricia Highsmith's 1950 debut novel.
In a brilliant opening sequence two pairs of shoes hurry through a station concourse, onto a platform, and finally converge when one accidently knocks the other as their owners sit opposite each other: the stylish but conventional black shoe greeting the camp black and white brogue in an awkward bit of footplay.
What we see parodies a classic stranger pick-up
The black shoes belong to Guy Haines (Farley Granger), the blandly handsome tennis player whose private life is in a mess. His faithless wife is pregnant with another man's child, while he himself is in love with the beautiful daughter of a high-profile senator. The other pair belong to Bruno Anthony, the charming psychopath with an ingenious, and ingeniously simple, solution to their respective troubles. If Bruno bumps off the wife, then Guy can bump off Bruno's father. Neither have a motive for the crime, so neither would be implicated. And they would both be set free.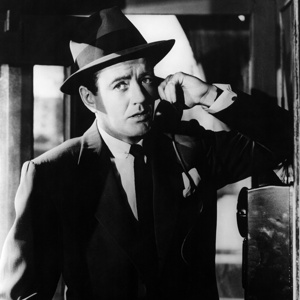 The homoerotic dimension in this initial encounter has hardly gone unnoticed. What we see parodies a classic stranger pick-up. At first Bruno's intimate questions ruffle Guy, as well his inappropriate physical intimacy. But it isn't long before Guy is both intrigued and drawn in by this unabashed mummy's boy whose tie announces his Christian name as if it were a personalised bib. And then there's the hungry, by turns petulant, doe-eyed look with which Bruno eyes his handsome catch. When, a ltttle later, Bruno preens and stretches himself out on a couch during their tête-à-tête in Bruno's private compartment, it's as if we're being invited to view this chance encounter as one of foreplay, resistance, surrender and seduction – even if that seduction is only partially successful and Guy is soon fighting to repel his dangerous stalker.
It can't be said that Granger's performance is one of great depth or many layers. Its dullness, however, serves as the perfect foil to Walker's on-screen seduction of the viewer – indeed, Walker plays the psychopath with far more charm than the whiny, wheedling character we encounter in Highsmith's novel. And there are several points in the film where the action turns on Bruno's viewpoint, thereby drawing our sympathy, our sense of identification, before repelling us again. This provides an interesting tension. Granger, meanwhile, delivers his lines in the same way Guy normally delivers his serves on the tennis court – efficiently.
Watch the film's opening sequence