The Hitchcock Players: George Sanders, Rebecca |

reviews, news & interviews
The Hitchcock Players: George Sanders, Rebecca
The Hitchcock Players: George Sanders, Rebecca
A masterclass in how to play the perfect supercilious Hollywood villain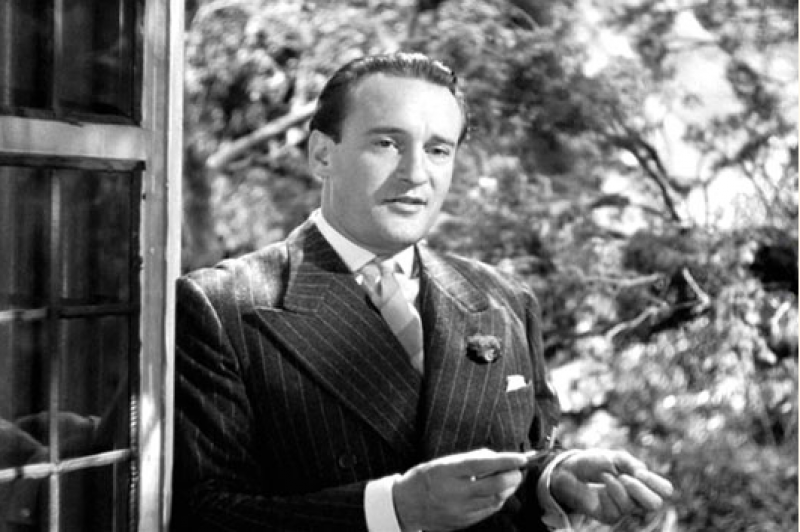 Sanders as Jack Favell, the smirking bounder par excellence
Many an English actor has found himself playing a suave and supercilious Hollywood villain, but none has done it with the exquisite finesse of George Sanders. His performance as Jack Favell in Rebecca only brought him a handful of scenes in a movie running over two hours, but he's not just one of the major pivots of the drama, but perhaps the most memorable character in a film teeming with splendid turns.
Favell is the would-be nemesis of Larry Olivier's self-indulgently morbid Maxim de Winter, a short-tempered aristocrat severely burned by his marriage to the ravishing, charismatic but bad-to-the-bone Rebecca. Favell, we learn, was her lover and may have made her pregnant shortly before her death. Hitchcock's film (from the Daphne du Maurier novel) is a fascinating mix of hothouse romance, supernatural thriller, gender politics and upstairs-downstairs class division, with the memory of the never-seen Rebecca holding de Winter's Cornish clifftop mansion, Manderley, in its spectral thrall. The scene where the sinister housekeeper Mrs Danvers (Judith Anderson) treats the new Mrs de Winter (Joan Fontaine) to a fetishistic trip through Rebecca's wardrobes and underwear drawers merits a semiotic essay of its own.
It might be argued that Sanders' portrayal of Favell differs little from his subsequent appearance as Addison deWitt in All About Eve or even his voicing of cartoon tiger Shere Khan in The Jungle Book, but it's safe to say that Hitchcock knew exactly what he wanted. Pushy, bombastic and oozing menace, Favell taunts and patronises Fontaine, whose character is never named. "We must be careful not to shock Cinderella, mustn't we?" he smirks to Mrs Danvers, before hinting to Fontaine that she may prove a tempting morsel for any predatory male.
He really hits his stride when Rebecca's body is found in a sunken boat. Suspecting that Maxim murdered his wife (which he did in the original book), Favell promptly turns blackmailer. He reveals himself to be a resentful "motor car salesman", and you suddenly picture him being obsequious to wealthy customers in Berkeley Square. He wants de Winter to bankroll his purchase of "a nice little place with a few acres of shooting", pronouncing "shooting" with Brian Sewell-ish archness. Colonel Julyan the magistrate instinctively shares Maxim's opinion of Favell as a despicable bounder, and there's some truth in Favell's sneer that "you're like a little trades union, all of you". His plan fails, but he soon slips his mask back on. "If you ever need a new car, Colonel, just let me know" is his parting shot. Immaculate.
Watch the opening scenes of Rebecca