She Loves Me, Menier Chocolate Factory |

reviews, news & interviews
She Loves Me, Menier Chocolate Factory
She Loves Me, Menier Chocolate Factory
Bijou Broadway title proves supremely winning
Thursday, 08 December 2016
They've got mail: Mark Umbers and Scarlett Strallen in `She Loves Me'
There are no cartwheels, and no one does the splits, in the new London revival of that most cherishable of Broadway musicals, She Loves Me, which immediately sets Matthew Wright's Menier Chocolate Factory entry apart from the fresh sighting of the same 1963 show that swept New York last season. What one gets instead is the most deeply felt, penetratingly acted version of the piece imaginable. Following the press night curtain call, the show's 92-year-old lyricist, a spry Sheldon Harnick, took to the stage to pronounce this production the best She Loves Me he had seen. Surely he of all people should know.
That's not to say that Wright and choreographer Rebecca Howell stint on Broadway-style pizzazz: both acts are capped by deliriously entertaining ensemble numbers, the second of the two enumerating the frenzied shopping as the days dwindle before Christmas with a paradoxically buoyant alarm that will surely send any matinee-goers immediately north to Oxford Street (the ensemble pictured in action, pictured below). But in a way I wouldn't have thought possible, this She Loves Me is both broader than I've seen (Katherine Kingsley's red-gloved Ilona must be the raciest, most powerfully-sung ever) yet also tenderer as well, and when the two parfumerie employees, Georg (Mark Umbers) and Amalia (Scarlett Strallen), lock lips in their final embrace, you may find yourself smiling misty-eyed at their hard-won romance.
She Loves Me was last seen locally in a much-laureled West End iteration in 1995, whose producer told me at the time that its box office grosses went down the week after it won five Olivier Awards: this title has always been a tricky sell commercially, which is why the Broadway revival just-gone played under the auspices of New York's not-for-profit Roundabout.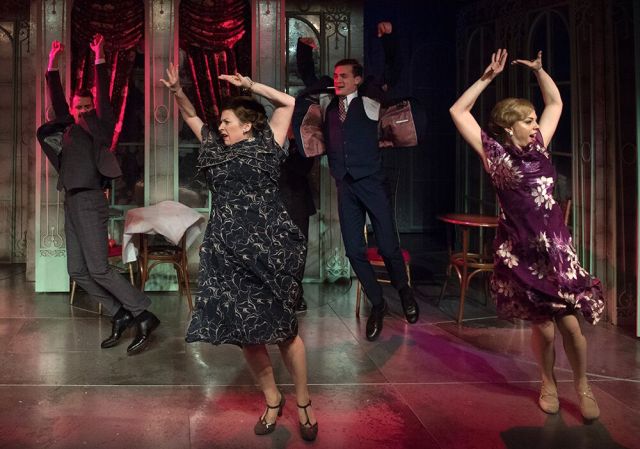 Happily, the compact confines of the Menier preempt such pressures, while allowing the elegant filigree of the piece to be written contrastingly large. For once, and not just because the performers deliver the piece in English and not American accents (and why not, given that the setting is 1930s Budapest), one thinks this time round less of The Shop Around the Corner and You've Got Mail, two films derived from the same Miklos Laszlo source (a forgotten play called Parfumerie), and more of, say, Private Lives and Much Ado About Nothing - two titles in which the protean Umbers and Strallen, Menier alumni both, would surely be right at home.
Umbers at the start presents an unusually severe Georg, the shopworker who finds his status threatened by the arrival of a new employee, Amalia, who will be turn out, of course, to be the love of his life: the pair have been writing one another anonymous mash notes so take time to twig that these two belong as one. It isn't long in any case before Umbers conveys the cracks beneath Georg's imperious-seeming facade, his hands aflutter with anxiety and apprehension in ways that make him Amalia's natural match, the actor's eventually buoyant grin sealing the deal on his, and the audience's, hearts. Strallen, in turn, catches at her character's gathering panic - "if I were a shoe/where would I have gotten to?" she wonders aloud in a characteristically droll lyric - as events bring the sparring partners together in a cafe encounter that goes blissfully awry. Skittishness, we soon discover, exists for Amalia a mere beat away from rapture, and Strallen sends her defining second-act solo, "Vanilla Ice Cream", soaring into the stratosphere with an ease worthy of the part's fabled originator, Barbara Cook.
The Georg-Amalia relationship is one of three that Harnick's supremely deft lyrics and Joe Masteroff's masterly economical book keep on the boil. A comic subplot worthy of Shakespeare finds goodtime girl Ilona Ritter (the ravishing Kingsley, in career-best form) confronting the adulterous ways of the shop's resident lothario, Steven Kodaly (the winning Dominic Tighe, pictured above with Kingsley), who has himself been pursuing a dalliance with the (unseen) wife of shopowner Maraczek (Les Dennis). The twofold betrayal sends clouds scudding across a narrative that can darken at will, and Dennis makes something richly moving of this senior figure's recognition of deception as a possible fact of life, and love, even as his young charges, Georg and Amalia, are learning to open up their hearts both within and beyond the reaches of a shop that Paul Farnsworth's sets spin briskly in and out of view.
Harnick and his late collaborator, the composer Jerry Bock, remain best-known, of course, for Fiddler on the Roof, and musical director Catherine Jayes and orchestrator Jason Carr allow elements of that pioneering show to infiltrate this far-gentler one, not least the onstage presence at various moments of a lone fiddler (and there's more than a trace of that show's celebrated "Bottle Dance" to the stomping athleticism of Howell's choreography for the first-act finale). One marvels, too, at how evenly the piece apportions its opportunities to shine: the four principals each get a second-act solo that brings down the house, while Cory English - a onetime Max Bialystock in The Producers - commits comic larceny as a head waiter hamstrung by his inordinately klutzy staff. There's nothing remotely maladroit, by contrast, about a staging that delivers on the best Menier musical theatre tradition of aiming at - and hardly for the first time reaching - that elusive destination known as truth.
She Loves Me at the Menier Chocolate Factory until 4 March 2017

One marvels at how evenly the piece apportions its opportunities to shine
rating
Explore topics
Share this article