Candide, Menier Chocolate Factory |

reviews, news & interviews
Candide, Menier Chocolate Factory
Candide, Menier Chocolate Factory
Great score, shame about the show
Tuesday, 03 December 2013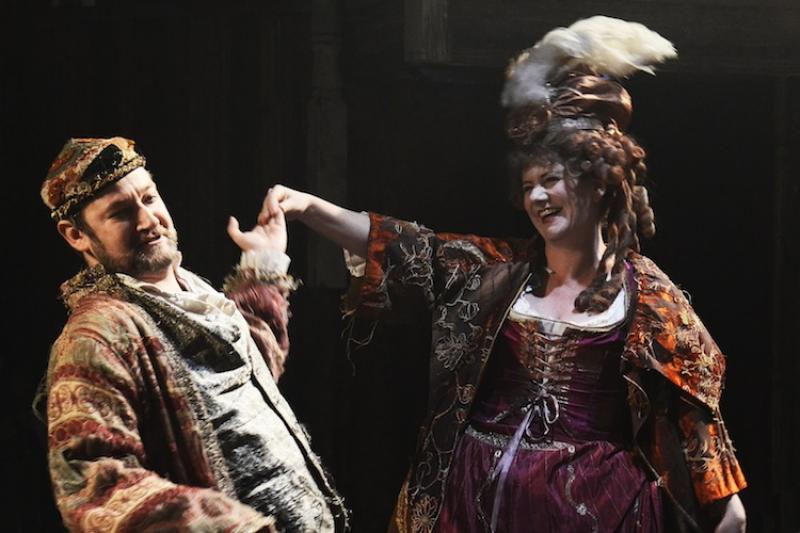 Snap-shut precision: Dr. Pangloss (James Dreyfus) and Old Lady (Jackie Clune) having a ball
How do you solve a problem like...no, not Maria, Candide? Musicals are loved for their scores – and Leonard Bernstein's one for this really is a cracker – but they're held together by their books, i.e. the script/dramatic context that makes audiences care about the characters and plot.
Filled to bursting with good intentions, Matthew White's exuberantly rough'n'tumble new Menier production does its damnedest but there's no disguising the fact that Lillian Hellman's adaptation of Voltaire's satire of inexhaustible optimism remains tension-free.
The gulf between the score's strength and the book's flimsiness is so wide that almost every major new production since the 1956 original has effectively rewritten the piece to try to strengthen it. For this latest attempt, White has trimmed and tweaked Scottish Opera's lavish 1988 version and given it the scaled-down aesthetic of Hal Prince's 1970s carnivalesque vision.
That much is instantly clear from the pell-mell entry of the cast dressed cheerfully in threads and patches during the famous helter-skeltering overture. With the Chocolate Factory reconfigured by designer Paul Farnsworth into an in-the-round staging with the energetic cast running in and among the audience, the accent is very much on storytelling.
Narration is shared among the company. We're introduced to the principal characters, our eponymous hero (Fra Fee) and silly and spoilt Cunegonde (Scarlett Strallen), the woman above his station whom he loves, her vain and disapproving brother Maximilian (David Thaxton) and Dr. Pangloss (James Dreyfus, pictured above), who teaches them that "all is for the best in this best of all possible worlds."
Throughout his peripatetic adventures, Candide holds firm to Pangloss's dictum. That proves a problem since his naivety makes him perfect prey for a never-ending supply of people happy to take advantage. But his comically absurd steadfastness is fatal to the show. After his first unhappy circumstance, he's given "cause to ponder cause and effect", but that's precisely what the script fails to do. These dramatic actions have little or no consequence: people die, but then pop back to life again a couple of scenes later. It's not much of an exaggeration to say that aside from the opening and the end, you could play the scenes in almost any order with little effect upon the action. The result is that we stop caring.
Jason Carr's orchestration for an eight-piece band including plangent use of accordion (and haunting recorder) plus Gareth Owen's sound design are models of clarity, and White's production, crowded with incident as if frightened of boring someone, keeps everything moving. Yet there are times, as with the overly busy choreography and lighting plot, that you wish its energies were more focused. Forever boisterous, the show is inescapably repetitious.
But, and it's a very big but, Bernstein's music – one minute musical theatre romp, the next, lush operetta – is glorious, and this skilled company clearly relish it.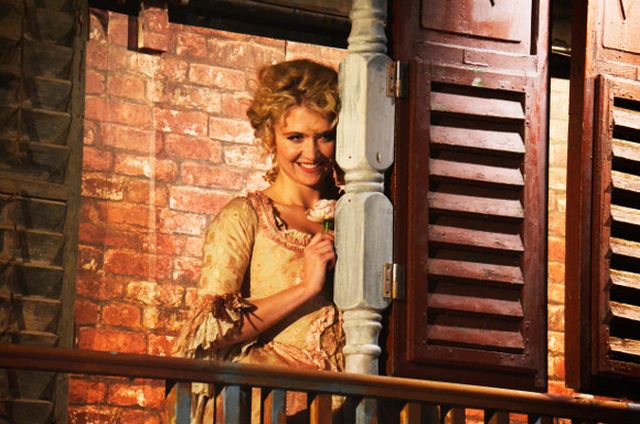 Given the lack of development until the final minutes, the title role is a tough call. Fee easily has the range and a nicely gentle stage quality but he lacks drive. But there are compensations. Surprise of the night is Strallen (pictured above), best known as a dancer. Having unhappily been about a decade too young for Cassie in London's recent and short-lived A Chorus Line, she exceeds all expectations as Cunegonde, tossing off a knockout version of the dizzying coloratura showstopper "Glitter and Be Gay" that would leave many classical sopranos gasping.
Dreyfus nails his every moment with snap-shut precision, switching between beaming Dr. Pangloss, grumpy, seen-it-all-Martin and an epically droll narrator. He's ably supported by Jackie Clune who makes amusing mountains out of molehills as the Old Lady with a Polish accent thicker than a Krakus dill pickle. And Ben Lewis unleashes his voice to fine effect giving real guts to "My Love".
Some of the tempi are slightly indulgent, as if the music department loves the music at the expense of momentum and on occasion you wish the performers were displaying less and engaging us more, but much of blame for that should be laid at the feet of the writers. All, however, is forgiven with the extravagant harmonies of "Make Our Garden Grow", the finest finale in musical theatre history.
Overleaf: watch selections from the original 1956 production
White's production, crowded with incident as if frightened of boring someone, keeps everything moving
rating
Share this article